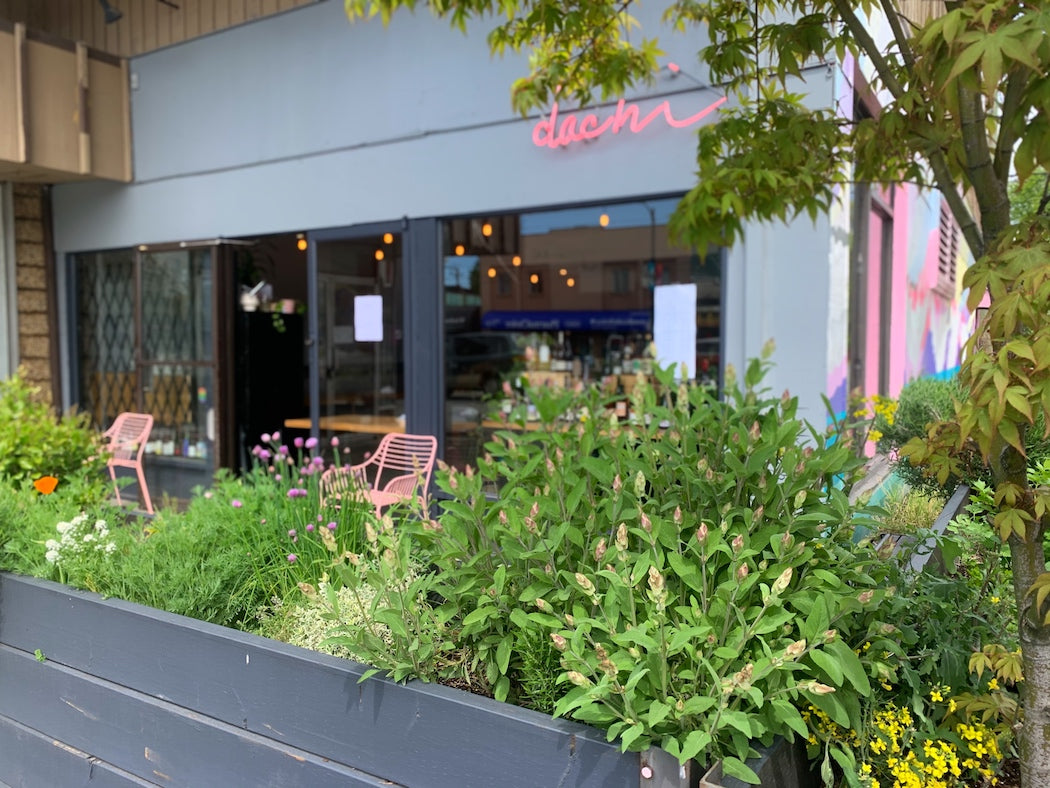 When we took over an East Vancouver restaurant space and opened Dachi in late 2018, we just loved the "patio garden" idea. We now use the small plots in our front patio to grow herbs and flowers for both the bar and kitchen. Cocktail infusions and syrups are made with the herbs (like lavender and rosemary), and garnishes, too (such as mint and edible flowers). For the kitchen, the herbs and their blossoms are used to finish plates and bring a little colour to the dishes.
During the warmer months, it's super cozy to sit outside with all the greenery coming up around you. We've even had neighbours come by and ask to use some oregano or sage for a dish they're cooking at home, making it feel like a real community garden (as long as they ask first!). Here's what we've learned since starting to grow our own urban crops.
Use patio boxes for your herb garden
Urban gardening can be tricky when space is limited. Backyards or even patio boxes are a nice way to bring life to your outdoor space, no matter the size. An important thing is to put rocks at the bottom of the boxes to allow for proper drainage. You can use the boxes as part of your patio furniture, too; at Dachi, we use the side of our box as the backrest on our benches so that you are truly surrounded by the greenery.
Start seeds inside for your herb garden
Start your seedlings inside before transplanting them outside, so that the birds don't eat the seeds; we had this problem last year. You can use leftover cardboard egg cartons to start the seedlings in, and then gently transplant them outdoors once they have started to grow and establish roots.
Keep it natural for your herb garden
As part of our commitment to organic producers (both farms and wineries), we feel it is important to practice being sustainable and using organic gardening methods. It's better for our planet. There are many easy alternatives to chemicals for your garden—simple tips such as using coffee grounds will keep your soil happy.
It does take a bit more work in keeping up with pest control. We will thin out our herbs that get too bushy so they are not love nests for unwanted bugs. The type of herbs and plants matter (see below). Be friendly to the insects.
Plant hearty plants for your herb garden
For beginner gardeners whose thumbs aren't green yet, I suggest starting with hearty plants; they will survive easier. Things like rosemary, parsley, and lovage are pretty hard to kill. And growing herbs like chives and parsley are nice to have around—they save a trip to the grocery store. We also plant a lot of perennials (returning plants), which makes it easy each year.
Plant things that will make your garden come alive. Lavender and wildflowers, for example, bring butterflies and happy bees to your garden, thus creating your own miniature ecosystem.