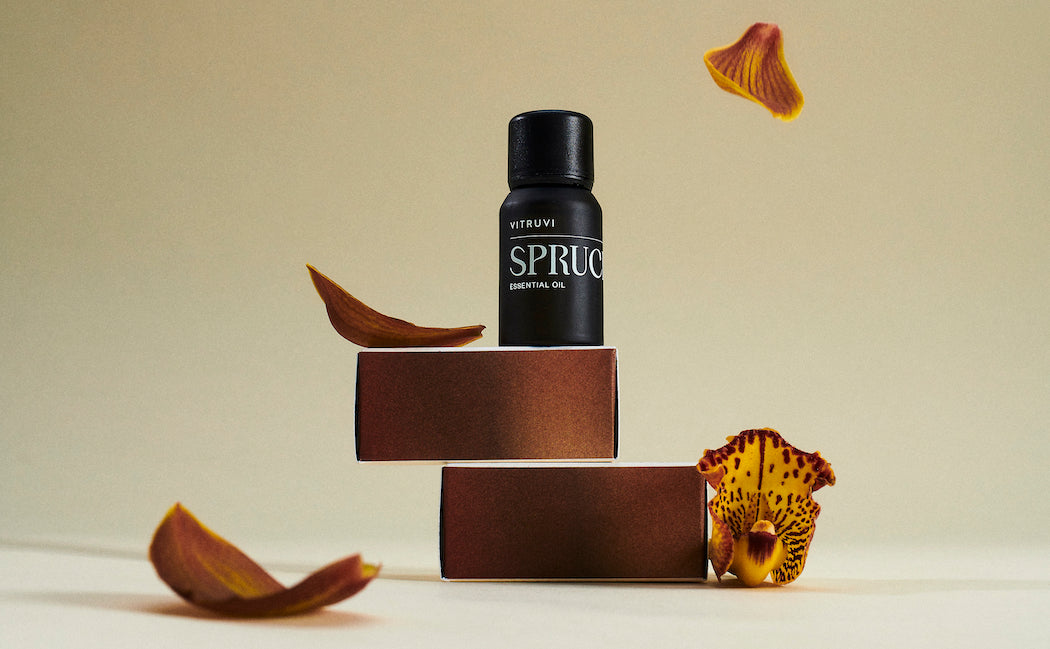 Woodsy, earthy, and crisp, Spruce Essential Oil instantly brings the outdoors in. Which means it's perfect for when you need a hit of nature but don't have enough time to get outside.
What is Spruce Oil?
Spruce Essential Oil is steam-distilled from spruce tree needles. This woodsy oil is also fortifying, opening, invigorating, and oh-so fresh.
How to use Spruce Oil
Spruce's strong woodsy notes means it is a lovely addition to your DIY home care products. It can also be nice in skincare and body care, too.
Spruce Oil recipes
Use Spruce in your homemade products to add a touch of nature and make your whole home smell amazing.
Spruce Oil diffuser blends
Spruce Oil is lovely when diffused on its own, but it can also be combined with other essential oils and blends for a more complex and nuanced scent. Here are some ideas.
Spruce Oil benefits
Refreshing and rejuvenating, Spruce has a crisp, almost wild aroma. Close your eyes, and boom—you're walking through the wilderness.
Where to buy Spruce Oil
The Spruce Essential Oil from vitruvi is 100 percent pure, natural, and clean. It is free from synthetic fragrances, formaldehyde, mineral oil, phthalates, and parabens.
Is Spruce Oil safe for cats and dogs?
Before introducing any new essential oils into your pet-friendly home, we recommend speaking to your veterinarian. Be sure to start by diffusing small amounts as well, and to turn off your diffuser when you're leaving your animals home alone.
Spruce oil? It'll sure spruce things up.