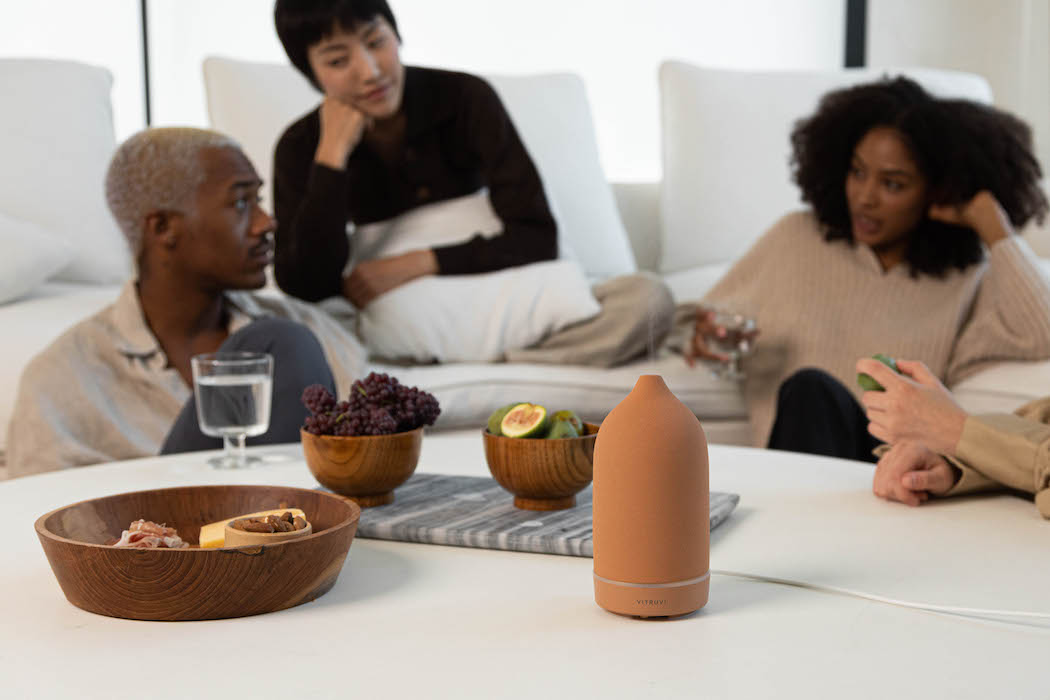 The leaves are looking as crunchy as ever, t-shirts have been switched for layers, and everything is permeated with an immaculate amber-hued aesthetic. But there's more to fall than meets the eye; it's often seen as an important time to slow down and do things that nurture the soul (and yes, that might include drinking pumpkin-spice lattes).
To further capture this sweet and snug state of being, we've paired some of our favorite wholesome autumn activities with vitruvi scents.
Reading on the couch
It's time to return to that book you've been meaning to finish (or to order a copy of Natural Habitat Print Issue No. 1), and we suggest putting vitruvi's limited-edition Fireside Blend on in the background while you do so. ​​Inspired by slow days and cozy nights, it feels warm, sweet, and comforting. Also known as: perfect reading conditions. Also known as: all the makings of a PSL, minus the PSL.
Watching a Halloween movie
Spooky season is here, and we're watching scary movies with Breathe Blend in the diffuser. Just like its name suggests, this invigorating blend is inspired by deep breathing—something we often forget to do while petrified. So bask in this combination of Peppermint, Cajeput, Eucalyptus, and Tea Tree; it won't make your film less frightening, but at least you'll be breathing through it.
Hosting a dinner
If you're having people over for an intimate meal, Moonbeam Blend is your friend. With notes of Wild Orange, Rose, Jasmine, and Ho Wood, it marries the feeling of a sophisticated and sensual speakeasy with the freshness of a garden dripping with rain. A complex aroma, Moonbeam ushers in the delicate, tangy, and purifying spirit of autumn.
Coming home from a walk
Coming in from a cold and crisp wander should always be a gleeful affair, but especially so when you have a cozy (and nice-smelling) space to return to. Warm up indoors with limited-edition Afterglow Blend: a sweet and spicy mix of Vanilla, Clove, and Cassia. It feels festive and toasty, like you're eating a fresh-out-of-the-oven apple pie with loved ones.
So put on your best chunky knit, grab a fuzzy blanket, and diffuse your favorite autumnal scent.