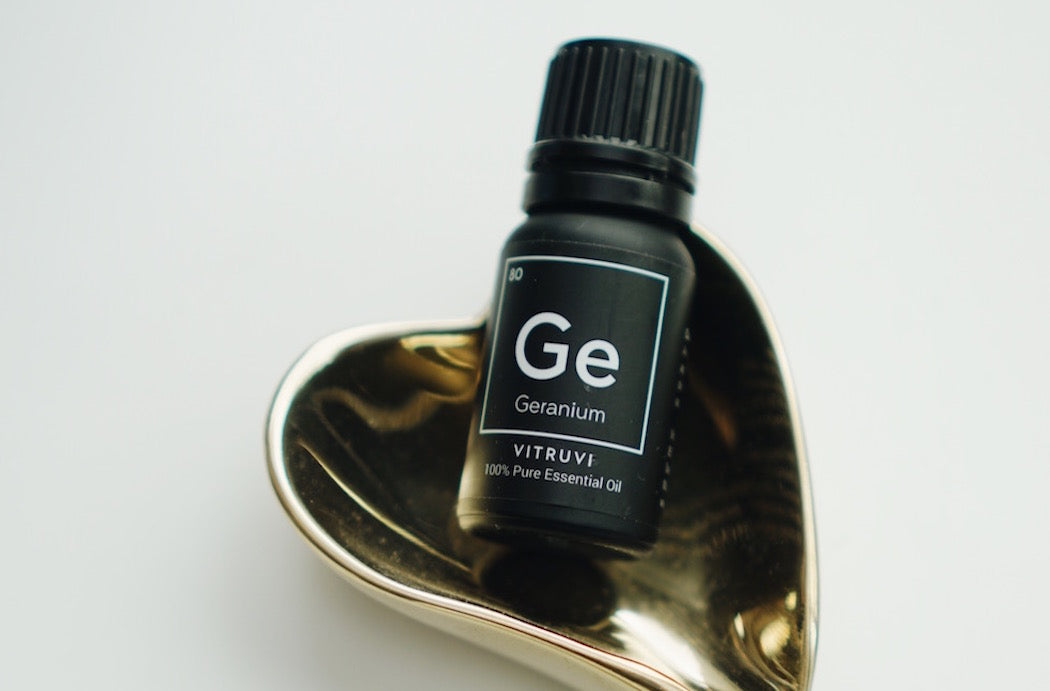 Geranium Essential Oil is one of my top three favourites, but it's often forgotten because lots of people don't know what it smells like. Not only do I find the aroma especially unique and refreshing—with its dynamic combination of bright flowers and pepperminty undertones—but there are also there are so many ways to use it in beauty and wellness routines. This makes Geranium a travel essential for me on any trip I'm on, whether I'm away for one night or three weeks.
Geranium is part of the floral scent family, but the aroma comes off as refreshing and slightly herbal and minty, as opposed to the sweeter tones of most flower essential oil extracts.
On my skin
Being a floral essential oil makes Geranium especially balancing on the skin and great to integrate into a skincare routine. I use it when I wipe my face in the morning, adding just 3 drops to a warm and wet face cloth along with 2 drops of Sweet Orange. The invigorating aroma of Sweet Orange paired with the fresh and calming scent of Geranium has become a morning ritual I never skip, regardless of how hectic my morning is or where I'm waking up. It's truly a 3-second spa moment that makes my morning hustle a little more luxurious.
The practical and functional uses of Geranium make it something that's always in my makeup bag. I also use it from time to time as a natural perfume replacement when I need a quick pick-me-up on my wrists and neck before meetings or before heading to dinner.
In the bath
The bath is also a perfect place for Geranium. It's safe for the skin, and 5 to 10 drops added to warm water is an ultra-feminine way to unwind after a long day. I'll usually sip on a small glass of red wine or a cup of sake while enjoying my Geranium bath.
In a diffuser
Geranium is a component of our Quiet blend and pairs beautifully with other essential oils. I also love highlighting the herbal qualities of it by pairing 8 drops of Geranium with 6 drops of Eucalyptus for a fresh and inviting home aroma.   
If I were to pick one treat-yourself oil this weekend, it would be Geranium.