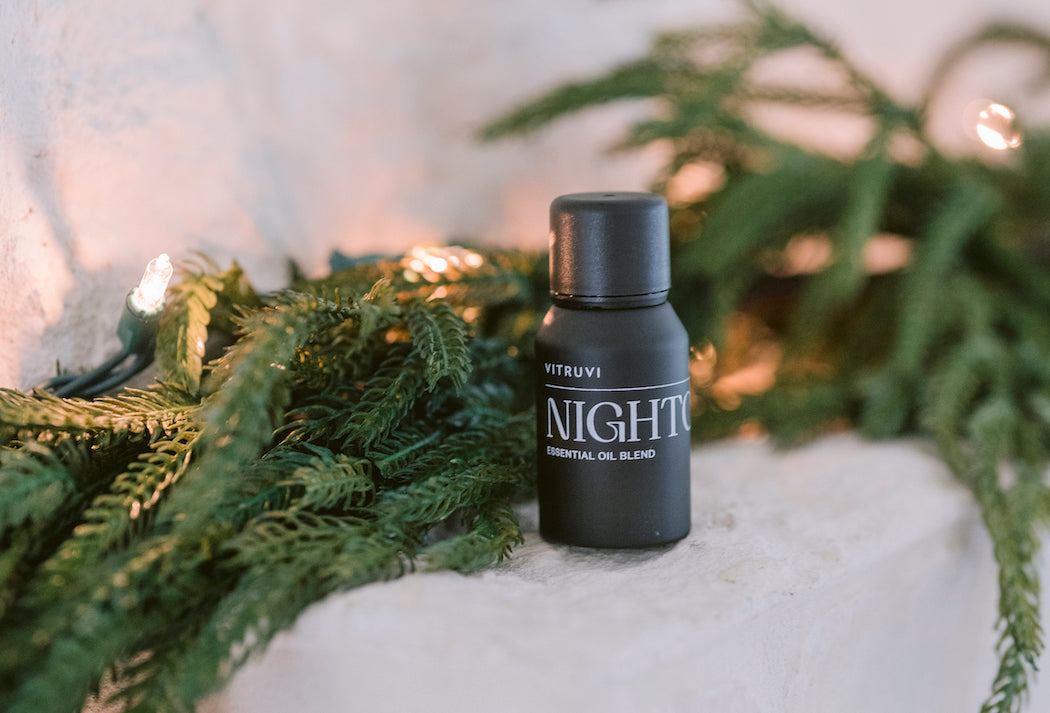 From wrapping presents to hosting your loved ones, the holiday season is full of festive activities. To really bring each experience to life, pair it with one of vitruvi's luxurious essential oil blends.
Holiday movie marathons: Mixed Feelings Blend
Is it really the holiday season if you're not re-watching your favorite movies? This wholesome activity is best paired with a nostalgic scent. Meet Mixed Feelings: spicy and sweet, it smells like cinnamon candy and sentimentality. Time to turn on Home Alone.
[product-card handle="mixed-feelings-essential-oil-blend"]
Festive gatherings: Slow Dance Blend
'Tis the season for gathering with loved ones. Limited-edition Slow Dance Blend is woodsy, grounding, and warm; it smells like watching the snow fall from a forest cabin, surrounded by your besties. It's the scent of togetherness.
Late-night drinks: Nightcap Blend
Is there a better way to end the night than with a festive cocktail? Spicy and citrusy Nightcap Blend is a limited-edition combination of Black Pepper, Orange, and Ginger, and smells like tart drinks at lively parties. This is best diffused alongside your favorite evening libation, or when you want to be transported to a chic bar with moody lighting and your best holiday outfit.
Wrapping presents: Grove Blend
Grove Blend is a medley of iconic woodsy smells: Pine, Fir, Spruce, and Cedarwood. It's the scent of Christmas trees and snowy walks, bottled. Crisp, fresh, and festive, Grove will put you in the present-wrapping mood. Not included but highly recommended: Toni Braxton's Christmas album.
[product-card handle="grove-essential-oil-blend"]
Baking up a storm: Séjour Blend
When we think of the holidays, we think of indulgent yet comforting activities like baking. Insert the exclusive vitruvi x Mejuri blend Séjour. With notes of Bergamot, Geranium, Vetiver, and Vanilla, it smells warm, luxurious, and self-indulgent. Kind of like those decadent vanilla cupcakes you've been meaning to make.
Quiet time: Breathe Blend
Don't forget to slow down and take some deep breaths this holiday season. Breathe is a combination of Peppermint, Eucalyptus, and Tea Tree; this calming blend smells like a burst of fresh air. So curl up on the couch, grab a blanket, and exhale.
Pro tip: pair these activities and scents with limited-edition holiday diffusers for an extra-festive twist. And have a merry air day.