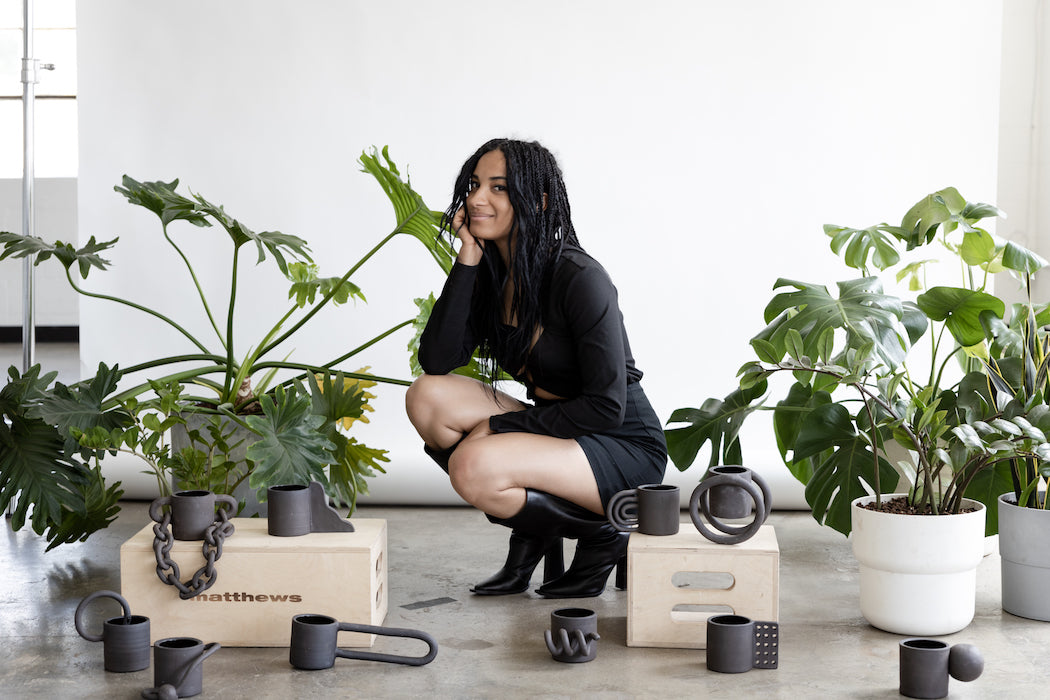 Any home decor and ceramics fan who spends enough time on Instagram can tell you that once you get into the world of handmade, unique goods, it's hard not to fall down the rabbit hole. Why buy a generic vase when you can get an artsy one? After all, you're supporting a small business.
Lalese Stamps has seen just how important that support can be. In her former job as a graphic designer, there were times when starting her own company seemed possible. But she would often push those ideas aside—that is, until her ceramic hobby turned into a full-blown brand.
The Wisconsin-based maker left her full-time gig in 2020 to dedicate her time to Lolly Lolly Ceramics, not knowing how coveted her mugs would become. These aren't just any mugs, though—they're the kind you proudly display on your shelves or at your coffee station. The handles range from arches stacked on their sides to a large, looping shape that ends in a knot. Today, the brand also carries bowls, planters, plates, and more.
"T​​here wasn't really one straight, narrow way or a thing that I did that got me to where I am now," Stamps reflects over the phone. "I even joke with people: I never really intended on being a business owner. It just kind of transpired into that."
The brand's inception largely started as a creative challenge. Participating in a 100-day project, Stamps created a different mug handle every day for 100 in a row. That meant pushing the standard look, and definition, of what we've come to expect as your average handle. The results were playful and surprising, showcasing her depth of her imagination.
To stay creative, she often takes inspiration from her surroundings—whether it's a nearby plant or a bicycle rack on the sidewalk. "Having a really open mind and perspective on life, and not living in my bubble, is really important," she says. "Being, not necessarily uncomfortable, but just pushing myself to try new things and experiences."
These days, her small team works hard to keep up with demand. Stamps and Reva Kashikar, the brand's studio manager, often play hip hop or metal over the speakers while they work. On warm days, the sunlight streams in through the space's windows in a magical way.
Stamps sees the brand as more than a retailer; her future goals include teaching workshops for kids. And despite the popularity of Lolly Lolly Ceramics so far, she's steadfast in her belief that the brand is still young, and that there's much more to be done.
"Our goal right now is to scale up and actually get product out into the world and available on our site," she says. "Sometimes you really just have to be patient and allow the ebbs and flows of everything to work itself out."
Things certainly seem to be working out. Recently, The Daily Show With Trevor Noah teamed up with Lolly Lolly Ceramics for Women's History Month; a series of mugs made for the show were featured in interviews. Stamps also spent time in New York as part of Solange's month-long ​​Saint Heron ceramics residency. Along with Armina Howada Mussa, Dina Nur Satti, and Kenya Cree, she was given the space and time to simply create. The artists were also mentored by Tracie Hervy and Anina Major.
When Stamps is not reading magazines, sketching, designing, running her business, or working on her upcoming book, her favorite ritual is taking a long, hot shower and adding scent to the air to create a spa-like environment. She describes herself as an introvert, so having the space to recharge is important. Lavender and petrichor are some of her essential scents. She puts her headphones in and lets her mind wander, often with a mug of peppermint tea by her side.
Part of her forward movement also includes inspiring others. She takes things one day at a time, and is candid about her process whenever speaking engagements come up. "Just simply being who I am," she says, "and putting myself out there the way I have been, I think, already has been a great way to show other young people or other Black creatives that they can do what they want to do."