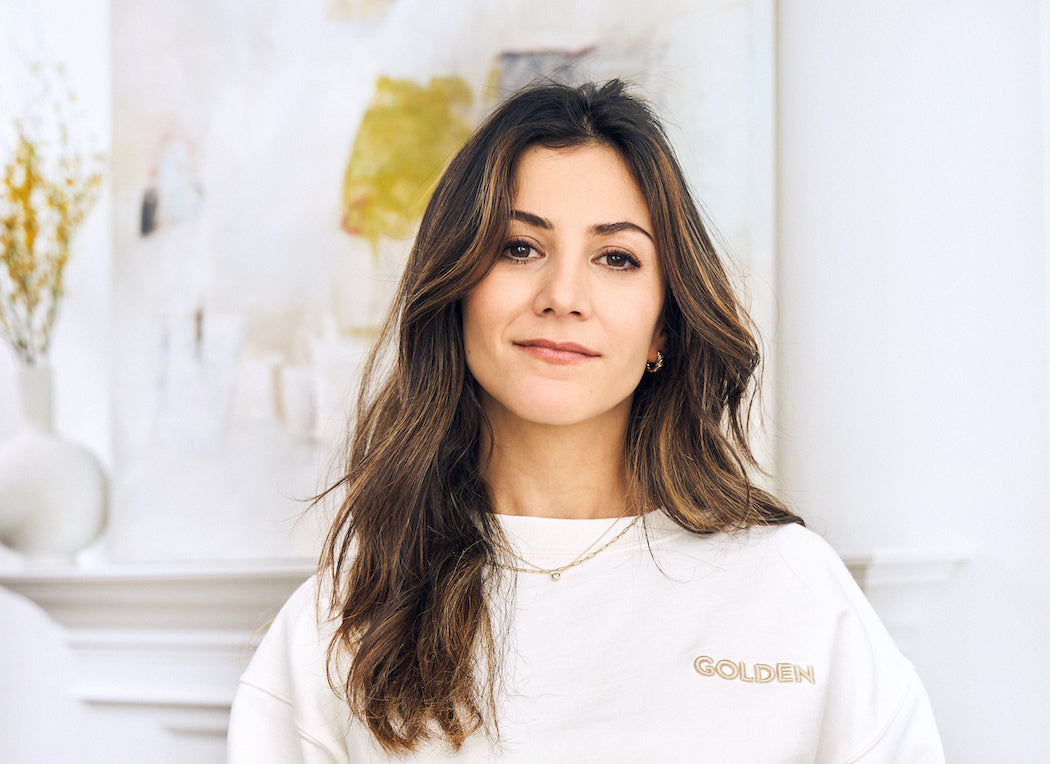 Lingering a little longer in your favorite place—is there anything better than that feeling? That sense of ease in knowing that you're exactly where you're supposed to be?
That's the essence behind Séjour: vitruvi's new essential oil blend created in collaboration with fine jewelry brand Mejuri. With notes of Bergamot, Frankincense, and Vanilla, it's woodsy, comforting, and alluring. Along with an exclusive Move Diffuser in Gold, this collection invites you to indulge, to stay a while, to simply be.
Which is exactly aligned with the ethos of Mejuri: buy it for your damn self. Dive in. Find opulence in the mundane. Its ever-changing collection of jewelry staples makes it a go-to for anyone who sees adornment as self-expression. We caught up with Mejuri cofounder and CEO Noura Sakkijha to discuss the collaboration, what everyday luxury means to her, and more.
---
You come from a family of jewelers. How have you seen the industry change over the years?
Market fragmentation was and is still a reality in the jewelry industry—it means that big jewelry brands own a small portion of the global market, and that the market is filled with smaller local brands and mom-and-pop shops that are less focused on brand and experience. This fragmentation definitely reinforced my belief in creating a brand that has a fresh, modern take on the category: one that reflects the values of our generation by encouraging individuals to purchase jewelry for themselves with or without an occasion.
Mejuri does such a great job of weaving storytelling into all of its product drops. How do you keep narrative at the forefront of your brand?
Our weekly drops allow us to bring to life a curation of designs in a very spontaneous way, relevant to seasons or current inspirations; however, each is connected to our overall brand story of making milestones out of moments with pieces that will last forever. Each piece has its own narrative and every detail counts; as fine jewelry designers, we know it's the subtle differences that create timeless pieces.
What do you think makes a good leader?
To me, a good leader is someone who surrounds themselves with a great team of experts and builds trust with them. I wouldn't have been able to succeed without my talented team and advisors. Also to reframe failure. It is a data point—you tried something and it didn't work, so you did something about it. It's a positive thing.
Does your jewelry selection change with the seasons? If so, how?
I would say it changes more so with my mood; however, warmer weather definitely encourages me to be a bit more playful and bold with my selection. I'm also looking forward to layering more—with my jewelry and clothes—as the weather gets a bit cooler.
Why was vitruvi a natural fit for a Mejuri collaboration?
I have known [vitruvi cofounder] Sara Panton for a long time. The way she has built the business in Canada and across the world with quality, design, and community at the heart of it has been an inspiration to me. We both not only value these qualities, but aim to empower individuals to invest in themselves in their own way—whether that is with a piece of jewelry, a diffuser, or both.
How does scent play into the vibe of Mejuri's stores?
We invested into retail as a direct touchpoint with customers, where we can offer them unique and personalized experiences. For example, we have a concierge bar where you can garner personal styling advice from an experienced stylist, and have created displays in-house that allow you to play with pieces freely. Scent is the perfect next addition to make our experience whole. We want people to feel like they're entering not only a refined space, but a comfortable and welcoming one. It's almost like how we identify the scent of people and places, providing us with special memories or moments.
How does Séjour make you feel when you smell it?
It makes me feel grounded and relaxed. My husband and I love to travel, and it definitely reminds me of being near the ocean. I love that it isn't overpowering, too—it is a scent for every day.
Aside from scent and jewelry, what are some of your other everyday luxuries?
Taking time for myself to meditate and reflect. It can be a bit challenging to find the time to do so, which is why I consider it a luxury.
Where do you find yourself most using your vitruvi x Mejuri Move Diffuser in Gold?
I have it on throughout my day. It's part of my morning routine and helps ground me for the day ahead. I also love having it on while I work; the calming Séjour scent allows me to really focus.
What makes you feel truly at home in your space?
Being around my girls definitely makes me feel at home. From a more material point of view, I would also say the artwork within our home. We have collected many of the pieces over time, and each represents a special memory for us.
---
This interview has been edited and condensed for clarity.