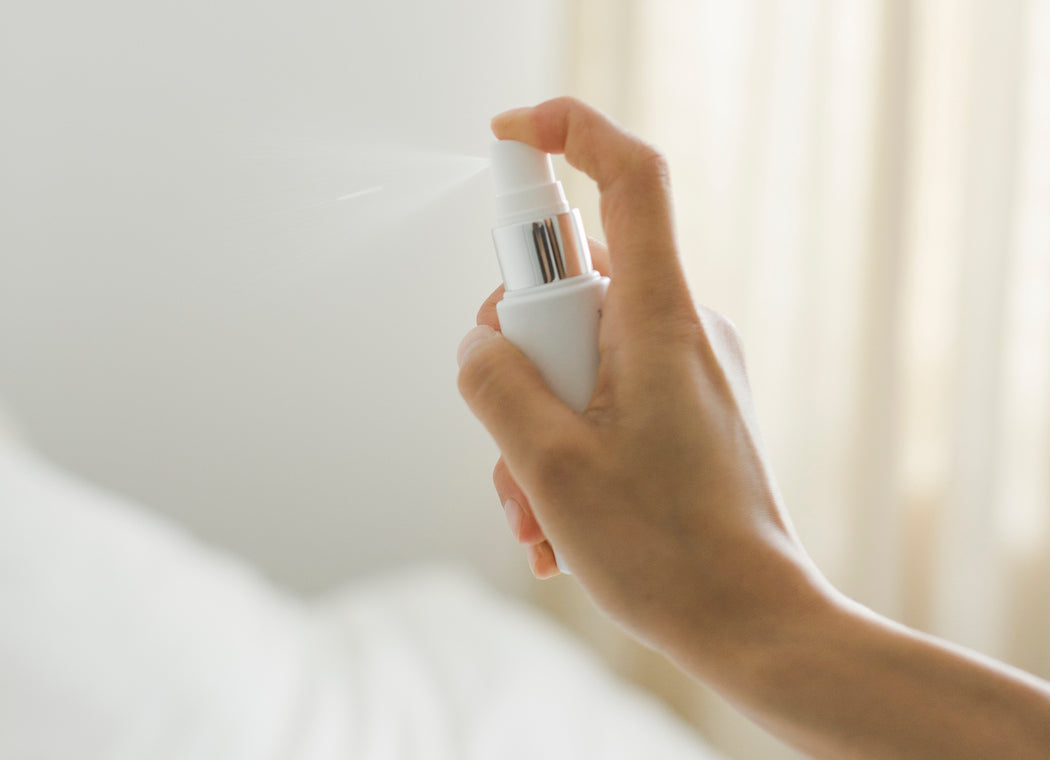 Sleep: we love it, and we almost always want more of it. From essential oils to PJs, here are some of our recommended sleep-related products to get you ready to drift off to dreamland.
Perfectly minimal, The Nightstand from Casper will instantly upgrade your bedside game. With a notch for cords and a sliding bottom tray, it's easy to make this nightstand work for you and your room.
Go premium with Parachute's Sateen Sheet Set—comfortable and strong, it's made of 100 per cent certified long-staple Egyptian cotton. So you know it's going to feel sultry every time you lay your head.
When the curtains aren't cutting it (or you're trying to catch a snooze on the plane), this comfortable 100 per cent cotton eye mask will do the trick. Created by The Sleep Shirt, it's a chic, soft, comfortable way to keep the lights off.
With a luxuriously soft feel, this modal jersey PJ set by Eberjey sits on the body just right. Seriously, it feels so amazing that you'll have trouble getting dressed come morning.
Hydrating and smoothing, the overnight mask courtesy of Kora Organics boasts caviar lime extract, coconut milk, and silver ear mushroom. Apply it and wake up with fuller, bouncier skin.
A blend of natural adaptogens to aid your body in sleep, Dream Dust by Moon Juice focuses on stress relief as a way to help you get to sleep—and stay asleep.
Spruce up your bed-making with this pillow cover from West Elm. Sustainably-sourced and handcrafted, it's a pop of character that will go with any duvet.
Made of 100 per cent French stonewashed linen, The Robe from Flax Sleep is as cute as it is practical. With two pockets and a belt for tying, it's a fashionable choice for sipping tea in before brushing your teeth.
vitruvi diffusers and Ylang Ylang Essential Oil
Our own essential oil diffusers are the perfect way to naturally scent your space to prime it for bedtime (and with matte ceramic finishes, they also look amazing on your nightstand). Consider diffusing Ylang Ylang Essential Oil before sleep; this exotic floral is said to help boost your mood and spark cheerful dreams.
vitruvi Ceremony Essential Oil Blend
Inspired by the cleansing energy of a new moon, our Ceremony Essential Oil Blend is another perfect nighttime scent. Purifying Palo Santo, grounding Cedarwood, and clarifying Clary Sage help make Ceremony one of our favourites for a calm, soothing vibe. Diffuse it as you brush your teeth, or try adding a few drops to a warm bath before you hit the hay.
vitruvi Sleep Mist, Sleep Roll-On, and Sleep Essential Oil Blend
Create an evening ritual to help cue your brain that it's time for rest. Available in mist and roll-on form, as well as a diffuser blend, our Sleep aroma combines Roman Chamomile, Ylang Ylang, Vetiver, and more for a quieting, comforting scent.
All that's left for you to do now is crawl under the blankets.