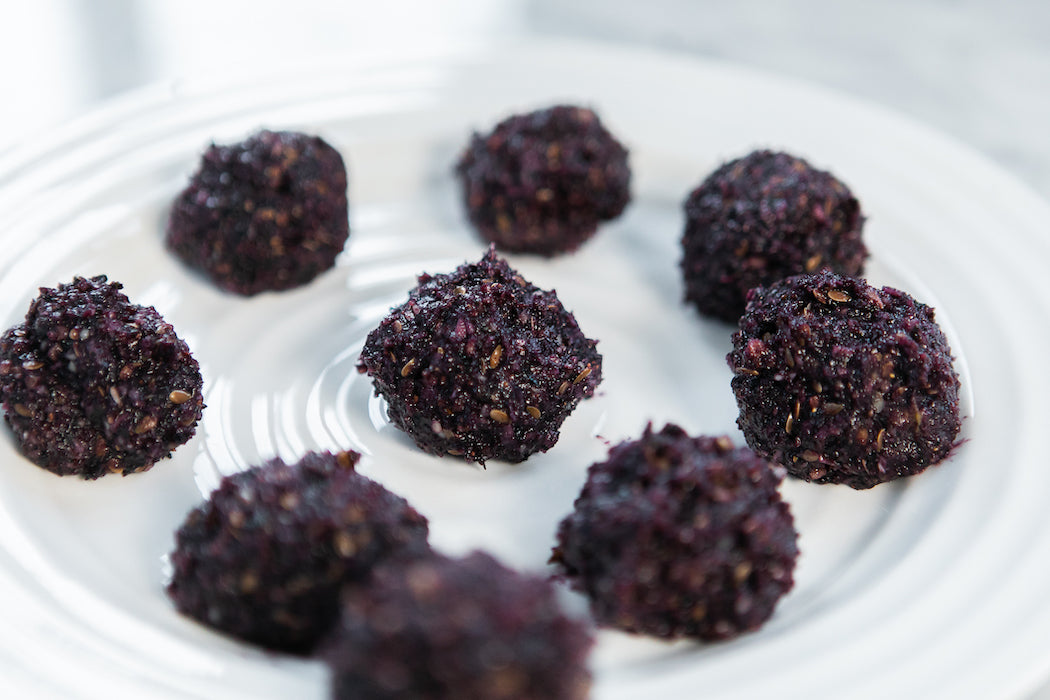 This bite-sized snack is packed with nature's superfood: British Columbia blueberries. Frozen B.C. blueberries have the same nutritional benefits as fresh blueberries, and are available in the freezer aisle year-round. Just look for the "B.C.-grown" label or "packaged in B.C." wording to ensure your frozen blueberries are from the province.
No-Bake Blueberry Cocoa Seed Bites

Makes: 14-16
Ingredients
1 cup frozen B.C. blueberries 

½ cup shredded unsweetened coconut, plus extra ¾ cup for coating

½ cup pitted dates, chopped

½ cup unsalted raw sunflower seeds

⅓ cup dried blueberries

⅓ cup sunflower or nut butter

¼ cup cocoa powder

2 tablespoons flax seeds

2 tablespoons hemp hearts

1 tablespoon coconut oil or softened butter

2 teaspoons lemon juice

1 tsp cinnamon

¼ pinch salt


Instructions
In a food processor fitted with the S blade, pulse all the ingredients (scrape down the sides every few pulses) until combined into a crumbly mixture, but not pureed.

Remove the blade and refrigerate the mixture for 15 minutes if it seems too moist.

Moisten your fingers with water and form the mixture into 1.5-inch bite-sized balls.

Roll in shredded unsweetened coconut to coat.

Enjoy anytime as a healthy snack.