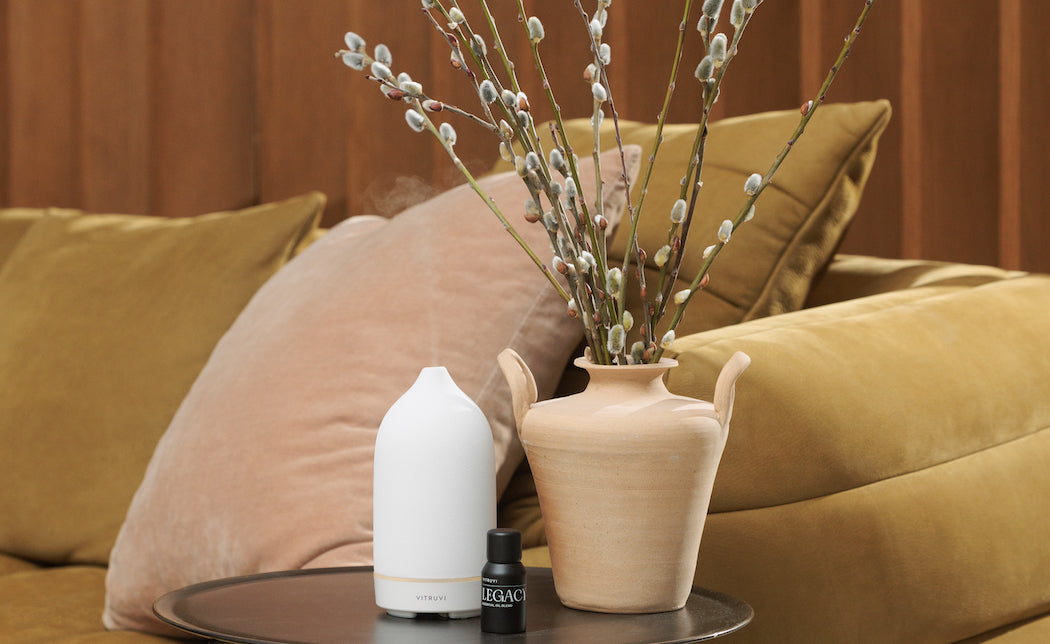 Celebrities are just like us—especially when they're using the same diffusers. Here are some of our favorite famous faces who have been spotted with vitruvi.
Sarah Jessica Parker
We're thrilled that our Move Diffuser was included in Sarah Jessica Parker's carousel of must-have items on set. And we couldn't help but wonder: will Move make a cameo in the Sex and the City reboot?
John Mayer
No big deal, but the Stone Diffuser in White was there when John Mayer recorded his song "Carry Me Away." Perfect scent pairing, in our opinion: Retreat Blend.
Bella Hadid
Iconic people like iconic diffusers—it's a well known saying. We love to see our Stone Diffuser in White fitting in so well among Bella Hadid's things.
Gwyneth Paltrow
It is no secret that our products are sold through goop, but it's extra-special when Gwyneth Paltrow herself shows us some love. She called our Stone Diffuser a "crowd favorite," and we're inclined to agree; it's featured here in the goop-exclusive color of French Grey.
Kylie Jenner
Our Stone Diffuser in White—as in, our best-selling diffuser and color combination—was spotted on Kylie Jenner's nightstand. We like to think that it helped her relax after her lasik eye surgery.
Bobby Flay
Acclaimed chef Bobby Flay included us in among his favorite gifts, and seems to particularly enjoy the Stone Diffuser in White alongside our Eucalyptus Essential Oil, Sweet Orange Essential Oil, and Boost Blend. Great choices—objectively speaking, of course.
Ellen Pompeo
Actress Ellen Pompeo included us in a The Cut roundup of nine beauty products that she loves. Apparently, she has the Stone Diffuser in her trailer—because it's not just our homes that deserve to smell good.
Sasha Exeter
Entrepreneur, supermodel, mom, content creator, former athlete—we could keep going—Sasha Exeter uses our Stone Diffuser in Terracotta. We love to see it.
Brie Larson
Actress and filmmaker Brie Larson included our Stone Diffuser in a People magazine roundup of seven beauty products that she can't live without. She said that our diffuser "smells amazing and it also looks beautiful in your home." We couldn't agree more.
Sera Gamble
Pens are a necessity when writing a script, and apparently so are essential oils. Sera Gamble—writer of the mega-popular psychological thriller show You on Netflix—posted a photo of our essential oils with her script. It gives us something to hold onto after binge-watching the latest season.
Miranda Kerr
Model and Kora Organics founder Miranda Kerr included our Stone Diffuser in her Amazon gift guide. It's the best gift we could have asked for.
Molly Sims
Actress and model Molly Sims included us in her Holiday Gift Guide for Moms. She told People that "this diffuser looks beautiful in my home, but more importantly, it helps me decompress and feel calm." She also went on to say that "it can be hard to make a diffuser look beautiful, but vitruvi diffusers are incredibly chic when placed in your home."
We value everyone in our community and are so grateful to be a part of your home scenting journey. Continue to share your #vitruvihome moments with us so that we can tag along for the ride.