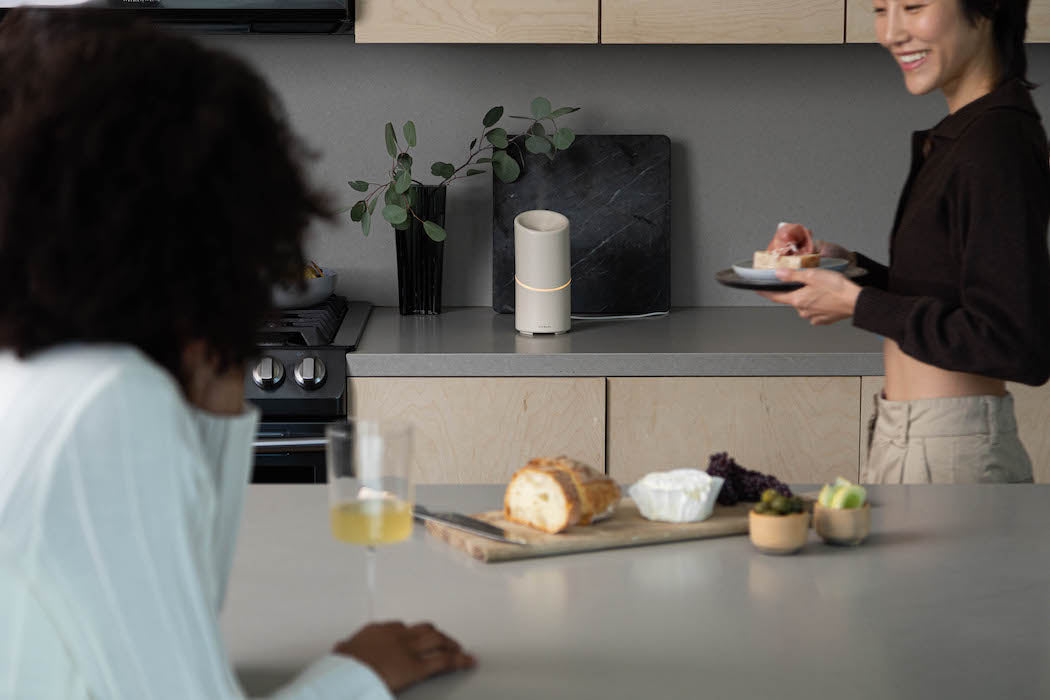 "Want to come over?" Four words we've missed so much. But we're finally able to gather again, and that is a beautiful thing. Whether you're hosting an intimate brunch with your three closest friends or are organizing a multi-course dinner for the whole family, allow us to suggest the perfect scent just for the occasion.
Weekend brunch: Golden Blend
Caesars, mimosas, coffee and Baileys—line up your favorite brunch beverages and get ready for a leisurely morning among friends. Diffuse Golden Blend as your crew sits down to dig in (eggs Benedict? A veggie hash? Gluten-free waffles? You name it) and they'll love the way the scent's fresh, minty, citrusy notes set a happy vibe to rival your inside jokes.
Holiday party: Fireside Blend
Pin up some mistletoe, throw on a sparkly dress, and diffuse limited-edition Fireside: a delicious aroma including Nutmeg, Wild Orange, Cinnamon, and Fir. Equal parts sweet and spicy, Fireside perfectly sets the tone for casual merriment, mulled wine, twinkling lights, and lasting memories. Now you can focus on your appetizer menu.
Multi-course dinner: Sweet Water Blend, followed by Dusk Blend
Create a scent journey for your dinner guests by diffusing different scents throughout the evening. We suggest spicy and cheerful Sweet Water for arrivals and canapes; it will put everyone in a great mood to kick things off while pleasantries are made. As the evening progresses into dinner and dessert, switch to Dusk Blend for something a little more sultry; with a warm and dry aroma, it will help the evening transition into late-night laughs. Who wants to play a card game?
Sports-watching party: Pacific Blend
Whether it's the NFL or F1, keep things calm, cool, and collected among the cheers with airy Pacific. It smells like a west coast beach, which is sure to help keep nerves at bay if things don't go your way. Let the record show: we're team Ferrari.
Birthday cocktail hour: Moonbeam Blend
Instantly transport your guests to a lush garden (hey, maybe even make a theme around it—floral prints, here we come) with Moonbeam. Whether it's your birthday or you're hosting for a friend (respect), the sensual floral notes of this aroma will perfectly complement the occasion. Tip: so would elderflower cocktails and crudites.
Date night in: Nightcap Blend
Bring the sultry cocktail bar to you (even if all you're doing is watching Netflix) with Nightcap Blend. Boasting notes of Black Pepper and Blood Orange, it's a spicy, citrusy, slightly sweet aroma that will pair magically with homemade old fashioneds and Leon Bridges on the stereo.
We believe we humans are truly better together—so call your trusted loved ones and ask them those four magic words.