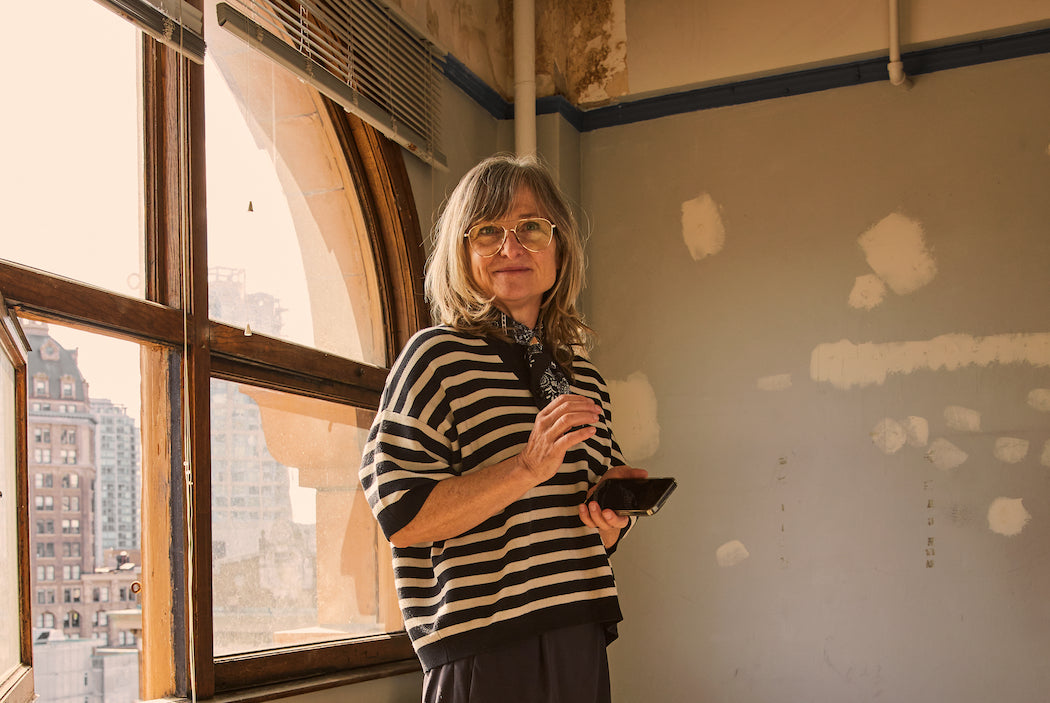 What does comfortable-yet-cool mean in a post-pandemic world? When we were stuck at home, we all bought up loungewear like there was no tomorrow (in fairness, we didn't really know if there would be one). But now that the world has opened back up, the question becomes: how do we dress ourselves now?
Some people (ahem, ladies of Selling Sunset) have gone full extra. Which, fair—no judgment here. But for those of us not showing homes in the Hills, fashion has taken a new form. It's still about comfort—comfort always—but it's also about looking great to feel great. It's about the perfect dress for meeting up with your people for happy hour; it's about the comfiest shorts for transitioning from slow breakfast at home to hot day at the beach; it's about the chicest pants for date night. And PAPER LABEL is showing us the way.
Helmed by president Teresa Lake, the Vancouver-based brand focuses on quality and sustainable materials, simple yet flattering designs, and an effortless cool that spans ages. Take, for example, the Oliver Pleated Wide Leg Pant, which is made from a soft and smooth blend of cotton and recycled polyester. Featuring an elastic waistband (comfort!) and a pleated wide leg with just the right amount of drama (effortlessly cool!) these pants easily go from reading on the couch to meetings at the office, and drinks afterwards. Pair them with the Owen Pleated Top for a top-notch throw-on-and-go outfit.
Below, Lake reflects on the brand's foundations and her own sense of comfort.
---
What are the core tenets of PAPER LABEL?
To design with purpose, produce responsibly, and ensure maximum wear of each product.
How big of a role do materials play in designing your products?
Materials play a crucial role. We set out to select quality, long-lasting fabrics that have the least environmental impact, while still providing comfort and versatility. Once a fabrication is selected, the fabric country of origin will determine where the garment is produced, reducing the overall amount of required shipping from development to point of purchase.
What are your must-have PAPER LABEL items for anyone new to the brand?
We have many core customer favorites, but to name a few:
 Simplify your everyday with the 

Mara Tank

 and 

Lisa Long Sleeve

.

One of our tried-and-true styles is the 

Opal Oversized Cardigan

. Just check out the reviews and you'll be convinced! 

Nothing feels as good as our 

Pima Cotton pieces

. Made from Peruvian Pima Cotton, these staple pieces are both breathable and durable. Layer, lounge, sleep, and live in them.
What does sustainability look like at the brand?
At PAPER LABEL, sustainability is about ensuring a balance between economic growth, environmental care, and social wellbeing.
Our environmental sustainability focuses on safeguarding water, saving energy, and reducing waste by selecting certified Lenzing fabric, organics, and recycled fabrics—along with compostable packaging, while limiting the use of plastic.
As a small business, our economic sustainability is equally important. We continually review the long-term economic development of our company by managing the environmental, social, and cultural aspects of its activities. We work to balance our economic growth and generating profit with the least impact on the environment and people.
Finally, we have always looked at our company's social sustainability by identifying and managing business impacts, both positive and negative; we also continue to look for ways to give back to support local causes and issues that we care about.
You recently did a photo shoot involving both your mom and your daughter. Why is it important to you that PAPER LABEL designs can span generations?
The company was created with a broad demographic in mind, speaking to a customer who embraces the "two-mile wear" philosophy. Our customer is not an age, she's an attitude; we felt this shoot helped in telling our story. Besides, it was the first time we had us all together in years. What a great way to celebrate each other!
Previously you held roles at Club Monaco and Aritzia. How did those jobs inform what you do at PAPER LABEL?
The experiences I gained at both Club Monaco under Joe Mimran, and Aritzia under Brian Hill, were instrumental in my business development, teaching me the importance of building a strong team and company culture. Moving from such large organizations to my own small business gave me the opportunity to build a continuity of philosophy both inside and outside the company; we support women on women's terms.
Aside from loungewear, what else makes you feel truly at home in your space?
The obvious: my Vitruvi diffuser both in-office and at home. Much like the ethos of our products, I like to feel comfortable and not "on stage." I want to spend time alone, with friends, or with family in an authentic atmosphere—tasteful but casual is where I feel my best.
---
This interview has been edited and condensed for clarity.
---
For 15% off your first PAPER LABEL order, use this code at checkout: INMYPAPERLABEL