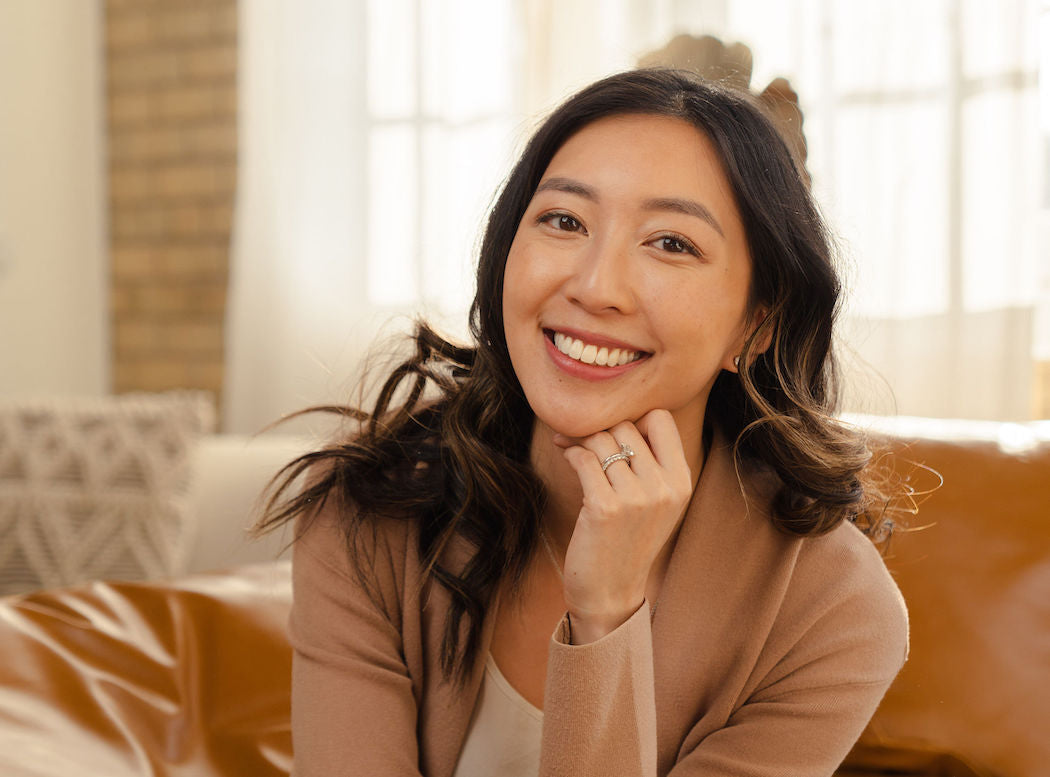 Less but better: it's easier said than done, but Three Ships beauty is leading the charge.
Founded by Connie Lo and Laura Burget, Three Ships is a clean, natural, sustainable skincare line that takes a distinct less-is-more approach. We don't need 10-step skincare routines; we don't need face products with 50 ingredients in them; and we certainly don't need brands that greenwash (and cleanwash) their collections through misleading messaging.
With transparency at the forefront (truly—every ingredient is entirely traceable on its website), Three Ships creates easy, effective products that fit into your everyday life. They're also affordable, and packaged cutely so as not to mess up your bathroom vanity vibe. Here we catch up with cofounder Lo to discuss affordability, quality, and entrepreneurship.
---
In your eyes, what sets Three Ships apart from other clean beauty brands?
Three Ships focuses on the intersection of three main pillars: natural, effective, and affordable. Most other clean beauty brands are either extremely expensive (hundreds of dollars for a routine, or for one product), affordable but ineffective, or affordable but greenwashed. That's actually why my cofounder, Laura, and I started the brand when we were 23—we were two broke college graduates who just could not afford the natural beauty options on the market. We pooled together our savings of $4,000 and started making products by hand in my kitchen, fueled by our mission to be the most effective natural beauty brand on the planet.
To us, being natural means being 100% plant- and mineral-derived, and we avoid 2,500-plus potential toxins. We are also B Corp Certified (one of only 102 skincare brands globally), Environmental Working Group Verified, and Leaping Bunny certified cruelty-free. Next, being effective encompasses science-backed formulations, clinically-tested actives and products, and using no filler ingredients. Finally, the cherry on top is that our products are accessibly priced at under $50.
There is so much greenwashing when it comes to skincare and beauty. Do you have any tips for consumers who are trying to wade through the marketing clutter?
It's unfortunate that there is still no single legal definition for "natural" in the beauty industry. I have several tips:
Use trusted sources to evaluate products. Some that I recommend include Environmental Working Group and Think Dirty (which rate products based on how clean their ingredients are). 

Compare the ingredient list on your products with a database to better understand what they mean. For example, our 

Ingredient Database

 outlines every single ingredient we use, including where they're sourced from and what they do for your skin.

Be wary of terms that seem suspicious or evasive. For example, some brands will say, "we don't test on animals" as a workaround to have a third party do animal testing for their products on their behalf.

Take it one product at a time! It can be overwhelming to try to overhaul your entire routine. I always recommend starting with just one product (like serums), or one category (like skincare), instead of reviewing all of them at once.
What are your current favorite Three Ships products?
My #1 favorite product has to be our Superfruit Lactic + Multifruit 8% AHA Exfoliating Mask. It's like a five-minute facial in a jar, and leaves your skin soft and glowing—and also prevents breakouts. It's five minutes of self-care I look forward to each week. Bustle recently named it their pick for Best Exfoliating Mask.
I'm also obsessed with our Dew Drops Mushroom Hyaluronic Acid + Vitamin C Serum. It layers beautifully under my moisturizer and makeup during the day, and keeps my skin hydrated and healthy. Finally, I can't go without our Brighter Days Red Algae + Avocado Biodegradable Eye Masks. These use clinically-tested upcycled avocado to depuff and brighten the under eye, which is much needed as a founder constantly in back-to-back meetings! I love that they fully dissolve in water and can be safely poured down the drain—no plastic and truly sustainable.
What have been your biggest learnings so far as an entrepreneur?
The imposter syndrome never goes away. When I first started Three Ships at the age of 23, I thought that a few years of entrepreneurship under my belt would make me feel fully confident in my skills as a founder and as a leader. Boy, was I wrong! What I realized is that as soon as you learn how to tackle a problem, new ones emerge that will undoubtedly make you question your abilities. What I've learned to do is recognize myself daily for the small wins, usually through journaling. This daily practice keeps me grounded and forces me to reflect on how much I've grown.
Another learning is to just shoot your shot. There have been countless examples of how the thick skin that Laura and I have has led to incredible unexpected outcomes. For example, auditioning for Dragons' Den when we were in the middle of a rebrand; we ended up passing auditions and pitching in the Den, securing four offers from three of the Dragons. Another example is how we applied for EY Entrepreneur of the Year, a coveted award that many people (including the EY partner) told us we weren't ready for. We decided to apply anyway, and ended up winning. When you're an entrepreneur, the doubt can eat away at you every day; it's up to you to challenge it and prove yourself wrong.
You recently launched into Whole Foods. How do you scale the business without sacrificing quality or mission?
We only choose retail partners that align with our mission, which makes it easy for us to scale without sacrificing our ethos, and ultimately our product quality (because integrity is one of our values). For example, when we doubled the size of our best-selling Dew Drops Serum from 0.5 ounces to one ounce due to customer demand, we decided to only increase the retail price by a few dollars instead of doubling it. None of our retailers blinked an eye, even though many brands would have used this as an opportunity to gauge more from their customers.
What makes you feel truly at home in your own space?
My routine keeps me sane and comfortable when working from home. As a founder, no two days look alike, which is why consistency in my morning and evening routines is a non-negotiable. Things like journaling, daily workouts, meditation, stretching, and walks with my dog make home a sacred space for me.
---
This interview has been edited and condensed for clarity.