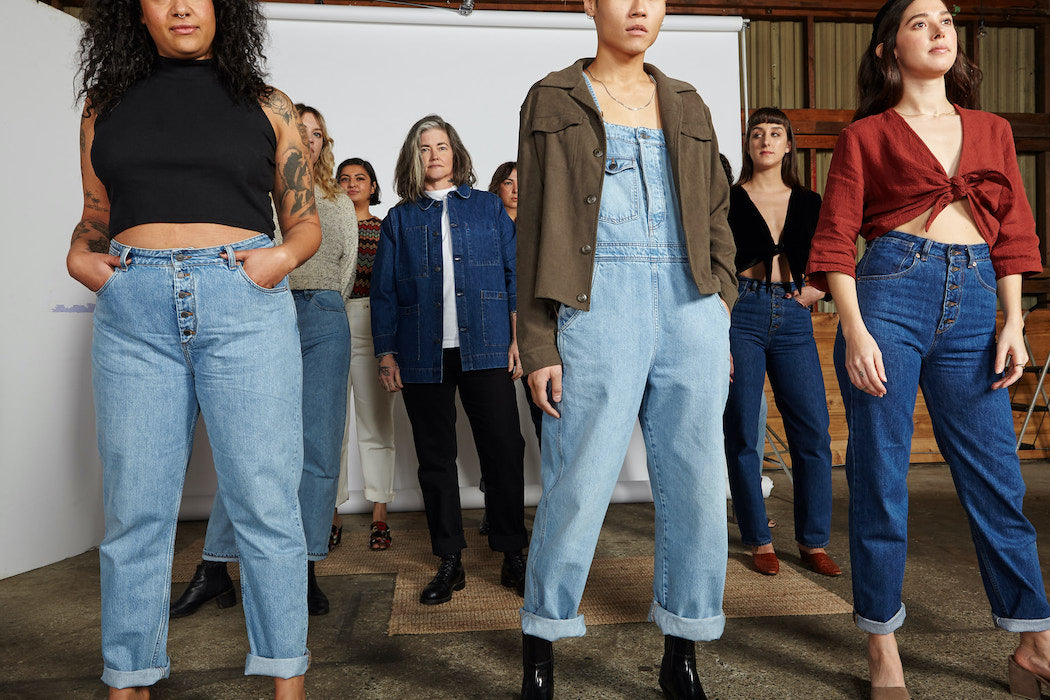 Molly Spittal was perfectly happy working with leather. She had a successful bag brand, called The Stowe, that had developed a devoted following. She was good. Things were good.
Then two friends asked her and her business (and life) partner Matt Atkinstall if they were interested in dabbling in denim. Their mission was a valiant one: the perfect pair of jeans.
"At first I was a little confused about the whole concept; I wasn't really sure why I would do this. And then I started thinking about the struggles that I had," Spittal reflects. "I identified something that I needed in the denim space, and that's denim made for curves. Because I have a butt and I have thick thighs, and a relatively small waist for those measurements. I'm curvy and I've never been able to find jeans that fit—there's always a huge gap at the waist, and it drove me insane."
So she decided to make herself a pair, as an experiment. "The first prototype blew my mind," says Spittal, seated (safely distanced) inside her East Vancouver studio space. The denim industry is largely based on one standard fit, she explains, that really only takes a professional model's curveless body type into consideration; to size up, brands usually just inject elastane into that same design so that their pants fit on other shapes. What Spittal did instead was design to her own measurements, namely her waist and her hips. They turned out so well that she realized she was onto something.
So after a decade running The Stowe, Spittal and Atkinstall shut down their brand to throw their energy into jeans, partnering with those denim-loving friends Morgan Ellis and Ezra Kish who had approached them on that fateful day. Called Decade Studio (perhaps in homage to the 10 years Spittal and Atkinstall spent doing The Stowe), the brand offers inclusive, ethically-produced, 100 per cent cotton jeans. The perfect pair? It's pretty darn close.
Spittal uses what she's coined the Retro-Fit model, which gathers data from as many customers as possible, compiling that into the most common ranges between a person's hips and waist. To launch, this resulted in three versions of one jean: "We have one that is fairly straight, that's our unisex style, the Alex," says Spittal. "And then there's the Bonnie, which has a moderate curve ratio, and then the Pamela, which is a super curved fit. Across those three fits, so far I have yet to turn someone away."
It's true shape inclusivity, understanding that some women have wider hips, bigger butts, smaller waists, or some combination of it all. Within each style, Decade offers a range of sizes—and is about to launch plus-size, as well, which is an important issue for Spittal.
"The plus-size community does not have 100 per cent cotton jeans on offer to them," she says, as her tiny dog putters around her lap. "Everybody injects elastane because it's a really easy way to use one pattern and make it go further. You don't have to put much thought or effort into it. It's a really huge problem that the plus community doesn't have access to a responsibly-made garment that is long-lasting and repairable. It's not okay, really. They're just being othered over and over and over again."
The problem with denim that has been injected with elastane, Spittal says, is that the elastane snaps over time—this is what causes stretchy jeans to bag out. On top of that, because it's a form of plastic, elastane doesn't break down and is thus destined for the landfill.
Decade, alternatively, only produces jeans using 100 per cent cotton. This does require some work on the customer's side, as pure cotton jeans start out fitting incredibly (read: uncomfortably) snug. But if you can get past those first few wears, the natural fibres will start to relax in just the right places, forming to your body shape and resulting in a perfectly flattering fit.
Buying from Decade also means supporting a small, sustainable, ethical, family-run factory in Portugal. "Of course, making new garments in 2020 is a really complicated thing, but there are a lot of steps that we've taken to make sure that we're being as environmentally and socially responsible as possible," says Spittal. The factory's wastewater is recycled, and their denim adheres to the Better Cotton Initiative (a non-profit committed to making cotton production both ethical and sustainable). Scraps from the production floor are also gathered and sent to a company that repurposes them as home and car insulation. "I really want to start normalizing this kind of conversation," Spittal continues, "where it's like: 'We're not perfect, but we take every measure we can.'"
Not perfect but doing their best—a true sentiment for our time.