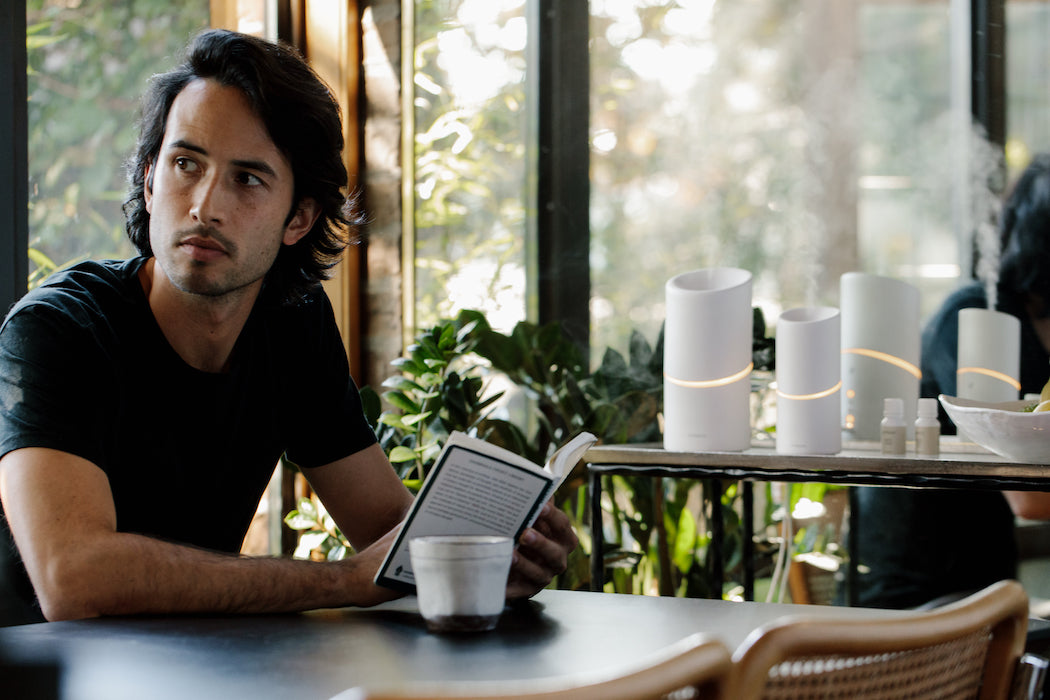 We spend a lot of time in our homes, so why not make them truly comforting places to be?
An ultrasonic essential oil diffuser uses all-natural oils to scent any space. It's an effective, safe, and seamless way to add another dimension to your home—and make you feel good in the process. Scent is powerful, helping you feel uplifted, soothed, romantic, or happy; an ultrasonic essential oil diffuser does this completely naturally, instead of using the synthetic fragrances found in many traditional home scenting products.
What is an ultrasonic essential oil diffuser?
An ultrasonic essential oil diffuser use millions of vibrations per second to create the aromatic steam that you see it misting into the air. That means they emit no heat, which is safer for you and the oils; no heat touches the oils (which could compromise their quality), and the inner water reservoir does not interact with the oils. This results in a better-smelling aroma, every time.
What kind of oils can I use in an ultrasonic diffuser?
You should always use essential oils that are 100 per cent pure in your diffuser. This ensures you're using the best-quality oils that are safe for you to breathe in on a daily basis. You can opt for single origin essential oils (think: Ylang Ylang, Sweet Orange, or Peppermint) or choose curated essential oil blends (such as vitruvi's Dusk, Sleep, and Quiet blends). The beauty of a diffuser is that you can easily swap your aroma based on your mood, allowing your home scent to meet you where you are—from AM to PM.
Is an ultrasonic diffuser a humidifier?
Ultrasonic diffusers do add a bit of moisture to the air, but not as much as a traditional humidifier. However, if your diffuser is close to you (such as on your desk while you work or on your bedside table while you sleep), you might feel a bit of the cool mist—think of it as an added benefit. Still, keep in mind that the purpose of an ultrasonic diffuser is to add aroma to the air, so it does not create moisture in a room the way a humidifier does.
Where should I buy an ultrasonic diffuser?
We are partial to our diffusers, of course. Here at vitruvi, we have different models that all serve different purposes—and seamlessly work together to scent your whole home.
The Stone Diffuser is our classic model, which a matte ceramic cover that doubles as decor. It scents up to 500 square-feet. The Move Diffuser is cordless, allowing you to take it around your home and place it in areas that might not have an accessible outlet (think hallways, coffee tables, and bathrooms). It scents up to 500 square-feet. The Stay Diffuser is our longest-lasting diffuser, able to scent your largest rooms for 18 hours. It scents up to 700 square-feet. All three of these diffusers have inner water reservoirs made of BPA-free plastic and come with an automatic safety shut-off feature, as well as an optional LED light for added ambiance.
The bottom line? An ultrasonic essential oil diffuser adds another dimension to your home, allowing you to channel your mood through scent. All-natural aromas make your home smell good, which in turn makes you feel good.