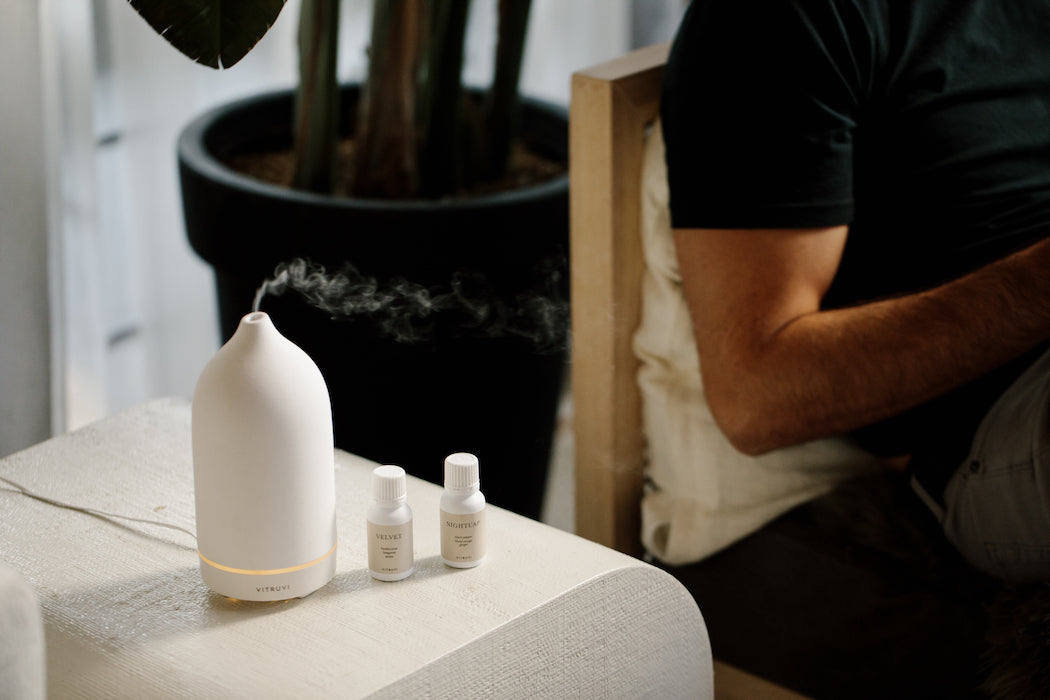 An essential oil diffuser is a great way to safely and naturally scent your home. By using essential oils that are 100 per cent pure and non-toxic, you can set the mood in your space from AM to PM using products that are safe to breathe in on a daily basis.
Here is some information to get you started.
How to use essential oils to scent a room
When put into a diffuser with water, essential oils allow you to scent any room you like. When picking your essential oils, think about the mood or vibe that you want to set. Are you having guests over? Then perhaps you want something sophisticated and musky. Are you reading on the couch? Then perhaps you want something calming and cozy. Are you helping your kids with their homework? Then perhaps you want something happy and energizing.
Aroma can change the way you feel in a room. It's the final layer, instantly transforming any space.
How to choose essential oils for a diffuser
The beauty of scent is that it's personal. The best essential oils for you are the ones you like best—and what's great is that with a diffuser, you can easily change up your aromas based on your mood. Maybe you love citrus scents all day long, or maybe you want something refreshing and herbal for your morning and something calm and floral for your evening.
At vitruvi, we have both single origin essential oils (100 per cent pure oils from a single source, as in Grapefruit, Spruce, or Ylang Ylang) as well as expertly curated essential oil blends (proprietary combinations of 100 per cent pure essential oils that create more complex aromas, such as Dusk, Sleep, or Pacific). Half the fun of using an essential oil diffuser is experimenting, so don't be afraid to mix and match different oils and blends together.
Generally, citrus oils (such as Sweet Orange) and herbal oils (such as Eucalyptus) work wonderfully together; the same goes for floral oils (like Lavender) and woodsy oils (like Cedarwood). But really, anything goes—if you like the way it smells, go forth and diffuse.
How much essential oil should I put in my diffuser?
How much essential oil you should put in your diffuser depends on how strong you want your aroma to be. Generally for our Stone and Move diffusers, we suggest 20 to 25 drops. For our larger Stay diffuser, we suggest 30 to 35 drops. You also want to make sure to fill your diffuser with water to just below the indicated fill line.
Scent can boost our mood, relax us, and even transport us to faraway places (hello, Retreat Essential Oil Blend). Next time you're thinking about adding fragrance to your home, consider a diffuser for a safe, effective, and beautiful alternative.