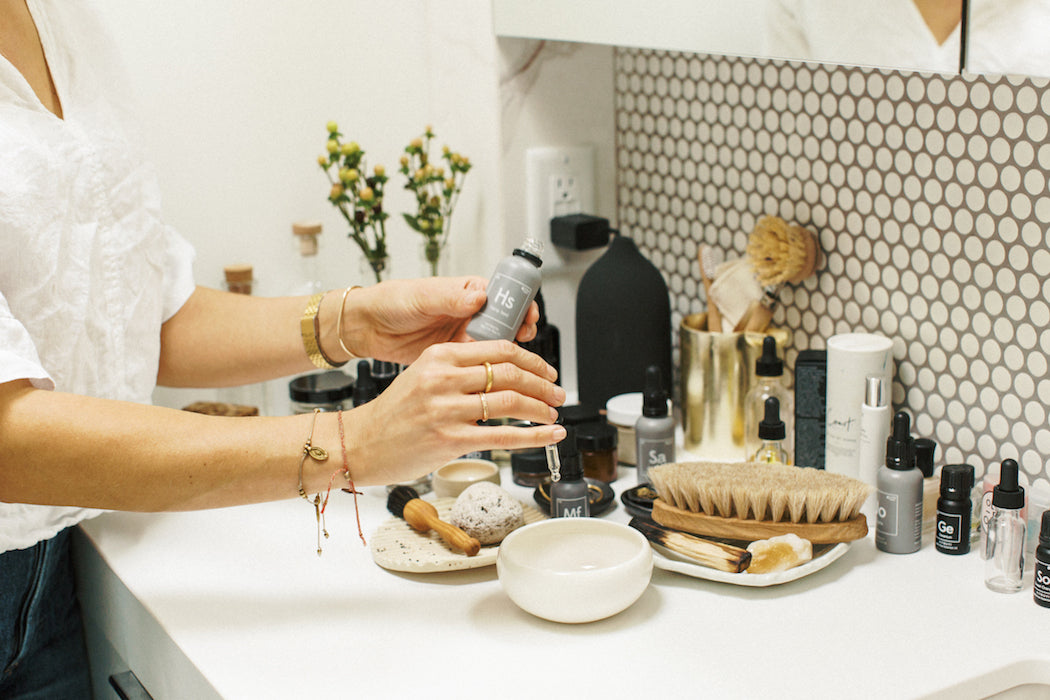 When colder weather rolls around, it's a chance for us to "winterize" our routines. This happens through our wardrobe (hello, cable knit sweaters and cozy socks), our food (stew and roasted veggies on repeat), and our skincare (moisture, moisture, moisture).
We think the most important adjustment to make for winter is reevaluating your skincare routine. A change in seasons is the perfect time to check in with your skin and see how the weather might be influencing the level of moisture you need. We commonly find that when winter hits, our skin inevitably gets drier. Then those dry areas start to flake, which starts an unfortunate chain reaction of flaking, trying to cover up said "flakes" with makeup, and somehow becoming even flakier. Winter skin is thirsty skin, which is why we've put together this super nourishing face oil formula for retaining moisture—to make sure your skin stays flake-free and dewy over these next few months.
If you're unfamiliar with our three-step system for creating a custom face oil, you can learn more about it here. This formula is meant to provide you with some inspiration, so you can start thinking about what face oils you want to make.
FACE OIL FOR DRY SKIN
BASE OlL
16 droppers Jojoba Oil
COMPLEX OILS
3 droppers Meadowfoam Seed Oil
3 droppers Blueberry Seed Oil
ESSENTIAL OILS
5 drops Frankincense Essential Oil
5 drops Ylang Ylang Essential Oil

Directions
Mix all the oils together in a 15-ml dropper bottle. To apply, add five or six drops of your custom face oil to your palms and massage into your face. You can also add two to three drops to your current moisturizer for an extra boost.
Why we chose these oils
We picked Jojoba for our base oil because it's super nourishing. It naturally mimics the skin's oils, which means it sinks in easily. It's the equivalent of layering up with cashmere—super effective without being too heavy. For our complex oils, we went with Meadowfoam Seed, which adds a pillowy softness to the face, and Blueberry Seed, which is super conditioning and packed with antioxidants. Both are great for rejuvenating tired, dry, and dull skin. As for our essential oils, we chose Ylang Ylang because it smells amazing and adds a beautiful glow. We also added Frankincense because it can help with fine lines and feed dry skin.
So get out there in the cold air—with the right tools, your skin can handle it.