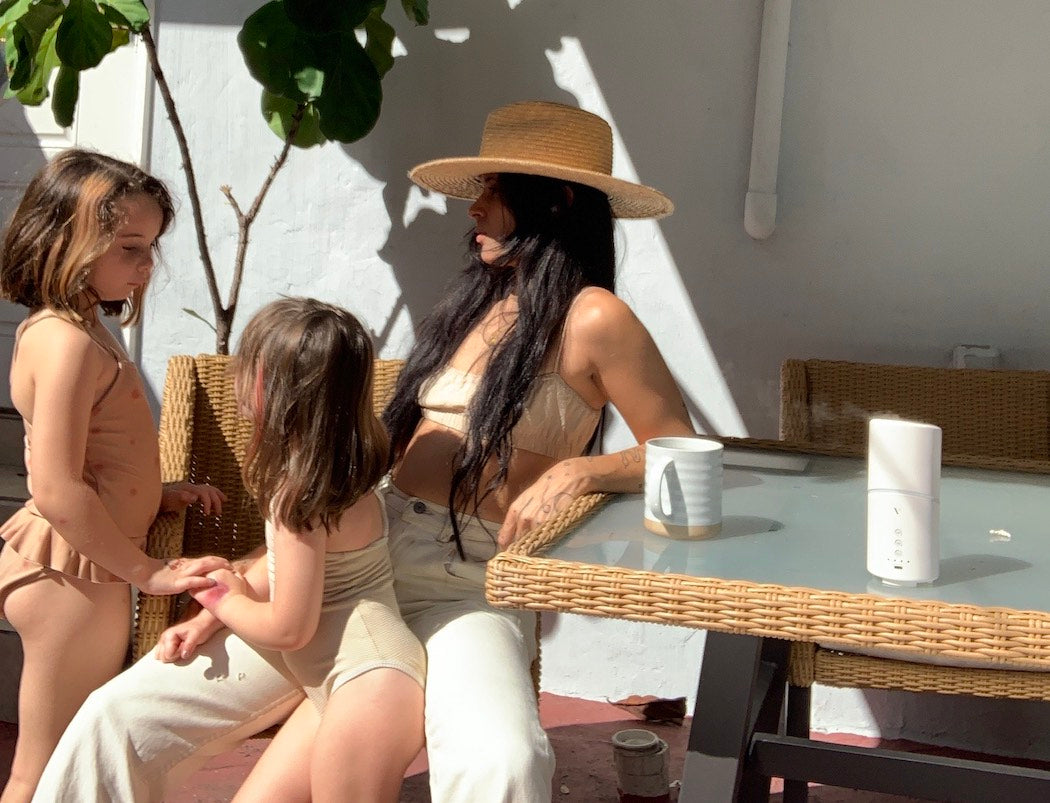 I started Milk Folk a few years ago, but officially launched in March of 2020. Right at the beginning of quarantine. I had no idea what kind of journey was ahead of me.
Milk has a dual purpose: it is a blend of my passions for vintage, art, sustainability, and design, all while being a constant present for my two girls. Currently Milk is mostly vintage and interior design services, but I have plans over the next year to expand it into a full-fledged design house, creating a label of ethically-produced clothing inspired by pieces I've found over the years; I also want to offer design services as a way of giving back specifically to the BIPOC community.
Milk gets its name from my papou (grandfather), who came to America from Greece in the 1950s and started a milk delivery business in Chicago. I've always been really proud of my family's Greek heritage and entrepreneurial spirit. I have also always found such beauty in taking things and giving them new purposes—finding life in things that people have discarded. There is such an art to the process for me. While sourcing vintage, I can close my eyes and feel the texture and shape of the clothing. It's more of an energy thing. Law of attraction. I carefully curate each piece for each drop. I always intend to create a feeling linked to my lifestyle.
I live very effortlessly here in Miami. My days are usually filled with sourcing vintage for Milk, going to the beach, and eating local foods. My girls and I are true minimalists. I don't have anything in my home that doesn't have purpose or make me feel good. My home and wardrobe are infused with earthy textures, natural fibers, and vintage furniture. I'm very passionate about my space and being able to feel and operate as my highest self for my girls and my business, with a focal point of sustainability.
Though my passion for design has always come naturally to me, running a business has not. I have had nothing handed to me.
I did not grow up in a traditional home by any means. I'm still working through a lot of trauma. Addiction runs deep in my family, and as a result, my mom was never part of my life. Growing up unmothered seemed to be embedded in everything I did. Constantly looking for the approval of others, I eventually had to go back into my childhood and re-parent myself, and peel back some of the most painful layers so that I could be a better person and mother for my girls and those I love. However, all of that has allowed me to enter a place of acceptance for my truest self. I've been able to explore my sexuality and come out over the last few years. I am a lover of people and not a fan of labels or boxes. But I am a woman who loves women, and that I am very proud of. I am queer, a small-business owner, and a single mother. Milk is a brand that stands behind and believes deeply in equality. It is more of a lifestyle for both me and my girls.
I am deeply grateful for every brand, and every person, that has shown me love and support. Including the ones that were more of a challenge and provided opportunities for growth. I know I am just getting started with Milk. This journey is perfectly mine, and I am so thankful for every step.