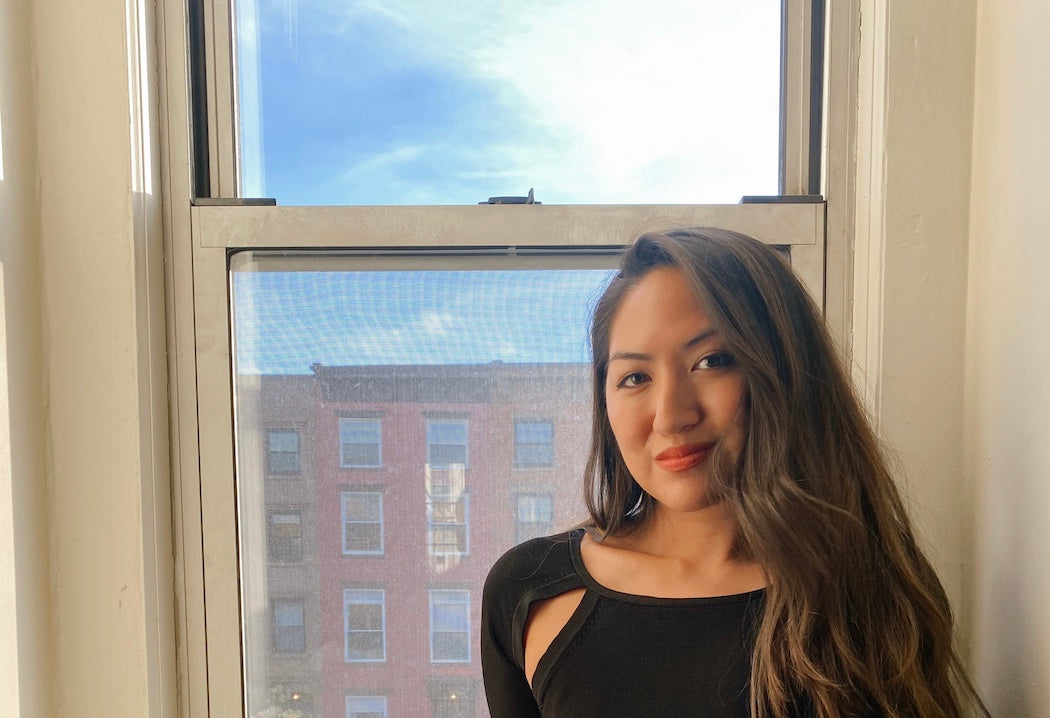 I met Kristina Rodulfo, of all places, in Switzerland. I believe we were eating cheese fondue at the time, on a hill overlooking Lake Lucerne (not bad, not bad at all). We happened to be on the press trip with luxury Swiss skincare brand La Prairie, learning about their new product and visiting esteemed fair Art Basel. It was a dream of a trip, a quick three days, a whirlwind, a fleeting moment.
Based in Brooklyn, Rodulfo was with Elle magazine at the time as a beauty editor; now she's taken things to the next level as the beauty director at Women's Health. Which means she knows plenty about skincare, makeup, hair—the works. She's a true talent, with a warm, bubbly energy and a track record of interviewing some of the best in beauty and fashion (including Jennifer Lopez, Jessica Alba, and Michael B. Jordan).
With all of us grounded to our homes these days, that trip we took to Basel feels even more distant than it used to. But the memories remain. And as Rodulfo explains below, memory is exactly the thing that makes her believe so strongly in the power of scent.
---
Scent is so personal. What does it mean to you?
Scents are like keys that unlock memories, so I like to attach them to things I want to remember. I got engaged recently, and was wearing a floral perfume. When I happened to wear a sweater that still had that perfume scent on it, I was immediately whisked back to that really special moment of love. But, it's not just perfume: it's the smell of freshly-baked cookies that brings me back to baking at home during the early days of the pandemic; the scent of fresh grass that transports me back to high school cross-country season; and the smell of jasmine flowers that brings me back to my parents' native Philippines. I'm an extremely nostalgic person—I wish I could bottle up conversations, and smiles, and everyday moments that pass…so playing with scent is the next best thing.
Describe your personality in three to five words.
Creative, ambitious, empathetic, outgoing, and optimistic.
With those words in mind, tell us about the diffuser cocktail that you've created to represent your scent style.
I combined Boost, Ylang Ylang, and Eucalyptus. This mix of fresh scents is a really bright, happy, warm cocktail. It makes me think of somewhere outdoors, in the summer (this is what I mean by outgoing and optimistic!), but it is also very grounding and creates an environment conducive to focusing and getting my creative juices flowing.
Why did you choose each of these oils and how do they work together? What does the final aroma smell like or remind you of?
I am a big fan of Boost Blend alone—the zesty combination of Bergamot, Grapefruit, Juniper, and Lime feels like sunshine and a nice, cold drink. After staying put in my Brooklyn one-bedroom for a whole year without traveling (and I used to travel a lot!), this cocktail is a welcome escape. I added Ylang Ylang because I am a major fan of florals and it's a native tree of the Philippines, so this adds that calming sense of home. And Eucalyptus has always felt to me like a scent for resetting, or restarting. So, whenever I start feeling stressed or anxious, the whiff of Eucalyptus helps pull me back to center.
What room do you diffuse this scent in and when do you diffuse it?
I keep this in my bedroom. I like to diffuse all times of day—but especially at night, when work is done and I need to get into the headspace of relaxation and positivity. It can be difficult working from home and trying to create boundaries between my job and life, and having a delicious smell signify, "Okay, it's time to wind down!" is helpful.
Aside from scent, what else makes you feel truly at home in your space?
My fiancé—I could be anywhere with him and it would feel like home. I am also very big on having rituals, and in the mornings I crave some time to myself for journaling, hot tea, meditation, and exercise. Other elements that help cultivate that feeling of home are music playing in the background—my taste ranges widely, anywhere from H.E.R. to Carole King—open windows, and sunlight.
What's your favorite thing about your home?
The surrounding area. I live in Carroll Gardens, and it is the coziest bubble in Brooklyn full of local shops and restaurants that have been there for ages (where you can be a real "regular"); people who have been here for ages; brownstone-lined streets; and Brooklyn Bridge Park and Prospect Park walking distance away. It's the first place I've lived in New York that really feels like a neighborhood to me—everywhere else I've lived has felt so transient. This place feels like it has roots.
SCENT STYLE: KRISTINA RODULFO
15 drops Boost Essential Oil Blend
5 drops Ylang Ylang Essential Oil
5 drops Eucalyptus Essential Oil