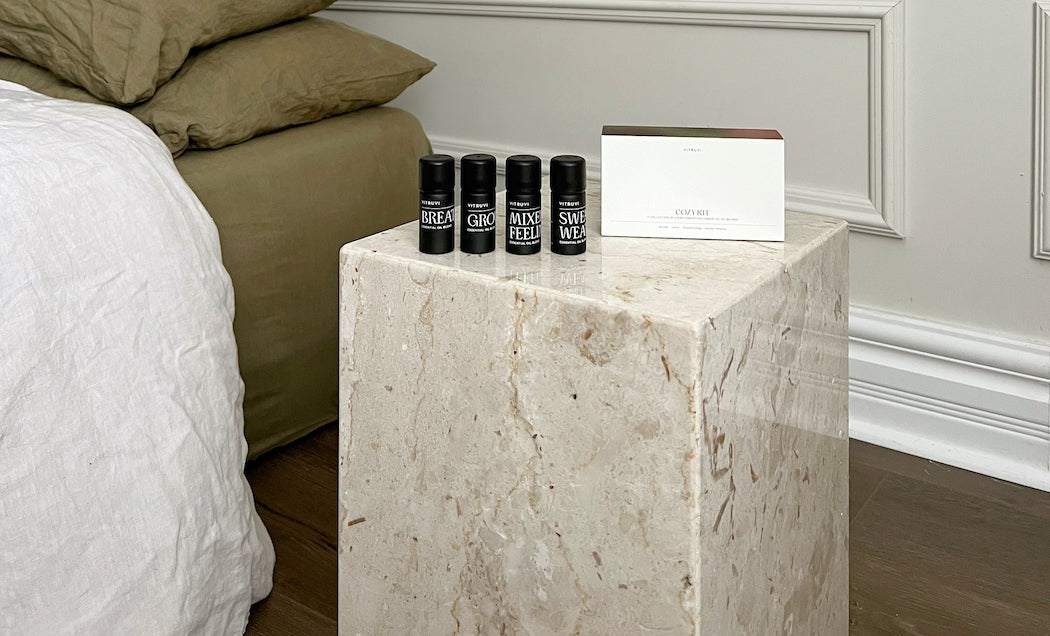 Fall is upon us: a time for chunky knits, warm coffees, crisp walks, and cozy scents. When it comes to choosing home aromas for this season, go for ones that are fresh, welcoming, and rich. Here are our go-tos from vitruvi.
Cozy Kit
This limited-edition collection of scents for the season is extra-special because it includes an exclusive blend that can't be found anywhere else. Sweater Weather is a beautiful mix of Star Anise, Cinnamon, and Sweet Orange, giving it an invigoratingly spicy and sweet aroma. It's a warm hug, bottled. This curated kit also includes fresh Breathe Blend (which smells like herbal tea); woodsy Grove (which smells like a crisp fall walk); and Mixed Feelings (which smells like a hot toddy). The hardest part will be picking which one to diffuse first.
Sleep Essential Oil Blend
Okay, yes: a good night's sleep is necessary no matter the season. But especially as the weather gets colder, Sleep Blend can set the stage for your best night's rest thanks to its soft and powdery scent. Put it in your bedside diffuser an hour before sleep and close the door; when you crawl under the covers, your room will smell like a cloud.
Dusk Essential Oil Blend
Warm, dry, and comforting, Dusk is a great blend to diffuse for a romantic date night in—whether that's you with a partner or you by yourself. It'll make your space smell inviting and desert-like, which is great for chilly and dark autumn nights.
Spruce Essential Oil
If you're craving a dose of nature but can't make it outside, Spruce Essential Oil is a great alternative. It smells just like its namesake tree, thus transforming your space into a forest—you can almost hear the leaves crunching under your feet. Hint: it blends well with Eucalyptus Essential Oil for something extra fresh.
Warm Linen Natural Air Freshener Spray
For those in-between moments and quick scent touch-ups, natural air freshener sprays are the perfect thing. With Lavender and Vanilla, the Warm Linen scent is particularly nice for autumn; spray it in the living room before your friends come over or in your child's room when you're reading bedtime stories.
Falling for fall? Yeah—us, too.