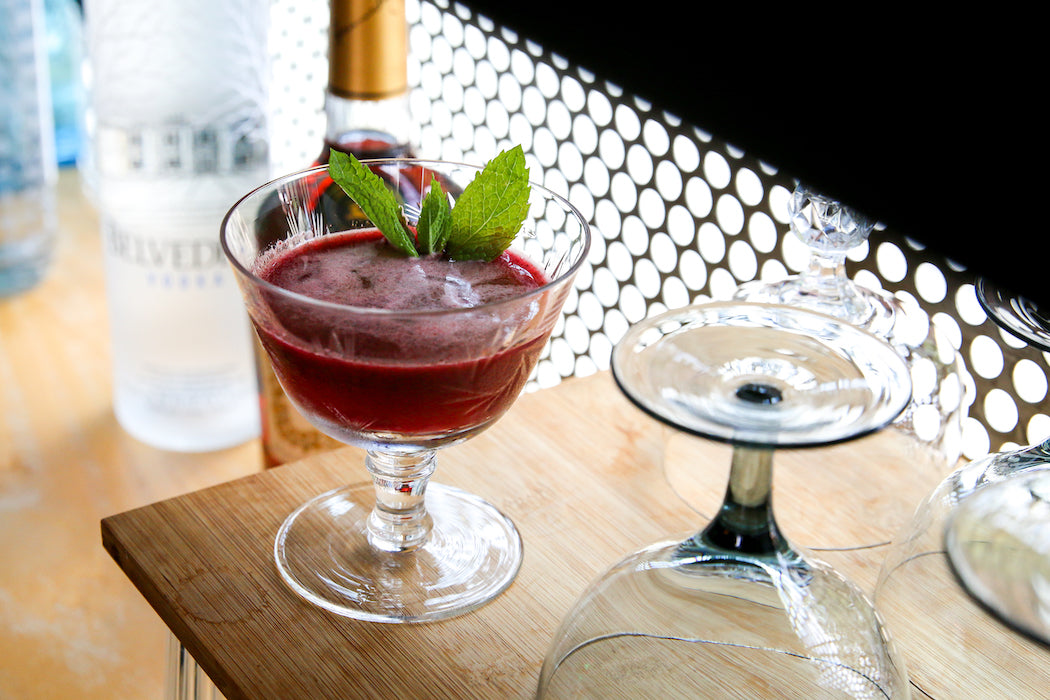 I chose to pair flavourful British Columbia blueberries with Hennessy Cognac since both play well off each other. The blueberries bring out the rich fruit flavours in the Cognac, and the Cognac brings out the acidity of the berries, bringing full balance to this Chickadee Room cocktail.
Basket Goodies


Ingredients
30 millilitres Hennessy Very Special

5 millilitres crème de cacao

30 millilitres blueberry syrup (recipe below)

30 millilitres lemon juice

Ardbeg (just enough for a coupe glass rinse)

Mint leaf


Blueberry syrup ingredients
150 grams British Columbia blueberries

100 millilitres cold water

75 millilitres white sugar


Blueberry syrup instructions
Combine the blueberries and cold water to a small pot and bring to a simmer until the blueberries start to split.

Add the sugar and stir to dissolve.

Take the pot off the heat and put all the contents into a blender, blending to a smooth consistency.

Filter the syrup through a fine strainer to remove any skin and seeds.

Store the syrup in the fridge and keep for up to two weeks.


Cocktail assembly
Combine all the ingredients (except the Ardbeg) into a cocktail shaker.

Add ice and shake vigorously for seven to 10 seconds.

Pour into an Ardbeg-rinsed coupe (swirl a splash of Ardbeg in the glass to coat the sides and discard, ideally in your mouth).

Garnish with a mint leaf.