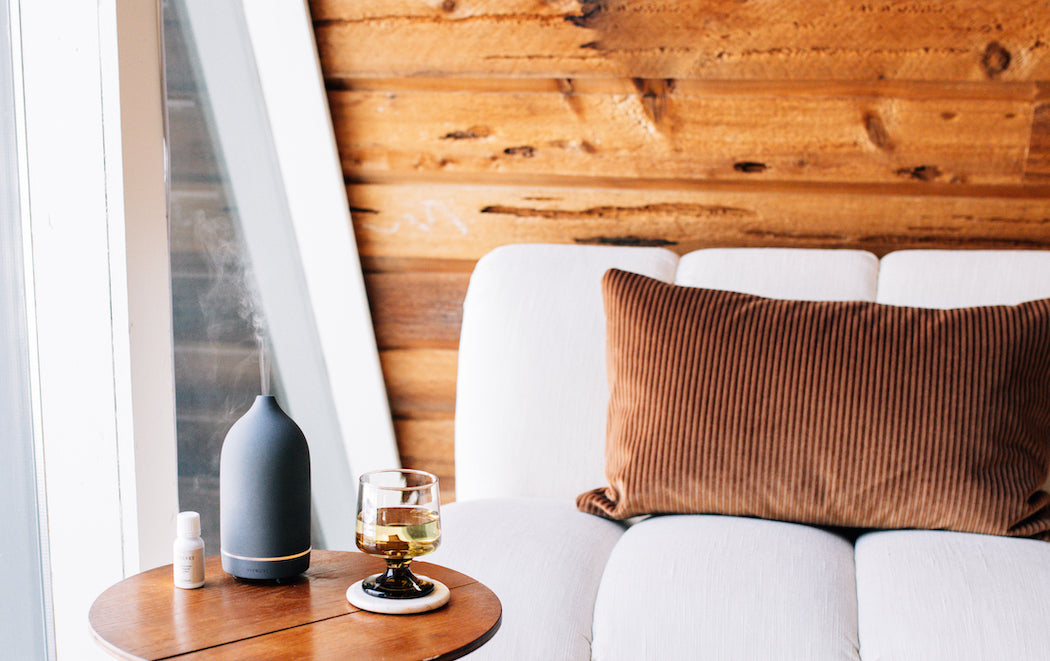 At vitruvi, we know we're lucky to be able to help stop the spread of coronavirus by staying home (#flattenthecurve) while also continuing to work. Here are some diffusing suggestions that we're loving at our home offices right now.
Sara, ceo: "I'm currently diffusing 15 drops of Nightcap with 5 drops of Cedarwood. Nightcap is the perfect mix of smoky and fresh to make me feel grounded yet alert during working from home; the Blood Orange, Ginger, and Black Pepper are an amazing way to clear the air. I add Cedarwood to help bring more of the outdoors in. I've been diffusing this at my dining room (now office) table all week."
Steph, wholesale: "While working from home this week, my diffuser has been going 100 per cent of the time. So far, my go-to diffuser cocktail has been 10 drops of Clean Sweep, 5 drops of Cedarwood, and 5 drops of Bergamot. I love Clean Sweep on its own, but I find that adding Cedarwood makes it even more complex and grounding. And the Bergamot adds a cozy citrus kick to the mix, making for the perfect de-stressing scent. The combination of these oils makes me feel at ease, and makes my apartment smell super fresh and clean."
Jenna, design: "I am diffusing 20 drops of Grove and 15 drops of Sweet Orange every day. It's my go-to and makes me feel like I'm walking in a sunshine-y, dewy forest."
Simone, partnerships and experience: "I've been diffusing 15 drops of Nightcap, and adding 5 drops of Sweet Orange, each morning. This blend creates such a fresh and juicy scent in my apartment to give me that little boost throughout the day. Starting my diffuser each day has become part of my morning routine while my coffee is brewing, and it has helped me create a fresh and productive environment."
Scout, marketing: "My favourite blend right now is Clean Sweep; I put 20 drops in the diffuser that sits on a shelf beside my desk. I like uplifting, energizing aromas when I'm trying to be productive at home, and I love that while the Pine and Lemon in Clean Sweep are super bright, the Clove adds some warmth and spice to it. It makes me feel fresh and cozy at the same time."
Harrison, design: "I'm currently diffusing 20 drops of Grove. It's a great way to bring the outdoors in during a time where the majority of our time is spent inside."
Chris, digital: "My go-to is Clean Sweep, all day every day. I diffuse 25 drops to keep my apartment smelling freeeeesh."
Sophie, customer experience: "Waking up today was harder than usual; let's be real, the world is kind of overwhelming right now. So to ease into my morning and ground myself, I decided to diffuse my all-time favourite Dusk (10 drops) with a bit of Spruce (5 drops) to freshen things up. It gives me super chill vibes."
Matt, digital: "I have been doing 8 drops of Grapefruit, 6 drops of Cedarwood, and 4 drops of Peppermint. I like my scents the way I like my cocktails: fresh and fruity with a little punch. I usually diffuse citrusy Boost, but I've been missing the fresh outdoors lately. This combo blends the citrus I love with the open-air scent of a cedarwood forest."
The beauty of scent is that it meets you wherever you are. Take time this week to make space for yourself and feel as good as you can in your home.