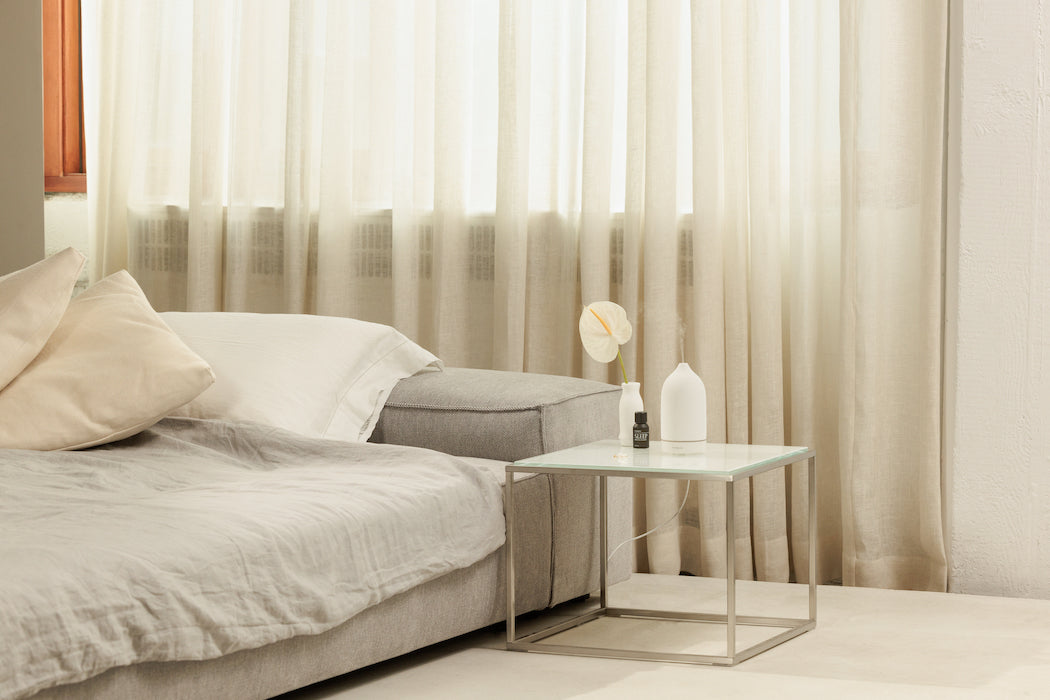 We like to think of the bedroom as an oasis—a place where you aren't responsible for answering emails or even looking at a screen. Treating your bedroom like a place of refuge—a happy place, if you will—is one of the ways you can really give yourself a break and a chance to recharge. So we've rounded up a few ways to make your bedroom a space you'll truly love coming home to.
Adore your sheets
Sheets and pillows are a super intimate thing. Our bodies and faces spend all night pressed up against them, so why not make sure they feel amazing against your skin? For the spring months, we cozy up in linen sheets. Parachute carries a gorgeous set; we're madly in love with the Shore and Blush colours.
Be comfy
Like sheets, for a truly great night's sleep, comfy pyjamas are a must. If you like to sleep nude, then you might have already reached peak comfort; for those who like to don a cute pair of PJs, though, this rainbow striped set from Madewell is at the top of our wish list.
Use scent strategically
We love to turn our diffusers on an hour before bed and close the door so that when we return there to go to sleep, we've created a little scent oasis. Our Dusk Blend is made of Lavender, Eucalyptus, Ho Wood, and Frankincense—it's the perfect grounding, calming scent to surround yourself with before drifting off into dreamland. Or try our Sleep Blend, which includes calming oils such as Ylang Ylang, Roman Chamomile, and Vetiver. For the morning, we opt for Boost—a not-too-sweet citrus combination that naturally energizes the body and mind.
Get reading
In the evenings, reading is a great way to wind down before sleep and to make your eyes tired (unless your book's a suspenseful page-turner—then who knows how late you'll be up). We're currently reading Let My People Go Surfing: The Education of a Reluctant Businessman by Patagonia founder Yvon Chouinard, and Slouching Towards Bethlehem by Joan Didion.
Add fresh blooms
There's no denying the feeling you get when you come home to fresh flowers. They usually end up in the kitchen or living room, but instead try making it all about you by putting them bedside.
Create ambience
These pretty salt lamps from Urban Outfitters are beautifully rustic, adding a warm ambience that will make you feel instantly cozier. Also, a humidifier is a great way to create an optimal environment for sleep. By naturally hydrating the air in your bedroom, our Cloud Humidifier relieves congestion, prevents snoring, soothes dry eyes; it even moisturizes your skin and hair overnight. Talk about beauty sleep.
Sweet dreams, sweet dreamers.