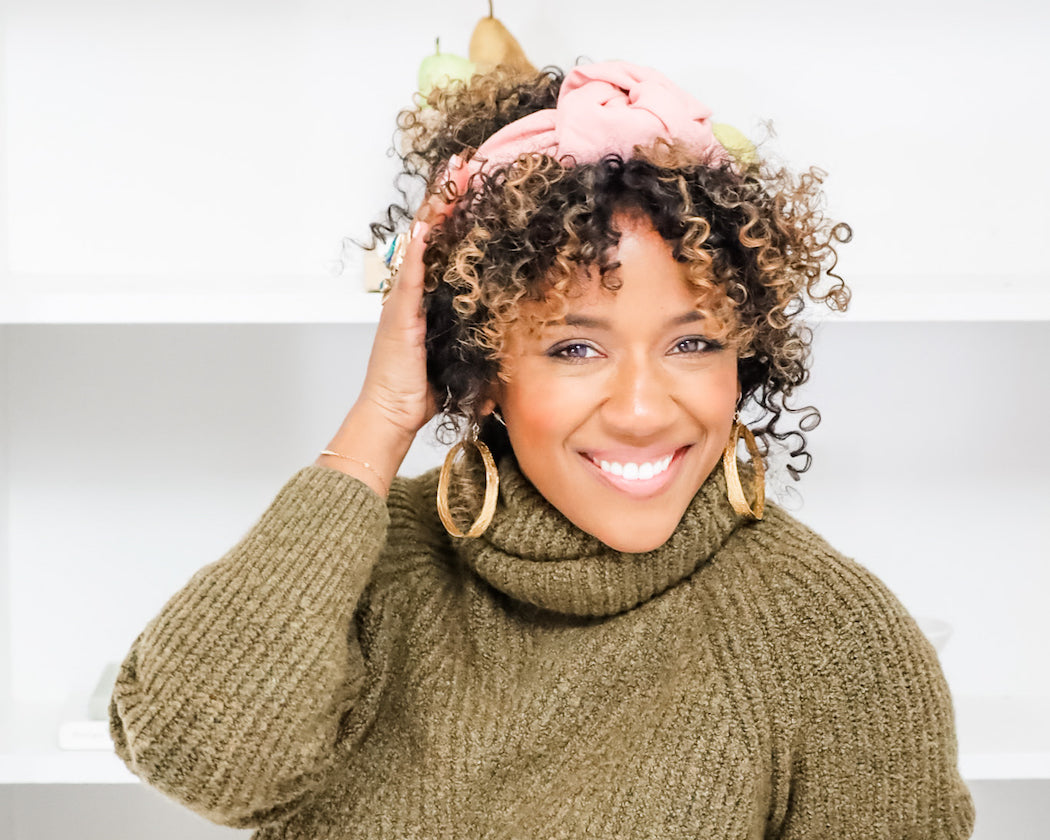 "For so long, everyone wanted the exact same ripped-out living room image from a catalogue," says Dayna Isom Johnson. "Today, all shoppers crave is individuality."
As the resident trend expert for online maker marketplace Etsy, Isom Johnson has watched consumer behaviour change dramatically over her nine-year tenure. And while her job is to figure out what people want before they know they want it—which often changes with the seasons, news, and cultural conversations, making it truly challenging work—one trend that clearly weaves through everything is that idea of originality. Even within a trend of, say, oversized earrings, people look to find ways to make it their own, be that through colour, shape, or material.
What sets Etsy apart, then, is that it offers customers the chance to speak directly with sellers, and to customize pieces to match their specific tastes. "When you're shopping on Etsy, you have the opportunity to say, 'Hey, Sara the woodworker: do you think we could size this table down to custom-fit my breakfast nook?' Or, 'Sara the artist: could we potentially paint in blue instead of yellow because that's my favourite colour?'" Isom Johnson explains via video from her home in New York. This also allows for more human connection, which is always a good thing—but especially right now, when the coronavirus pandemic means many of us are stuck at home, unable to see loved ones.
Isom Johnson points to the hoops dangling from her ears. "I think about the girl who makes my earrings," she says. "Her name is Alicia, her business is called linguaNigra. I've been purchasing from her for years and years and years. We've built a friendship now, and we talk outside of just me purchasing her incredible jewellery." The way that a restaurant bartender might become friends with a regular customer who shows up every Tuesday night (well—in pre-pandemic times, that is), the Etsy seller-buyer relationship creates the chance for a deeper personal exchange.
After attending the Fashion Institute of Technology, Isom Johnson joined Etsy on the public relations and marketing side, which meant she often prepared spokespeople before they went on-air to promote the company. One day, an expert who was scheduled to appear on Good Morning America to talk about Etsy wedding offerings had to cancel. Because she already knew the material and was so visibly passionate, Isom Johnson was put on the show instead.
"It was after that moment that I left the stage at GMA that I was like, 'Oh my gosh, this is the story I should be telling. I had been telling it in a PR voice, but this is my jam! This is what I want to do,'" she recalls. "I had the courage to speak with my supervisors and say, 'Hey look, I really want to tell the narrative of our Etsy sellers in a different way. I think that people are shopping in a new way. I want to work on the analytics, I want to tell the stories. What do you think?' And luckily enough I was very supported by the leaders of Etsy, and they allowed me to do it. And it's been successful ever since."
Aside from her work with the retailer, Isom Johnson is also a judge on NBC's Making It, a maker competition hosted by comedians Amy Poehler and Nick Offerman. "They are two incredible humans. Obviously they're funny, anybody can see they're funny—but they are just genuine, heartwarming, good people," Isom Johnson says, quick to praise Poehler as an all-around "powerhouse" and to compliment Offerman's DIY skills ("he's an incredible woodworker—like, can whip up a canoe. Who does that?"). People need feel-good content like Making It right now, and Isom Johnson is cautiously optimistic that the third season will be able to start filming in a few months. "Let's hope that people continue to wear a mask and be safe," she says, "and we'll be able to do that."
Speaking of masks, Etsy sold 29 million of them in the second quarter of 2020—signifying a huge shift in both what people are coming to Etsy for, and what sellers are providing for them. "In January if you searched 'face mask' on Etsy, you would probably see Halloween masks or maybe a beauty mask," Isom Johnson says. "You certainly would not see what we wear today as a mask." She sees pandemic-specific merchandise as a gateway for people to discover other amazing things sold by the many small mom-and-pop businesses that operate through the site.
"It's really been an open door for our buyers, who just came to Etsy for a face mask and maybe are discovering our sellers for the very first time,'" she explains. "And they're quite surprised with the breadth of quality, of creativity, of DIY kits. It's just been really heartwarming and wonderful when I think of our seller community, because now is the time more than ever that we want to uplift these small business owners and really give them the support they need."