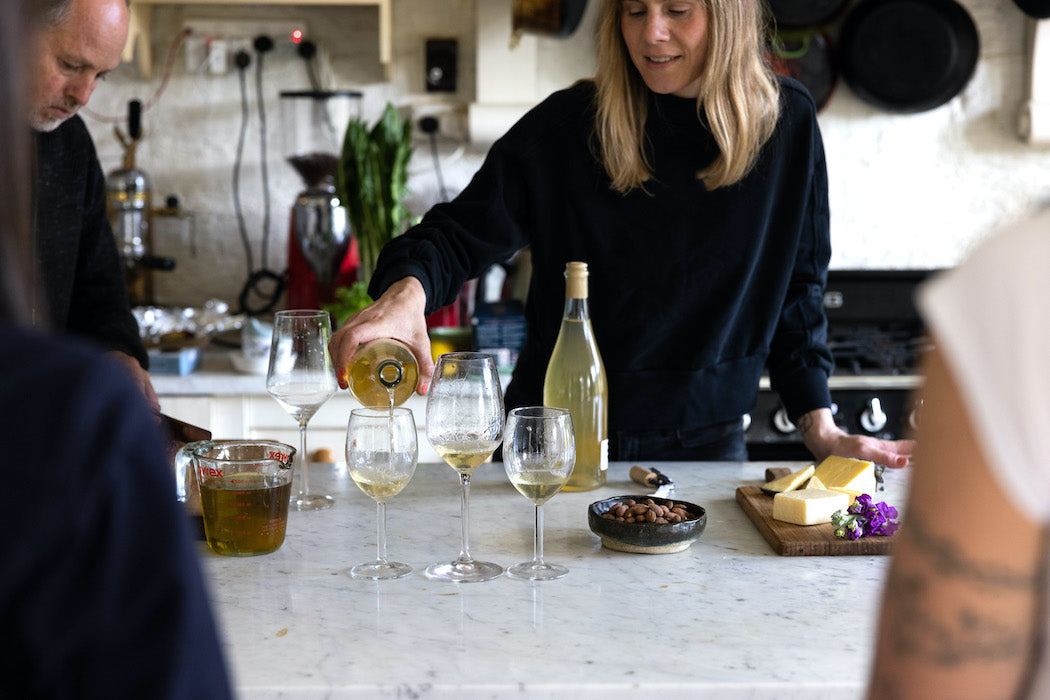 Four years ago, I uprooted myself from my life in Brooklyn, with my eyes set on Paris: I wanted to write about natural wine. Through a series of happenstance—described in my book, You Had Me At Pét-Nat, which immerses readers in the world of natural wine—I wound up in Australia, where I now make wine alongside my husband on our farm in the hills outside Adelaide.
Becoming a producer of natural wine, as well as a grower of food (and the publisher of a natural wine magazine), has completely changed me—including the way I eat and drink. Knowing how much manual labor goes into a bottle of natural wine, I savor every glass with deep appreciation. The same goes for food; my first successful carrot harvest nearly brought tears to my eyes.
Holiday meals are the perfect opportunity to bring together the people you love around the most beautiful wine and food you can find locally. Natural wines are made from organically-farmed vineyards, or sometimes biodynamically-farmed ones, meaning the grapes are grown without harsh chemical pesticides, herbicides, and fungicides; often, plant-based treatments are used to protect and support the vines. In the production process, no additives are used in natural winemaking, and they are bottled unfiltered and unfined—so you'll get just pure, unadulterated fermented grape juice in your glass. There may be some of the preservative SO2 added to natural wine, but it should be very minimal compared to conventional wines; some natural wines have zero SO2 added.
At a holiday dinner there should be wine throughout the evening: as a welcome, with each course, and to finish. But we also want to remember our conversations and what we ate, so the wines should ideally be no higher than 12.5 percent alcohol. It's good to drink water between glasses, and to drink slowly, noticing how the wine marries with the beautiful home-cooked dishes you're eating. Serve sparkling wine first, followed by rose or white, then orange or skin-contact wines, and finally, reds. And red wine doesn't need to be heavy or "powerful" to be good—there are lighter styles that can be dazzling. I don't recommend serving wine with dessert, unless it's pét-nat or specifically a dessert wine; try tea or whisky instead.
Wild, unexpected, unique flavors characterize natural wines, which make them perfect for special occasions. Below I share how natural winemakers like myself and my friends in the Adelaide Hills celebrate the holidays, alongside three styles of natural wine to serve at your feasts—wherever you are and whatever you're commemorating. If you can't find these exact bottles (which often the case, as they are limited production), just look for the style itself at your local natural wine retailer.
Pét-nat (pétillant-naturel)
Every celebratory gathering should start with fizz—but there's no need to blow your budget on Champagne. Pét-nat is a sparkling wine made without any added yeasts or sugars; it's bottled early, and the bubbles simply occur as a result of fermentation finishing. There's pét-nat made all over the world from every kind of grape imaginable (which makes it much more fun than Champagne, if you ask me). When your guests arrive, immediately pour them a glass of extremely cold pét-nat to whet their appetite and get them chatting with each other. It's a very good idea to have a sparkling wine stopper, which you can use to seal up the bottle (and preserve the bubbles) in between pours. And don't feel the need to serve pét-nat in flutes—it's perfectly fine to pour it into regular all-purpose wine glasses.
A few pét-nats to try:
These producers in France's Loire Valley only make pét-nat! This one's pink, off-dry, and totally addictive. This exact wine was my "gateway"—it made me devote my entire life to this amazing culture.
In the past few years, there's been a boom of natural wine brands coming up in Oregon—and Statera, based in Portland, is one worth seeking out. This wine is a pale, dry rose made of a surprising blend: pinot noir, sauvignon blanc, and chardonnay. A perfect conversation-starter.
Orange or skin-contact wine
Orange wine is essentially white wine that's made like a red. Picture freshly-harvested white grapes—let's say sauvignon blanc—coming in from a vineyard. If the winemaker presses them right away, that will become regular white wine. But if the winemaker lets the grapes soak in vat for several days, they will develop color and tannic flavor, which comes from the skins. For natural winemakers, orange wine is the ultimate beverage to pair with food; it offers the freshness of a white with the structure of a red. Orange wines can be either light and delicate or powerful, depending on how they're made. Orange wines from the Republic of Georgia, where the style has existed for thousands of years, tend to be quite strong—a fun choice to serve alongside roasted meats. Some natural wine shops have entire sections devoted to orange wines!
Some orange or skin-contact wines to look for:
Cantina Giardino "Glu Glu Bianco"
The idea behind Cantina Giardino, based in southern Italy's Campagnia, is to make natural wine from local grapes grown in high-elevation vineyards; orange wine has been one of their house styles for years, so they've perfected the approach. This one, made from coda di volpe, had only a few days of skin contact—so it's on the lighter side, and it has tropical fruit notes as well as citrusy flavors.
The Republic of Georgia is the ancestral home of skin-contact winemaking; often, the wine is fermented in large clay vessels called qvevri that are buried underground (I visit Georgia's natural wine scene in my book). One of the less common but very exciting white grapes in Georgia is krakhuna, which here is made in an orange wine style by young winemaker Mariam Minadze.
Light reds
As I mentioned before, a red wine can be just as refreshing and delicate as a white. A light red wine is best served chilled, so put it in the fridge about an hour before serving (but you don't need to keep it on ice). Although light reds are extremely versatile, they are wonderful alongside a charcuterie platter or any kind of pasta dish, as well as roasted vegetables or meats. French natural winemakers deliver some of the best light reds out there. Some people like to call light red wines "glou glou," a French term meaning "it goes down easy."
Some light reds for your holiday meals:
Jean Quastana "Racines Pineau d'Aunis"
You may not have heard of pineau d'aunis—a rare, heritage red variety grown exclusively in France's Loire Valley region—but once you've tried it, you'll be looking to drink it at every opportunity. Peppery, light, sometimes rustic, and incredibly delicate, it's one of the most unique and delicious red wines I know of. This one is made in a very light style.
In the Piedmont region of northern Italy, Nadia Verrua is making wine from her family's vineyards with a very light approach, delivering ethereal, perfumed vintages that have a good dose of funk as well. Grignolino has been part of Verrua's estate for over a hundred years—but originally, the family let their cows graze on the grapes, which apparently aided with their digestion. This wine has a gorgeous, light ruby color; vibrant acidity; and a peppery note.
I hope you can find one of these bottles (or similar ones) for your holiday meals, and that the wines make them even more festive and memorable.