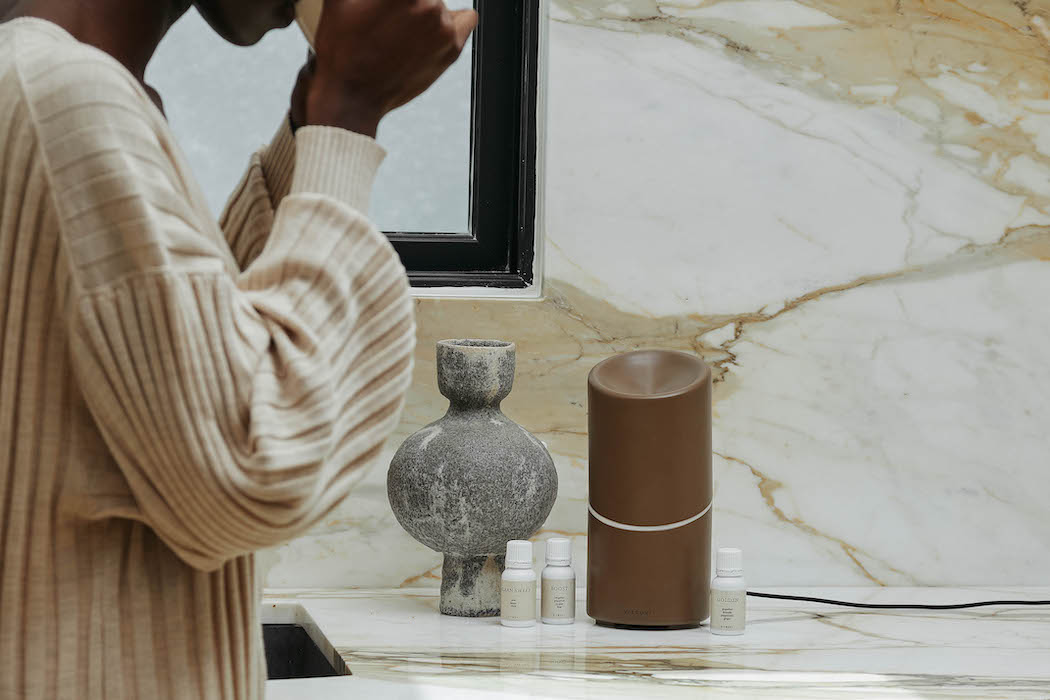 There's truly a scent for everything.
When you diffuse a complementary aroma while listening to a podcast, it ignites more of your senses and makes the experience that much more immersive. Here are some of our favorite podcasts and each one's ideal scent to match. 
"The goop Podcast"
The goop Podcast features goop founder Gwyneth Paltrow and collaborator Erica Chidi taking turns hosting self-care mavericks and cultural change-makers. New episodes come out every Tuesday, and talks are often about wellness rituals, so we're pairing this podcast with Ceremony: a blend of Palo Santo, Clary Sage, and Cedarwood. It's inspired by the act of creating space for yourself.
"Unlocking Us"
This is the ultimate self-love series. Brené Brown is a wealth of knowledge in and of herself, but she also invites industry professionals to talk about matters surrounding healing and mental health on Unlocking Us. This podcast pairs well with a scent that expands your mind and opens your heart, which is exactly how we would describe our Moonbeam Blend—a delicate, complex, and subtly floral combination that includes Wild Orange, Rose, Jasmine, and Ho Wood.
"Call Your Girlfriend"
After over a year and a half of COVID, it's fair to say that none of us are strangers to faraway relationships of any sort. Call Your Girlfriend features long-distance friends Ann Friedman and Aminatou Sow talking about politics, pop culture, books—anything and everything. It's intimate and fun, and feels like chit-chatting with your BFFs, making it perfect for when distance gets in the way. We're pairing this podcast with bright, cheerful, and cozy Golden Blend: a combination of Grapefruit, Lavender, Peppermint, and Ginger.
"The Lazy Genius Collective"
Learn how to hack your life. The Lazy Genius Collective offers easy and foolproof tips for modern-day pain points such as how to organize your books and how to pivot when things don't go to plan. For this cleansing set of talks, we're diffusing Clean Sweep—a blend of Pine, Lemon, and Clove that makes your home smell like you just gave it a good scrub.
"Splendid Table"
For the food lovers. On Splendid Table, journalist Francis Lam shares recipes passed down from families; cooking tips; and the origins behind famous dishes. For this refreshing and energizing series, we're choosing Grapefruit Essential Oil. It's juicy and citrusy, and reminds us of making homemade juice in the morning—which in our eyes, is sort of like cooking.
"Criminal"
The Criminal team follows the convicted, the victims, and the people caught in the middle. We're diffusing Nightcap—a warm and moody blend that smells like a dark candlelight bar—to set the scene.
"Why Won't You Date Me?"
Every week, on Nicole Byer's Why Won't You Date Me? podcast, she invites a comedian, friend, or ex to talk about their dating life and help her figure out why she is still single. Before listening, put Retreat in your diffuser—a happy-go-lucky blend of Grapefruit, Palmarosa, and Eucalyptus to match the big laughs you'll be having.
"Fat Mascara"
Get the lowdown on which beauty products actually work, advice from dermatologists, easy recipes, and a breakdown on current trends with Fat Mascara. Our Sweet Water Blend is citrusy, de-stressing, and bubbly—perfectly matching this pretty podcast.
So pick your podcast, collect your diffuser and blends, and get ready to embark on a truly sensory experience.