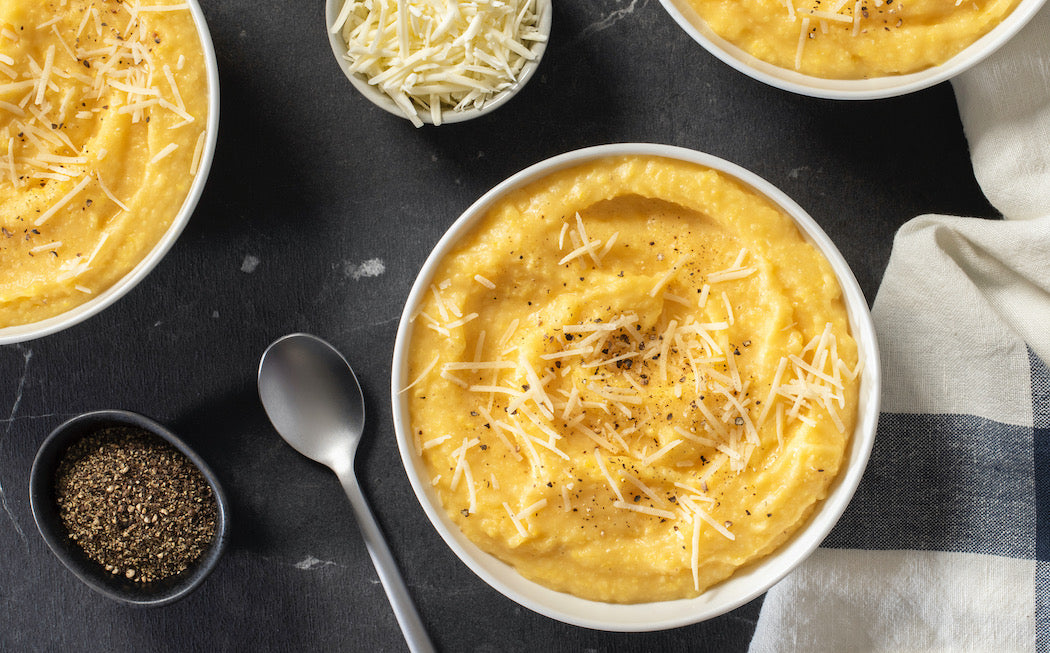 This polenta is both nutritious and comforting. I love how the Violife plant-based cheeses elevate this simple dish by giving it creaminess and depth of flavour.
Cheesy Vegan Butternut Squash Polenta


Serves 4
Ingredients
3 cups water

1/2 cup corn-grits polenta

1.5 teaspoons salt

1/4 cup butternut squash puree (canned, frozen, or fresh)

2 teaspoons nutritional yeast

1/4 cup Violife Creamy Original

1/4 cup Violife Mozzarella Style Shreds

2 tablespoons Violife Parmesan Stye wedge (grated)

Fresh-cracked black pepper (to taste)

Directions
In a large pot, bring the water and sea salt to a boil.

Gradually whisk in the polenta and butternut squash puree. Reduce the heat and simmer gently until the mixture is very thick (about 30 minutes). Stir often with a wooden spoon to prevent the polenta from sticking to the bottom of the pot. (Tip: if the polenta is too thick, add some additional hot water at any point of the cooking process.)

Add the nutritional yeast, Violife Creamy Original, and Violife Mozzarella Style Shreds. Stir vigorously until the vegan cheese is melted and the mixture is creamy.

Sprinkle the grated Violife Parmesan Style cheese on top of the mixture and finish with freshly-cracked black pepper, to taste.

Serve immediately and eat up.