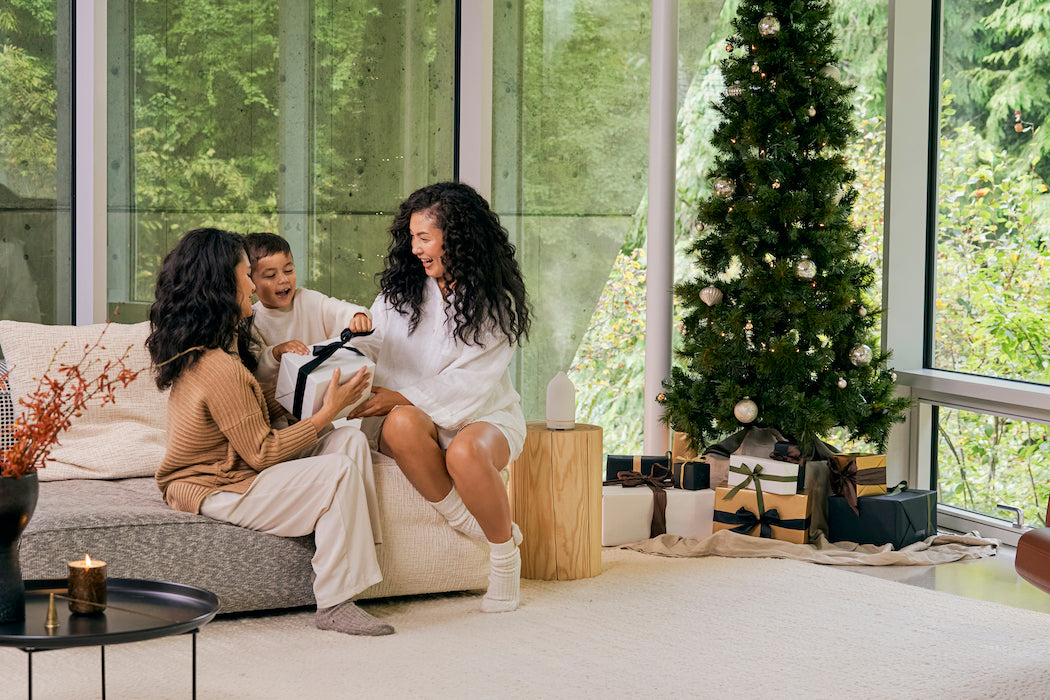 The holidays are all about indulging in the pleasure found in the simple things; cue the comfort meals, cozy clothes, and gatherings with loved ones. There is no better place to spend the holidays than at home, in your space, with your people. To really bring the festive season to life, we've paired some of the most quintessential holiday albums with vitruvi essential oil blends.
"A Jolly Christmas From Frank Sinatra" by Frank Sinatra
This Christmas album is filled with sweet songs you've probably been hearing for years. Happy and comforting, A Jolly Christmas From Frank Sinatra sets the upbeat tone for all your forthcoming gatherings and reunions with loved ones. So naturally, we're pairing it with one of vitruvi's most festive scents: limited-edition Slow Dance Blend. With a top note of Fir and bottom notes of Cedarwood and Pine, it smells like watching the snowfall from your forest cabin window. What's more jolly than that?
"Elvis' Christmas Album" by Elvis Presely
Mixed Feelings is a bold, juxtaposing scent—a spicy and sweet blend of Bay Laurel, Cardamom, and Ginger. It's the bottled version of Elvis's Christmas Album: a contrasting mix of tradition and edge, blues and rock 'n' roll. An amalgamation at once exciting and wholesome.
"Merry Christmas" by Mariah Carey
Mariah Carey's Merry Christmas features "All I Want for Christmas Is You"—enough said. Potentially one of the most iconic holiday albums of all time, it needs to be accompanied by an equally legendary scent. Meet Legacy: vitruvi's signature blend. Grounding and balanced, this woodsy scent smells like a homecoming—AKA that familiar feeling when you get to play Carey's holiday classics for the first time each year.
[product-card handle="legacy-essential-oil-blend"]
"The Beach Boys' Christmas Album" by The Beach Boys
Characteristic of The Beach Boys' laid-back, surfer vibes—but with a holiday spin—The Beach Boys' Christmas Album is perfect for those who are looking for something a little less typical. Diffuse Pacific while you play these songs; herbal and refreshing, this blend brings the airy and cleansing feeling of the beach into your home.
[product-card handle="pacific-essential-oil-blend"]
"Under The Mistletoe" by Justin Bieber 
Under The Mistletoe by Justin Bieber sounds indulgent and sweet, which is just what Séjour Blend smells like. With notes of Bergamot, Geranium. Vetiver, Vanilla, and Frankincense, this musky, alluring aroma—a collaboration with fine jewelry brand Mejuri—will transport you back to your Bieber Fever days. But with an elevated, sophisticated twist.
[product-card handle="sejour-essential-oil-blend"]
The holiday spirit—can you feel it in the air?