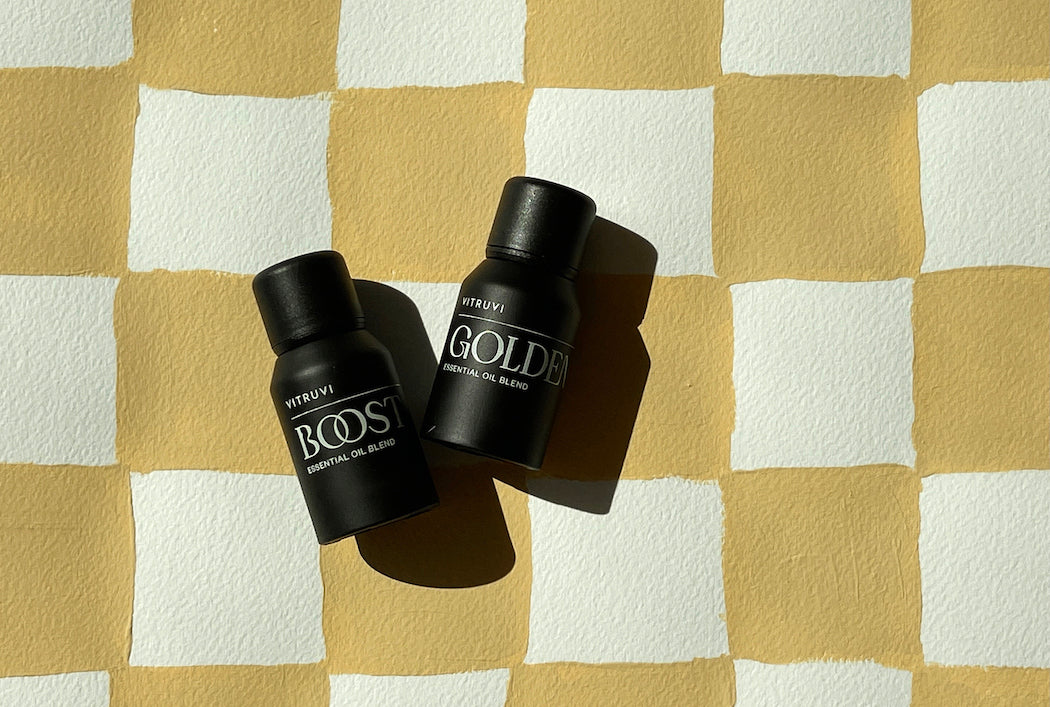 Endless sunshine, outdoor picnics, and blooming flowers—summer is here. Scent is such a great way to channel the season (think: fresh, vibrant aromas and pops of diffuser color). Not sure where to start? Here are some product suggestions straight from the vitruvi team.
Elija, social media
"My favorite feeling is getting home after a day at the beach—you've just freshly showered and you're making dinner. Every time I diffuse Retreat, it brings me right to that moment. I'll be stocking up on Retreat and the Fresh Air Kit to keep these feelings going all summer long."
[product-card pid="6968483807268"]
Matheus, wholesale
"I love the Move Diffuser in White and Golden Blend—I'm definitely grabbing these."
[product-card pid="6968496455716" vid="40070404079652"]
Katrhina, community
"I'm going to stock up on Legacy because I got it a couple of weeks ago and I'm already almost out. Also Pacific Blend, because I wish I was by the ocean all summer long. I'm also loving the Move Diffuser in Candy as the pop of color; it really fits the overload of pink in my room."
[product-card pid="6968489148452"]
Pavel, design
"Lavender is my favorite scent; it's also my mom's favorite scent, so there's an element of nostalgia in it for me. It's super calming and helps prime for a relaxing weekend, which is why I love our Dusk and Sleep blends (they both contain Lavender). I'll also be stocking up on Boost, as it reminds my partner of iced tea, and it reminds me of the summer months (living in Vancouver, it can help me get through the rain!). I'll also be getting the Move Diffuser in Black so that it can match all the black accessories near my desk."
[product-card pid="6968496455716" vid="40070403981348"]
Emily, digital
"I'll be stocking up on the Essentials Kit because it has Grapefruit Essential Oil, which smells exactly like peeling a fresh grapefruit during a hot summer day. It's my favorite scent to blend with the other oils in the kit, and it brings a freshness to the air that's perfect all year round."
[product-card pid="6968483872804"]
Kim, customer experience
"I love lighter scents for summer, so I'll definitely be stocking up on Grassland and Boost. Both of these blends are so fresh—perfect for those warmer days! I love diffusing them in the Stay Diffuser in Palm to add to the summery vibe."
[product-card pid="6968482496548"]
Jessica, digital
"I'm definitely going to be stocking up on my all favorite summer scents. Retreat, Golden, and Grapefruit remind me of summer days spent in the sun with a citrusy drink in hand, and Cold Plunge Natural Air Freshener Spray is the perfect refreshing scent for the season."
[product-card pid="7037224681508"]
Liane, product development
"My summer go-to this year is without a doubt Grassland Blend, which is a fresh scent that reminds me of lounging outdoors. If I imagine 'summer' in my mind, I always picture green grass and a blue sky—that visual just makes me happy. So I think it goes without saying that I'll definitely be diffusing Grassland in the Stone Diffuser in Sky."
[product-card pid="6968496619556"]
Harrison, product development 
"I'm stocking up on Grove, as it's perfect for bringing the outside in on those days you can't quite make it out. I'm diffusing it in the Move Diffuser in Citron because I want to add a pop of color to my house for summer. Warm Linen Air Freshener Spray is also on my list because it makes the perfect light summer air touch-up."
[product-card pid="7037224550436"]
Now that you've got the inside scoop, it's time to scent your season.