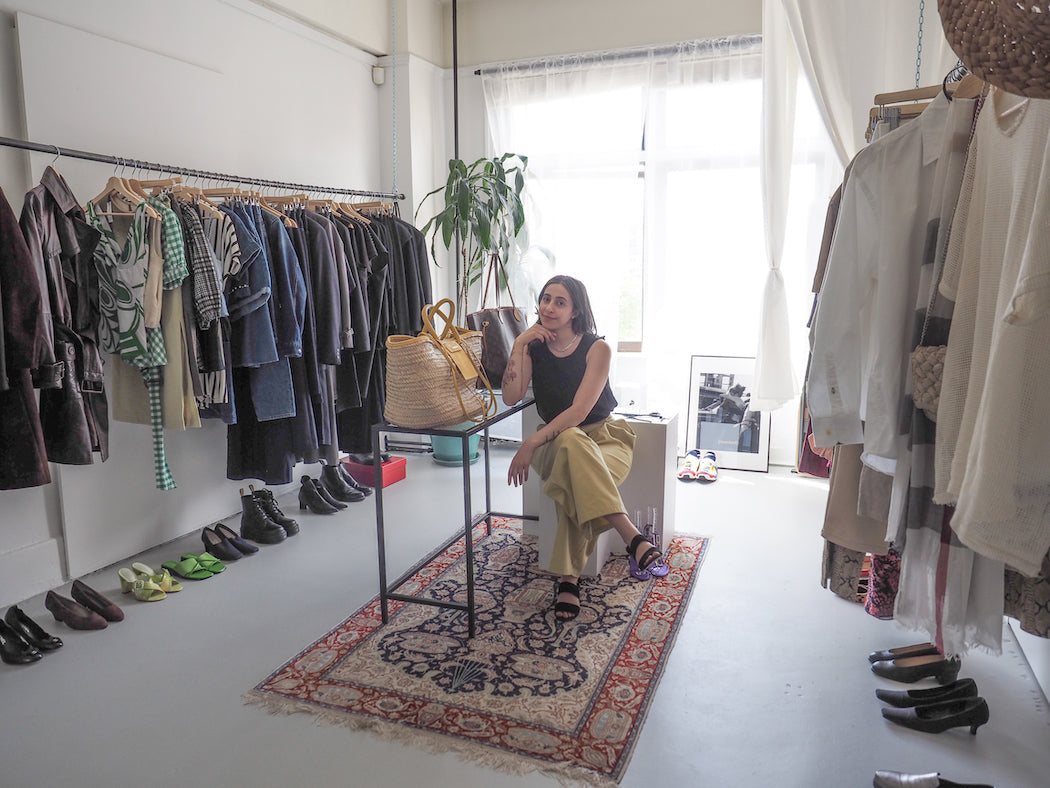 When you walk into Collective Will, I want you to feel transported.
My goal is to create an airy atmosphere—one that feels like a getaway from the hustle and bustle of the downtown pace found eight floors below. My second-hand and vintage clothing micro-boutique near the heart of Vancouver's Gastown specializes in contemporary and luxury designs, at accessible price points, and always with versatility in mind.
Ambience has a powerful effect on your behavior and attitude, so it's my mission to ensure you leave feeling better than when you arrived. With tools like scent, light, and color, I want you to experience a warm space that positively impacts the rest of your day.
Scent is a significant component of the Collective Will studio. Unit 804 is one of many in a 100-year-old, 13-story building, so you can imagine the different aromas that travel from suite to suite and floor to floor. So I scent my space using vitruvi's cordless Move Diffuser and Retreat Essential Oil Blend; with top notes of Grapefruit and Palmarosa and a bottom note of Eucalyptus, Retreat smells like a blissful vacation.
The scent works in tandem with a natural breeze that comes through the open windows. You can feel the air move through the studio; paired with sheer, lightweight curtains that softly blow in the wind, it creates a relaxed and welcoming atmosphere.
The decor was the defining cherry on top of the ambience here. I purposefully chose clean lines of black to create a grounding foundation, along with solid white and clear glass to allow the light to bounce from side to side. This creates a quiet blank canvas that lets the clothing speak loudly.
Because it is south-facing, the studio receives full sun from morning to late afternoon. The light floods the right side of the shop in the early morning and blankets the left side once the day ends. I can't help but feel hugged by the sun while I'm walking around.
The vibe wouldn't be complete without the right music. I'm always playing an array of funk, which carries a history dating back to the 1960s with a mix of soul, jazz, and rhythm and blues. Contemporary songs like "Do Me Like That" by E. Live featuring Chesta Blake and "You & I" by Dabeull x Holybrune are two of my current favorites.
I'm always making tweaks to enhance the experience at Collective Will. I hope to find a secondhand leather bench for the shop's center so that you can place your bags down and browse hands-free. We offer a limited number of styles so that each item can shine, and so that clients can take their time and explore each design in detail. I wanted to create a showroom atmosphere that feels luxurious and clean. There is never too much to take in.
Second-hand stores typically don't offer much more than the clothing, but I hope my clients feel pampered. My goal was to construct an inviting energy for the community—a space where everyone can feel comfortable. More than a shop, it's a gathering place.