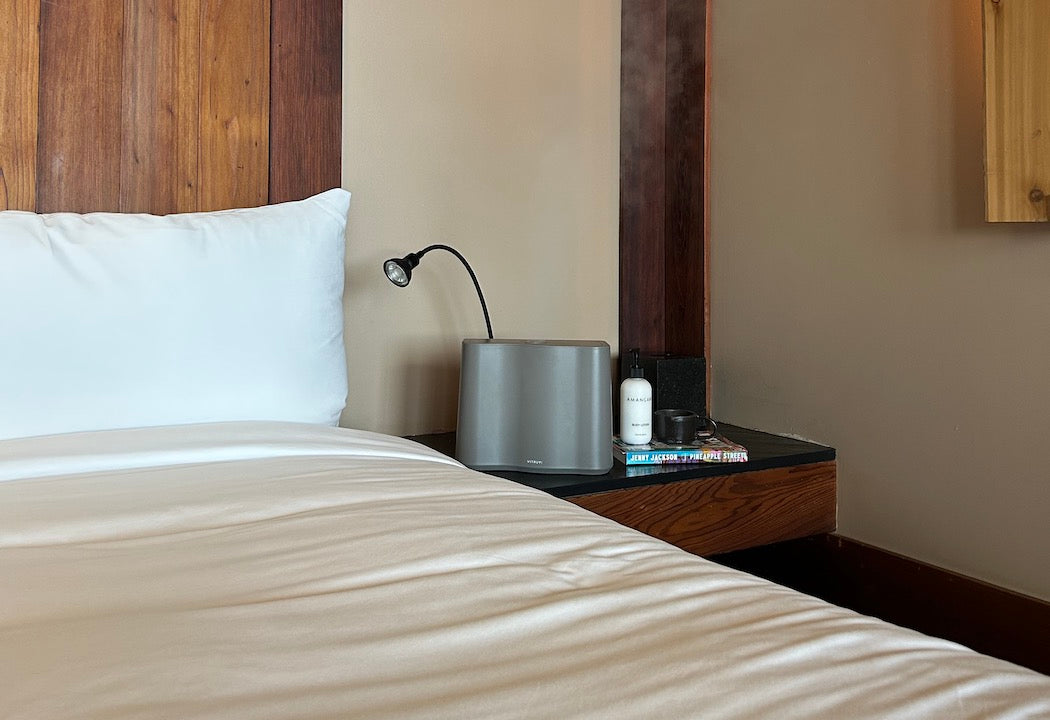 The only downside of staying at Amangani is that you eventually have to leave.
This place is magic from the second I pull up to the entrance (in a private Amangani car, equipped with cashews, apple chips, and eucalyptus towels—not a bad start). The hotel sits on a butte, and stop signs in this area are replaced with a single word—WHOA—to accurately describe the feeling that stays with me for the entirety of my trip.
Located in Jackson, Wyoming, overlooking the Snake River Valley and Grand Teton National Park, Amangani is the beloved Aman hotel brand's original property in the United States. Subtle, tasteful luxury is signature to the Aman brand, and it shines bright here.
I'm given a delicious strawberry lemonade to sip on while I check in (a process which takes no time at all, especially compared to other hotels) and am instantly gobsmacked by the view. Out every possible floor-to-ceiling window—and there are many—sit the snow-capped Grand Tetons, so majestic and powerful in their presence that they look more like a painting than a real landscape.
Soon I'm escorted to my suite (there are only 40 on the property, giving it a special boutique feel), which has more amazing mountain views. Like I said: WHOA.
Each suite comes equipped with a Dyson hairdryer (#blessed), a Nespresso machine, a gas fireplace, a soaker tub (views!), a stand-alone shower (views!!), and a Vitruvi Cloud Humidifier, which is put on each night as part of the hotel's turn-down service, and which I swear keeps my skin hydrated in the crisp mountain air. In-room bath amenities are all Aman's in-house brand, and they all smell amazing; I find myself particularly drawn to the personal fragrance line, which is made without formaldehyde, parabens, phthalates, and artificial colors, is fully genderless, and is available for purchase at the spa.
Speaking of the spa, I head there for a deep-tissue massage that is so good it almost puts me to sleep. Then I head straight to the pool, which overlooks the mountains, and make time to stop at the gym for a jog on the Technogym treadmill.
For sustenance, Amangani's onsite Grill offers delicious dishes for breakfast (egg white frittata or avocado toast), lunch (fennel salad with crispy tofu), dinner (salmon in dashi broth, beef tartare, burrata), and dessert (huckleberry ice cream and lavender olive cake).
There's adventure here, too, be it a private wildlife tour with an Amangani guide or a scenic float down the Snake River. Even on exploring days, Jackson has a meditative, calming energy—it's got to be these mountains. They surround the area, looming but not menacing; more grounding. Humbling. They make me feel small in the best way.
On my last day at Amangani I make a joke about handcuffing myself to a chair so that I don't have to leave. Of course I'd never actually do that, but it sure is tempting—this hotel is true magic, true bliss, true relaxation and adventure and luxury and design and nature all at once. I am so sad to leave, but what's that saying, again? Better to have stayed and left than not stayed at all.