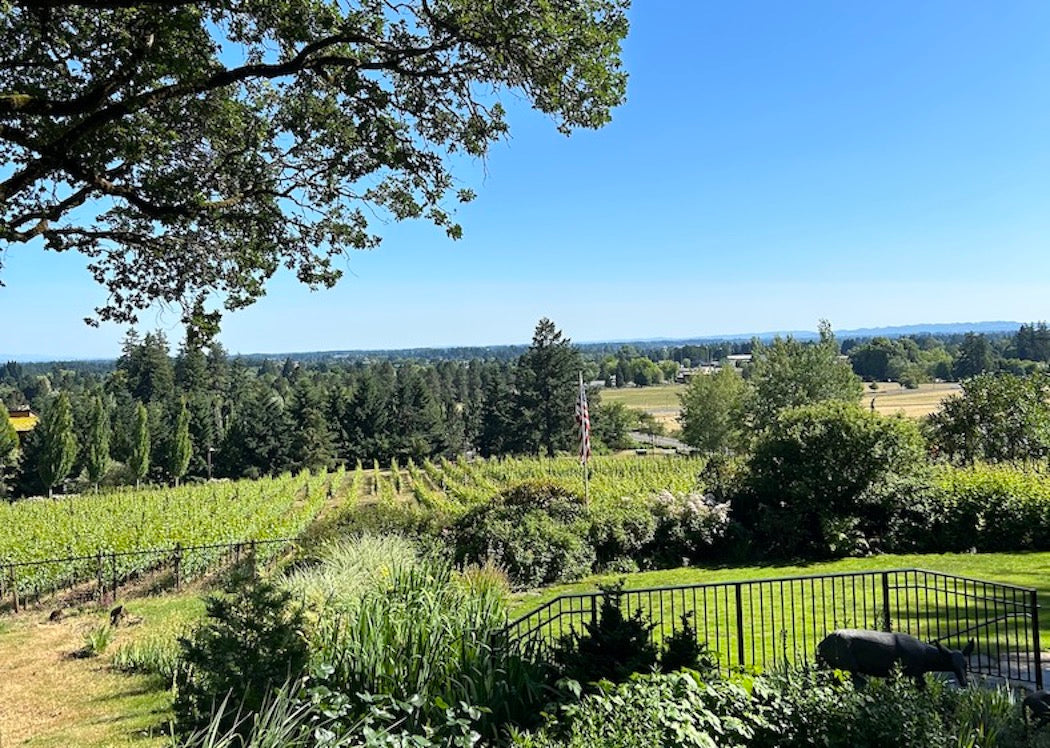 Magic in Oregon's wine country is not hard to come by. Staring out at a vineyard, sipping a glass of locally-made wine, basking in the sunshine—is this heaven? It might be the closest thing.
I spent three days here frolicking among the vines, soaking up the rays, and eating and drinking everything in sight. Life could definitely be worse.
Stay
I slept like an actual queen at The Allison Inn & Spa, located in peaceful Newberg; while only about an hour from Portland, it feels like an entirely different place in terms of its vistas and its pace. The Allison is the area's only resort (and a five-star at that), making it a true gem of the Willamette Valley.
With gorgeous rooms that all have views of the gardens or the vineyards (and feature giant soaker tubs, king beds, and welcome snacks from local purveyors), The Allison is truly the best jumping-off point for a few days here. Though really you have no reason to leave and could spend your entire trip on property (hint: see below).
Relax
Make sure you visit The Allison's onsite spa for a HydraFacial treatment. My skin was instantly glowier, and a few pesky red spots basically faded into nothing. The spa also features a beautiful lounge area (indoor and outdoor), plus a well-sized sauna and steam room, as well as a pool and hot tub. Order a glass of local wine and truly relax. Not hard to do here!
Savor
The Allison's onsite restaurant, Jory, is great for literally every meal. Named for a type of volcanic soil common in the valley, Jory is helmed by executive chef Jack Strong, who combines his Indigenous heritage with what's local and in season to create something truly special. Opt for the house-cured salmon lox in the morning, perhaps a Wagyu steak salad for lunch, and herb-crusted halibut for dinner.
The hotel also has a 1.5-acre chef's garden that supplies a lot of produce for Jory (and can be toured if you ask, which you should, because then you'll meet Anna Ashby: one of Oregon's first joint Master Gardeners and Master Beekeepers). The property is also located at Rain Dance Vineyards, which is worth a visit for a wine tasting overlooking the vines. The Allison also has its own house brand of wine called Austin Knoll, which is made in collaboration with another local winery and is great paired with lunch and/or dinner (and/or the pool, and/or a nightcap in your room).
Style
I spent the entire trip in the breathable, washable silk from Lunya. The Washable Silk High Rise Pant Set proved incredibly versatile, with me wearing the pants to dinner one night and the top to dinner the next (plus the set in its entirety for the aforementioned nightcap in a friend's room).
And Lunya's Washable Silk Bias Slip Dress provided the perfect thing for a long-table dinner in The Allison's chef's garden. It kept me cool and comfortable throughout the courses and well into the night. The silicone-lined spaghetti straps are a particularly nice touch to prevent slipping, and I loved the flattering scoop neck.
Three days here? It's enough to make you fall in love, and to make sure you'll come back. Trust me.