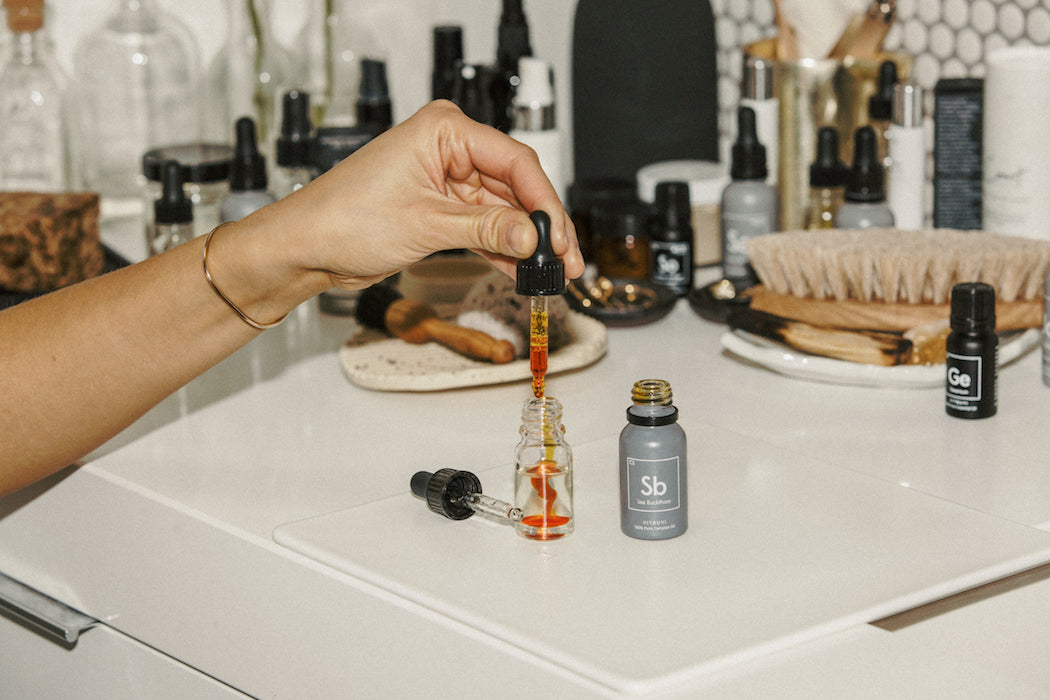 We want to purify the skin, but not in a harsh, aggressive way. Enter this detoxifying face oil for the holiday season, wedding season, or any other wine-drinking season.
DETOX FACE OIL
BASE OlL
13 droppers Apricot Kernel Oil
COMPLEX OILS
3 droppers Rosehip Oil
3 droppers Evening Primrose Oil
4 drops Seabuckthorn Oil
ESSENTIAL OILS
5 drops Lavender Essential Oil
Directions
Mix all the oils in a 15-ml dropper bottle, then apply by adding four drops to your current moisturizer before bed. You can also apply the oil blend directly to your face after cleanser, toner, and serum.
Why we chose these oils
Apricot Kernel is a lighter, more gentle oil that won't weigh you down. For our complex oils, we chose Rosehip because it will help calm any redness, and Evening Primrose will help balance out the skin. Sea Buckthorn is our mini detox for the skin—it's packed with omegas, so it's still nourishing, but will draw out any impurities. Lastly, for the essential oil we chose Lavender for its gentle, antibacterial properties.
It's an easy way to squeeze in a mini detox—even if the rest of your body is still powering through, at least your skin will get a break. Plus, applying it at night with a jade roller actually feels like heaven.