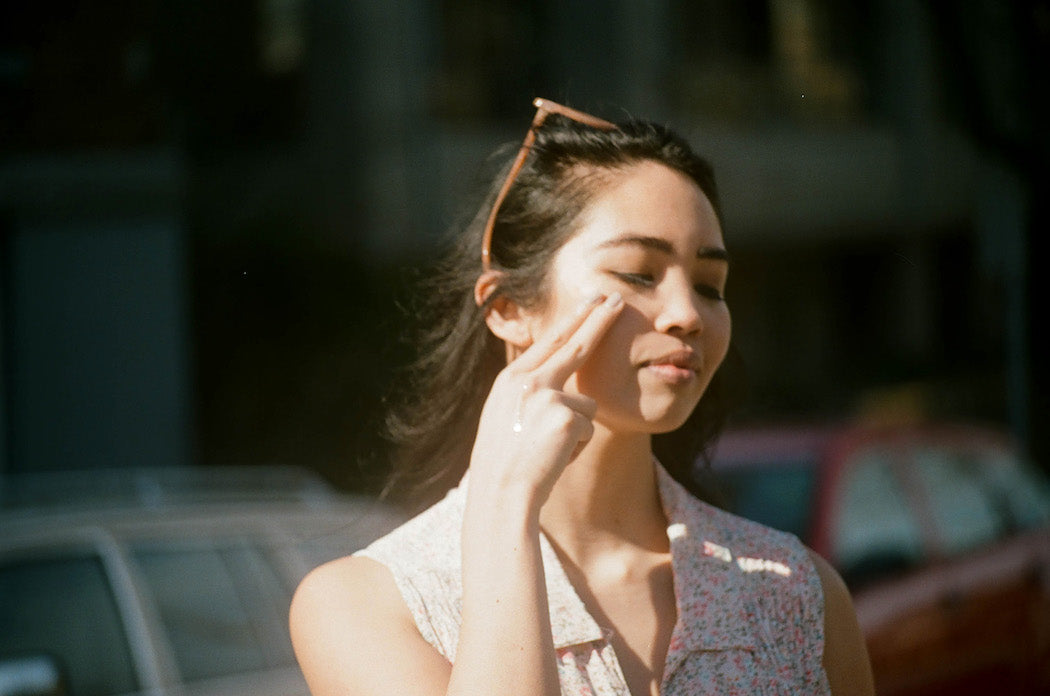 It's the age of the conscious consumer.
In every aspect of purchasing, shoppers are starting to ask questions about materials, ingredients, and origins. Whether it's from a local, sustainable, or safety angle, people care about the story behind the products they buy—and in many ways, skincare is leading the charge.
The global market for natural and organic beauty products is predicted to hit around $22 billion USD by 2024. These products are just as much (if not more) about what's not in them as what is. Brands labelled as clean or safe (self-described, as there isn't an official governing body) omit harmful ingredients that have been linked to various health conditions. Unfortunately, another thing that's usually omitted from the conversation about clean beauty is clarity.
"There is a lot of paranoia and confusion out there," says Ursula Diaz, who has a post-graduate certificate in cosmetic science and co-founded the Los Angeles-based clean–clinical brand Honor MD. For a general resource, Diaz says to start with the Environmental Working Group's Skin Deep Cosmetics Database: a searchable tool that lists many common brands and dives into their ingredients and overall safety. She also suggests Greenscreen Chemicals as a fairly digestible source for the average shopper. William McGillivray, medical director of Vancouver aesthetic dermatology clinic Project MD, says that talking to a doctor is another way to learn more. "Trust the science," he offers via phone, "and go with the professionals who work in that space all the time."
If you're looking to clean up your beauty regimen but can't swap everything or aren't sure where to start, there are some things you can prioritize. "Take a look at products you apply on your mouth like lipstick and chapstick, or things you don't wash off and use on a large percentage of your body, such as body lotions," Diaz suggests via phone. "Anything for children I think is good to be conscious of."
As the clean conversation seeps into the mainstream, retailers are taking notice, too. Violet Grey has a clean beauty section, while Sephora has introduced its own clean seal for products without mineral oils, parabens, and more. "Everyone has a different definition of what clean means, but make sure the brand you're buying from is specific about how they define it," Diaz says. For its part, all vitruvi oils are 100% pure, without any kind of filler; and face mists only use natural, plant-derived preservatives. Some other wonderful clean brands include Westman Atelier, Ilia, Bite, Lilah B., Burt's Bees, Consonant Skincare, Goop by Juice Beauty, Pai, and Josie Maran. And for those who want to know more about what to watch out for, read on.
Chemical sunscreens: It's the one thing all dermatologists will agree on: UV rays are terrible for skin, and sunscreens help reduce the damage. Chemical sunscreens include oxybenzone, avobenzone, octisalate, octocrylene, homosalate, and octinoxate; these ingredients are good at preventing UV from being absorbed, but can be irritating for sensitive skin.
Like many of the ingredients people worry about, oxybenzone and octinoxate are endocrine disrupting chemicals (EDCs). This means that they may exert an effect on hormones, and consequently, they have been linked with hormonal cancers like breast cancer, and to fertility problems—though tests are mostly done in labs with high concentrations that most people are not exposed to with cosmetic use.
There's also evidence that in high concentrations, oxybenzone is harmful to coral, damaging its DNA and making it more vulnerable to the effects of climate change. That's led some American states, including Hawaii, to ban oxybenzone-containing sunscreens completely (Hawaiians love the water, after all). The U.S. Food and Drug Administration (FDA) is now re-examining the whole sunscreen category for safety.
The only FDA-approved alternative to chemical sunscreens are mineral ones that contain ingredients such as zinc oxide and titanium dioxide (white pigments that reflect UV rays away from the skin). Thankfully, it's fairly easy to find these at every price point and in every formulation, from lotions to sticks. Some have a slight tint to offset the white colour of the mineral pigments, so it can take some trial and error to find one that suits your skin tone.
Chemicals: As a blanket term, chemicals are not always harmful. They are all around us—even water is a chemical.
Formaldehyde and formaldehyde-releasing compounds: These are preservatives that can be irritating to skin. Only small amounts are present in beauty products, but at high concentrations or with prolonged exposure they can cause cancer. "I think you should not use them because there are better alternatives," says Diaz. "Are they that terrible in tiny quantities? Probably not, but they're not something we use."
Parabens: These preservatives are EDCs. Many brands have excluded them from their ingredients lists or decreased the amounts they use. Diaz says if you would like to reduce your exposure, it's fairly easy: "Read the ingredient list and look for the word 'paraben,'" she instructs. "Ingredients are listed in order of how much is included—so as long as it's the last one, it's probably less than 0.5 per cent, so it's not going to be terrible. That said, there are great alternative preservatives out there, so it's easy to avoid."
Phthalates: These EDCs are used in skincare products, nail polishes, and fragrances; they make perfume stick to the skin so it lasts longer. Diaz says she quit wearing perfume completely after she had a baby in order to avoid phthalates. However, there are now many clean perfumes on the market that are phthalate-free and use safe synthetic fragrances and essential oils instead.
Parfum/fragrance: These are added to all kinds of cosmetics either to make them smell like something, or to mask an unpleasant odour. They can trigger allergies and asthma, and cause skin irritations; according to the American Academy of Dermatology, they're the number-one cause of contact dermatitis. But the main problem with fragrances is what they can hide. Fragrance formulas are considered trade secrets, so if a brand doesn't want you to know they're using a particular ingredient, they can argue it's part of the perfume and omit it from the ingredients list. Thousands of ingredients can be included in a fragrance formulation, including phthalates, synthetic musks (also EDCs), and formaldehyde. If you want to avoid them, look for products explicitly described as fragrance-free.
Petrolatum: Found in hair products, lip balm, lipstick, skincare, and baby care, this is a crude-oil derivative. Some say it can be contaminated with cancer-causing impurities, though no formal studies have found a link.
P-phenylenediamine (PPD): This is an ingredient in permanent hair dye that can cause fatal allergic reactions. Semi-permanent dyes and henna are good alternatives for those who want to avoid PPD.
Silicones: They are used in many hair and skincare products. "They have the ability to temporarily fill a wrinkle and improve texture, so for anti-aging they can be great," says Diaz. The main issue here is they are not biodegradable, so they are not good for the environment.
Sodium laureth sulfate (SLES) and sodium lauryl sulfate (SLS): These are foaming agents used in products like cleansers and shampoos that are known to irritate skin. There are also links to cancer, though these are not scientifically proven.
Synthetic dyes: Some can be EDCs, and some are said to be carcinogens; they can appear in many makeup, skincare, and body care products. They are helpful for achieving certain colours, but thankfully, clean brands are getting better and better at creating more natural pigmentations.
Hopefully there will eventually be a more nuanced conversation around clean and natural skincare, more scientists specializing in the area, and more research to get definitive answers. In the meantime, anyone who is concerned has an ever-expanding list of choices for mineral sunscreens and all-natural skincare products and cosmetics (just remember that without preservatives they have a shorter shelf life, so you'll need to keep an eye on their use-by dates). Do we need to panic about our products? Probably not. But our skin is our largest organ, so being conscious of what we're putting onto it is never a bad idea.