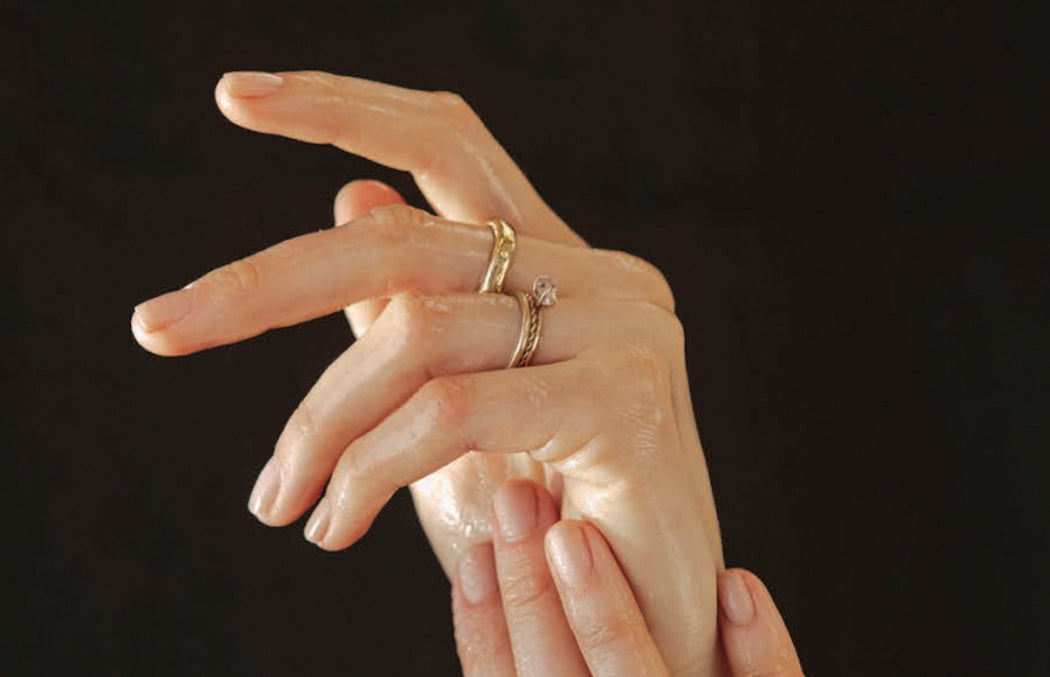 The following recipe is excerpted from "Essential Well Being" by Sara Panton and reprinted with permission from the publisher.
The secret to healthy-looking hands and manicures that last longer? Cuticle oil. I've recently become a huge fan of cuticle oil and now have a few different dropper bottles in my car, in my purse, and beside my bed, so that I can keep up my habit of hydrating and nourishing my nails while I'm on the go.
If you really want to maintain that glow you get after a professional manicure, cuticle oil is your answer. Sure, the perfectly applied polish seems like the star of the show, but the real secret is often the cuticle and nail oil they use at the end of the appointment. Moisturizing your cuticles and doing a simple reflexology massage on your hands is an easy way to de-stress and keep the hands looking healthy and nourished while you're on the move.
FALL HERBAL CUTICLE AND HAND OIL
1 teaspoon Jojoba Oil
5 drops Peppermint Essential Oil
3 drops Lavender Essential Oil
Method
Add all components to a 10-ml dropper bottle.
Application
Apply 1 drop of oil to the base of each nail bed on one hand (or 1⁄2 drop if nails and cuticles are not very dry).




Using the other hand, massage the oil into each nail, applying gentle pressure to the nail bed as you massage.



Repeat on the other hand.


Storage
Keep in a cool, dry place away from direct sunlight (or in your bag when you're out and about) for up to one month.
---
Video credits
Creative direction: Alex Falconer
Design: Jenna Vaandering
Editing: Harrison Gill