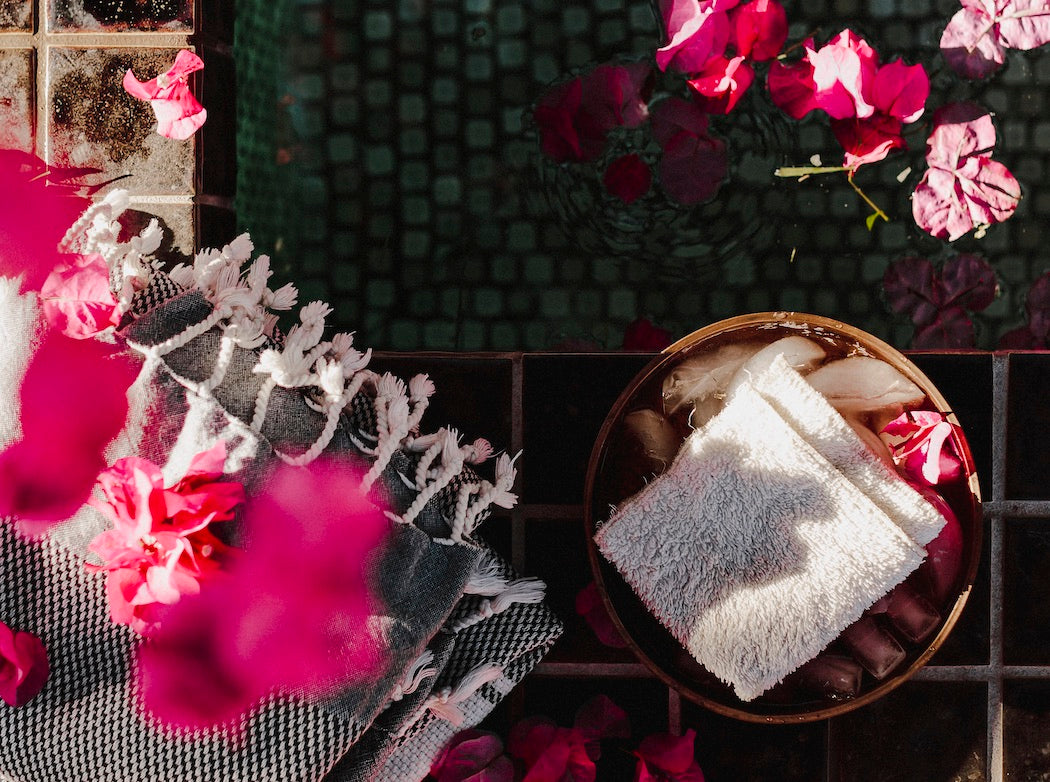 The following recipe is excerpted from "Essential Well Being" by Sara Panton and reprinted with permission from the publisher.
This body wash is inspired by a photograph I took of flower petals in a Moroccan fountain on an old clay wall. I had just finished a session at a spa that locals in Marrakech go to on a daily or weekly basis. The foundation was old and covered in ceramic tiles, but the water was crisp and clear, and the flower petals were a beautiful bold pink. It's an image that has stuck in my head because it fully embodies the exotic and fresh yet beautifully worn-in energy and aesthetic of Morocco.
This body wash has a flower-forward aroma, as a nod to Morocco's love of roses and florals, along with a smokiness inspired by incense and the country's spa rituals. I've included Cedarwood and Frankincense to give complexity to the soap's aroma—one that you won't find in a store. This body wash is made with a liquid Castile soap to ensure that it has enough suds, without the addition of any chemical foaming agents. It's always nice to have some bubbles in your soap, but never at the expense of using chemicals. I hope this product creates a Moroccan oasis in your morning shower, like it still does for me.
FOUNTAIN FLOWERS BODY WASH
2⁄3 cup unscented liquid Castile soap
1⁄3 cup organic liquid honey
2 tablespoons base oil (Jojoba, Sweet Almond, or Grapeseed)
20 drops Geranium Essential Oil
20 drops Cedarwood Essential Oil
10 drops Frankincense Essential Oil
10 drops Ylang Ylang Essential Oil
Method

Add all components to a medium bowl or directly into a bottle with a pump top.

Stir or shake gently to combine.


Application
Shake gently before each use.
To use, place 1 to 3 teaspoons on a natural face cloth or directly on the body and rub into the skin to create a foaming, sudsy wash.
Remember to breathe, take in the scent, and then rinse off.


Storage
Keep in a bottle with a lid in your shower or bathroom for up to six months. Avoid moisture and water coming in direct contact with the body wash for a long shelf life.
---
Video credits
Creative direction: Alex Falconer
Design: Jenna Vaandering
Editing: Harrison Gill