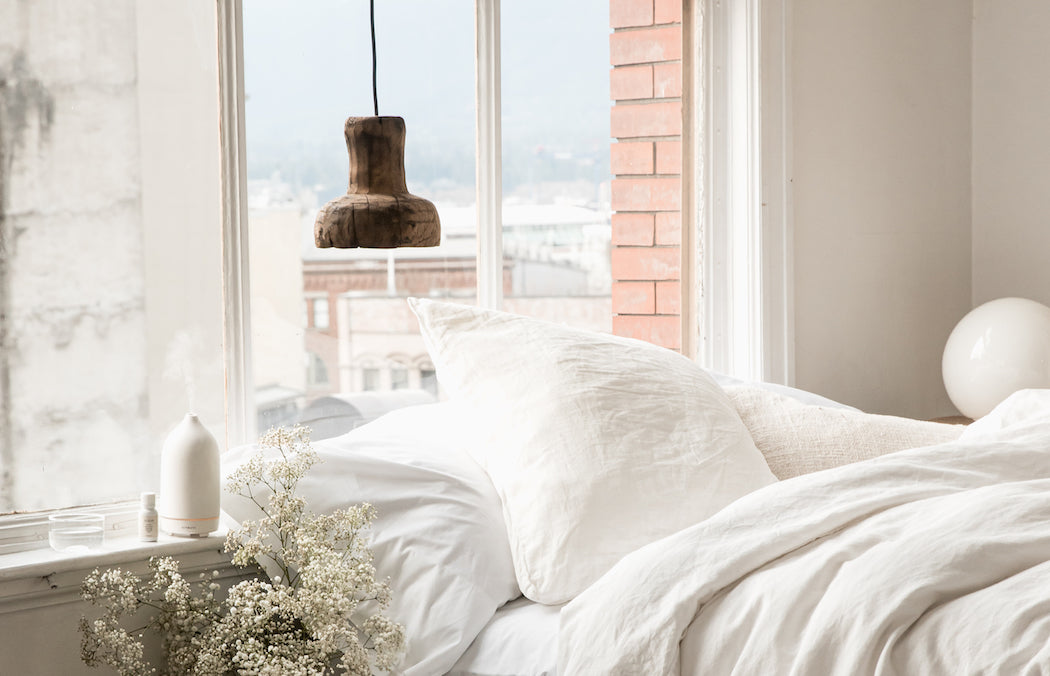 Sleep is an elusive temptress. We love it, we need it, and we seemingly can never get enough of it. But these five accessories will help you upgrade your sleepytime ritual and have yourself a yawning snoozefest.
vitruvi Sleep Essential Oil Blend
Our new Sleep Essential Oil Blend is your bedside bestie. Created with Lavender, Frankincense, Ylang Ylang, Roman Chamomile, and Vetiver, it's soft, warm, and powdery, helping set the stage for your best night's rest. With a tranquil aroma of fresh linen sheets and soft florals, it's comforting like a cashmere blanket. Diffuse it as you fall asleep and keep it going all night long.
Sleepytime Classic tea from Celestial Seasonings
This herbal Celestial Seasonings tea is called "classic" for a reason: it is a long-time favourite in many households. An ultra-soothing mix of plants including chamomile, lemongrass, spearmint, and orange blossom, it's got a beautiful calming scent and a taste to match. Have it every night before bed with a teaspoon of honey mixed in for added warm-and-fuzzies.
Organic Bamboo Sheet Set from Rora by Rove Concepts
We all know that sheets can make or break your sleeping experience. This organic bamboo set from Rora by Rove Concepts feels like you're laying down on a silky cloud. Bamboo has natural antibacterial and moisture-wicking properties, while remaining breathable and unfathomably soft. Only downside: getting out of bed in the morning will be that much harder.
Softened Jersey Pajama Set from Lou & Grey
We're betting that these soft PJs from Lou & Grey are the next-comfiest thing to sleeping naked. With a button front and V neckline on the top, plus loose yet flattering pants, the set is sure to keep you feeling relaxed all night long. And the dreamy light grey colour will instantly put you in the mood for sleep. Bonus? This set was made at a HERproject partner factory, meaning it gives its artisans access to health and financial resources through workshops led by peer educators.
The Endy Pillow
Lay your head on this pillow from Endy for a truly supportive sleep. Made of soft, breathable shredded charcoal memory foam, it will have you feeling like it was made just for you. The brand makes it easy to pull out some of the foam, too, in case you like your pillow a little less fluffy. Sleep is all about what works for you, after all.
Now go get ready for bed.