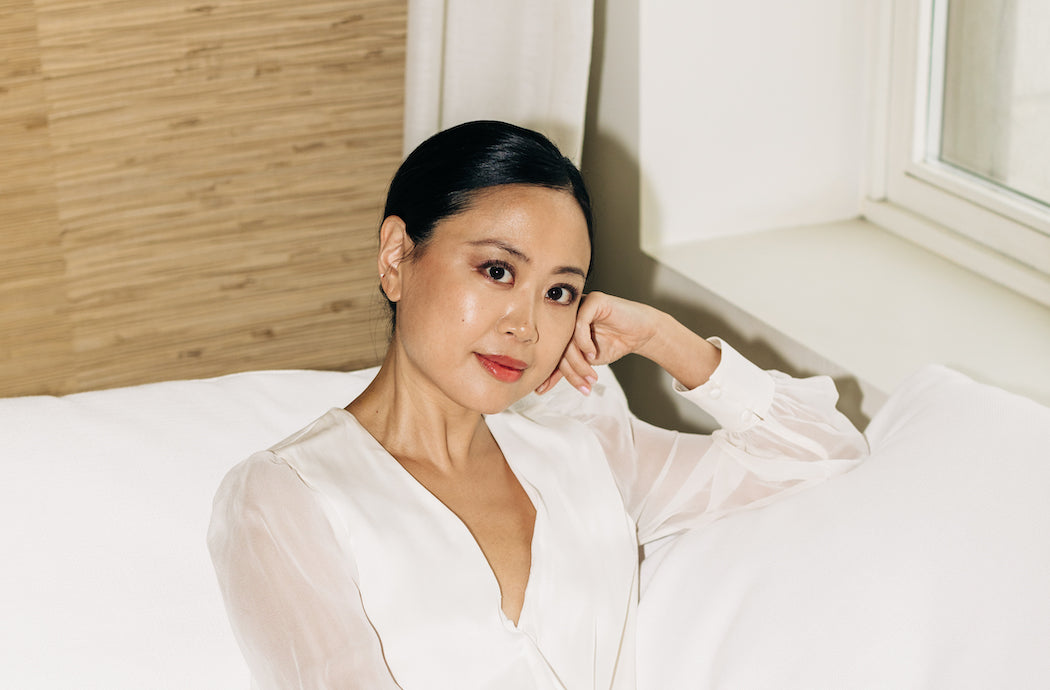 We focus a lot of care and attention on skincare for our faces, but what about the rest of our bodies? Monique Meneses sees whole-body care as a major foundation to overall health that is too often overlooked. That's why she founded Iota: a science-backed line of body washes and serums that focus on the skin's microbiome. Focusing on the epidermis, Iota products are luxurious to use, and seem to be quickly efficacious. Learn more about Iota and Meneses below.
---
What hole in the market were you trying to fill with Iota?
Skin health is arguably the key pillar of health most overlooked today. Just like sleep, eating right, and exercise, it's essential for whole-body health, and more studies are finding its link to bigger issues like autoimmune disease and heart health. As a mom, I was frustrated: why do the products we use merely clean, scent, or treat skin issues after they occur? Our mission is to address skin health head-on and develop care that matters.
After years perfecting our formulations, we've made the first body care line made for our health first, focused on balancing your skin microbiome: the foundation of healthy skin and the key to addressing issues before they occur.
Can you talk about how becoming a mom played a part in this journey of discovery?
I spent years trying to get pregnant via acupuncture and hormone medication. When I finally got pregnant, doctors found a tennis-ball-sized tumor on my pancreas (thankfully all is okay). Then I was diagnosed with high blood pressure for reasons still unknown. With age and becoming a mom, I wanted to find small, realistic lifestyle changes that could still make a difference. 
What is your formulation process like?
Iota's formulations took over 72 iterations and two years to perfect with our lab team and lead scientific advisor and cosmetic chemist, Kelly Dobos, who specializes in formulations for the skin microbiome. We really wanted to nail the ideal blend of prebiotics and postbiotics that support a healthy, balanced skin microbiome, and an expansive composition of multivitamins, essential nutrients, and actives that optimize benefits like hydration, radiance, and smoothness. To finalize formulations where all of these factors worked in harmony was no easy feat, but it was worth the years of research and testing to see and hear about the changes our community has experienced.
How does our skin's microbiome affect our overall health?
Skin is the human body's largest organ and serves as our first line of defense against temperature fluctuations, damaging UV rays, and environmental toxins. It helps prevent infection and is packed with nerves that keep the brain in touch with the outside world. Skin is made up of three main layers: the outermost is called the epidermis, and this is where many microorganisms that make up our skin microbiome reside.
Think of the skin microbiome as a collection of ecosystems home to trillions of microorganisms essential for not only skin, but comprehensive health. Our microbiome plays a vital role in fending off disease-causing microorganisms called pathogens, boosting barrier protection and aiding immune defenses. Maintaining a balanced skin microbiome involves a complex and dynamic interplay among microorganisms, immune cells, skin cells, and more.
Recent studies have linked skin health to comprehensive health by potentially influencing the state of our entire body. Disturbances of the epidermis are implicated in allergies (such as eczema and food allergies), psoriasis, acne, and skin aging, perhaps due to the microbiome's potential ability to communicate with our immune system. Studies have also revealed the potential association between atopic dermatitis, autoimmune disorders, eczema, and the risk of cardiovascular disease.
What has been the biggest learning for you so far with Iota?
Our biggest learning is how excited our community members are about skin health. We've had customers reach out to us sharing their stories about how our microbiome-first method of the wash and serum has made them look forward to showers again after years of dreading them because of how uncomfortable it made them feel, how it has significantly improved their persistent eczema, and more. We launched just a few months ago, but we're very quickly garnering a highly-engaged, health-minded community that we have one-on-one conversations with daily.
Life gets busy. How do you come home to yourself after a stressful day or week?
This startup is the hardest, but most rewarding, job I've ever had. The best way to get my serotonin levels up before a work day is working out—dance, cardio, pilates, and hot yoga are my go-tos. I love carving out 30 minutes at the end of a busy day to soak in the tub with a blend of our Supervitamin Body Wash+ (it doubles as a bubble bath!) and magnesium bath salts. The one thing I look forward to every single week is my Saturday brunch date with my five-year-old, Genevieve, at The Odeon in our neighborhood in New York. It's our favorite spot for quality mommy-daughter time (pancakes and bacon for her; kale salad with roasted chicken and avocado for me).
What makes you feel truly at home in your own space?
Small rituals that I can incorporate into my everyday life make me feel truly at home in my own space. I start every morning taking a daily probiotic followed by a cup of coffee. I take short five-minute breaks during a meeting-packed day to stretch, foam roll, or put my legs up on the wall to help with circulation. Before bedtime, I'll drink a cup of jujube-and-goji-berry-infused tea.
---
This interview has been edited and condensed for clarity.