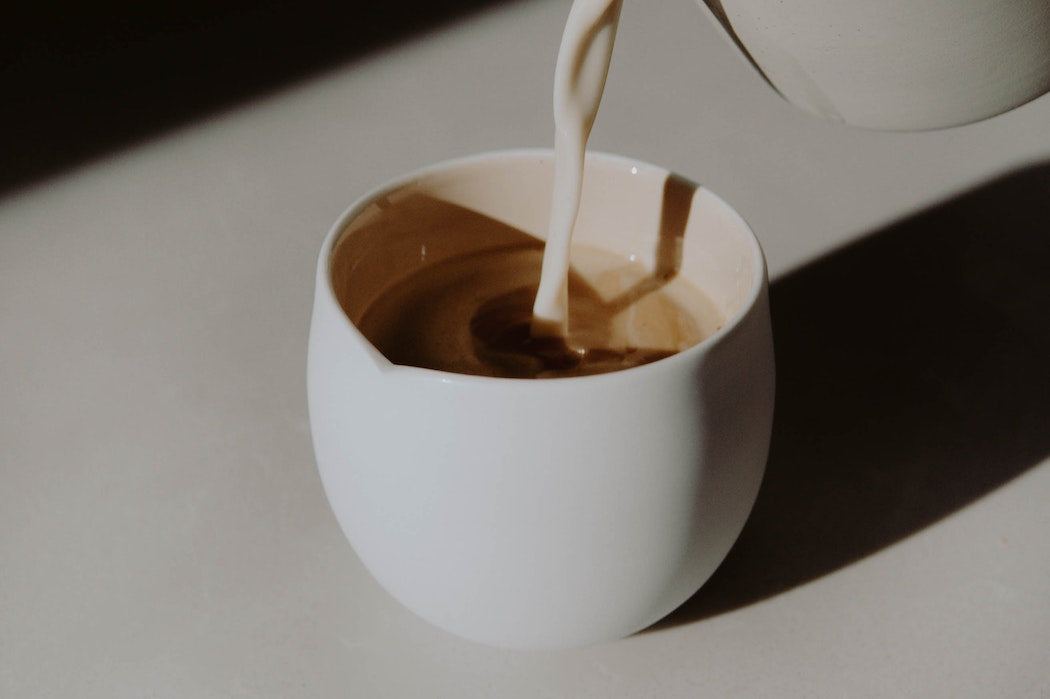 Stocked with offbeat beans from internationally-recognized roasters like Berlin's The Barn and South Korea's Coffee Libre, Toronto's Nava Social is the kind of cafe designed to make coffee keeners drool. So it took owner Gabriel Navarro by surprise when, shortly after launching his business, he discovered the shop's most popular drink wasn't actually coffee at all.
Instead, Nava's baristas have been cranking out a tall number of butterfly pea lattes: a pretty, cerulean blue, and, ironically, caffeine-free beverage crafted from butterfly pea flowers that have been dried and micro-pulverized into a matcha-like powder, then whisked and combined with steamed pea milk.
"Not only is it beautiful to look at, but it tastes really great," Navarro says of the drink. "And it's become one of our best sellers."
Navarro says that Nava originally offered its butterfly pea latte with regular milk and the option to substitute for a plant-based alternative. But given that Nava is the first coffee shop in Canada to carry Swedish pea-milk brand Sproud, customers assumed that a beverage with "pea" in its name would also come with, well, milk of the pea variety.
Nava rolled with it, and the latte has become a gateway of sorts for people unacquainted with pea milk. This non-dairy "milk" alternative made from peas appears to be picking up steam in not only coffee shops, but also grocery stores, specialty bakeries, and kitchens of health-conscious consumers.
What is pea milk?
A few things to note about pea milk: yes, it's natural to giggle when you say it aloud for the first time. And no, it doesn't pour Hulk green. It's crafted from yellow peas that have been crushed and blended with water and other ingredients, and then fortified with calcium and vitamins.
This lends the beverage an off-white hue and, thanks to the subdued flavor of peas, a luscious, neutral taste that's not too far off from dairy milk. Pea milks from brands like Sproud tout themselves as rich in protein and low in carbs, and as a more sustainable option to other non-dairy alternatives like almond milk.
They come available in flavors like vanilla and chocolate, and there are variations that are crafted specifically to foam well (for your morning coffee) and for baking and cooking. Other brands, like the California-based Ripple, produce pea-milk protein shakes and pea-milk frozen desserts in palate combinations like mint chip and cinnamon churro.
Annie Tsang, a Vancouver-based registered dietician and owner of Nutrition Well, says pea milk is a good plant-based option for those looking to limit their dairy intake, but who may be allergic to nuts or soy. And while pea milk is still a relatively novel product in Canada, Tsang says there are similarities between it and oat milk that could see the former enjoying similar success to what the latter has experienced so far.
What does pea milk taste like?
Like oat milk, pea milk has a creamy, slightly sweet taste that resembles dairy milk and works well in a variety of foods, from tea to oatmeal. Both are also produced in an environmentally-friendly way. "The one thing I would recommend for consumers is to read the ingredient list and nutrition facts label," Tsang instructs, "because some pea-milk brands may be using, or be fortified with, different contents."
For Navarro, it's about catering to his cafe's neighborhood and clientele—many of whom follow health- and eco-conscious lifestyles. And if that means whipping up cups of brilliant blue butterfly pea lattes and getting folks comfortable with uttering the words "pea milk" to their barista, he's all for it.
"We're not reinventing the wheel," he says. "We're expanding our horizons and bringing something different to the table—so hopefully others can discover it and enjoy it as well."