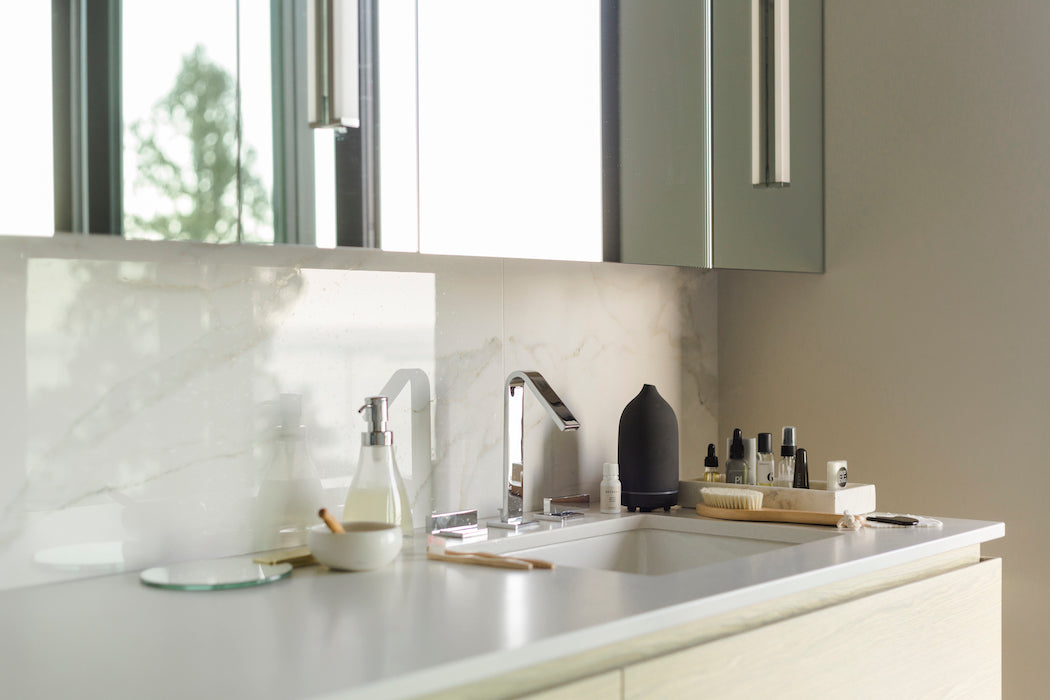 Stress, weather, and frequent washing can all affect your skin, leaving it dry and creating changes in tone and moisture level. Right now I'm feeling the effects of it all.
Here are three ways that I'm taking care of my skin and in doing so, also adding easy moments of self-care to my day.
---
Nourishing Cuticle Oil with Peppermint and Lavender
Lately, my hands have spent so much more time in water while washing vegetables, prepping dinners, and cleaning dishes.
I've recently become a huge fan of cuticle oil and now have a few different dropper bottles in my car, in my purse, and beside my bed so that I can keep up my habit of soothing and nourishing my nail beds while I'm on the go. Paired with a simple reflexology massage, it's an easy way to de-stress and keep your hands feeling and looking healthy.
NOURISHING CUTICLE OIL WITH PEPPERMINT AND LAVENDER
Small dropper bottle or jar
1 teaspoon Jojoba Oil
5 drops Peppermint Essential Oil
3 drops Lavender Essential Oil
Method
Add all the oils to the dropper bottle or small jar.
Application
Apply a drop of the oil to the base of each nail bed on one hand (or half a drop if your nails and cuticles are not very dry).

Using the other hand, massage the oil into each nail, applying gentle pressure to the nail bed at the same time.

Repeat on the other hand.

Take a deep breath and repeat the massage, pressing gently on the base of each nail bed.
---
Hydrating Face Steam with Geranium and Frankincense
This is my favourite face steam for when I want something calming on my skin and need some extra hydration.
Geranium Essential Oil has a floral aroma that smells feminine yet fresh, with a minty undertone. Geranium has long been used for its ability to balance the tone of the skin and is thought to be beneficial for hormonal changes in the skin as well (hello, stress). Frankincense Essential Oil is a recent favourite of mine; I've been using it more frequently as it's believed to be helpful in setting new rituals, which I am craving right now. I also find the aroma incredibly grounding and healing. I like doing this face steam towards the end of the day.
HYDRATING FACE STEAM WITH GERANIUM AND FRANKINCENSE
1 large bowl
1 large towel
Boiling filtered water
3 drops Geranium Essential Oil
3 drops Frankincense Essential Oil
Method
Fill a large bowl with boiling water and set it on your kitchen table. You can place a towel under the bowl to protect the surface and prevent sliding.

Add the essential oils to the hot water.

Sit or stand with your face over the bowl and drape the towel over your head. Make

sure to keep the steam under the towel so it doesn't escape.

Close your eyes and steam your face for one to four minutes; use a timer or listen to your favourite song.

Savour the moment, knowing you took time to do something good for yourself—and for your skin.
---
Decadent Bath Oil with Plum, Lavender, Cedarwood, and Rosemary
One of my favourite things to do is take a bath—there is something really decadent about spending the time to fill a tub and relax in the water. It's hard to rush a bath, and incorporating ways to nourish your skin during a soak is something to look forward to at the end of a long day.
This bath oil recipe smells as good as it feels.
DECADENT BATH OIL WITH PLUM, LAVENDER, CEDARWOOD, AND ROSEMARY
1 teaspoon Plum Oil
7 drops Lavender Essential Oil
2 drops Cedarwood Essential Oil
1 drop Rosemary Essential Oil
Method
Draw a warm bath.

Add all the oils when the bath is full and you are just about to get in.

Soak in the bath for at least 15 minutes (you deserve it).

Use your hands to rub any oil sitting on the surface of the water onto your skin.

After you are finished and drain the water, wipe up any excess oil from the base of your tub to ensure it isn't slippery for the next use. And then float onto the couch with a book.