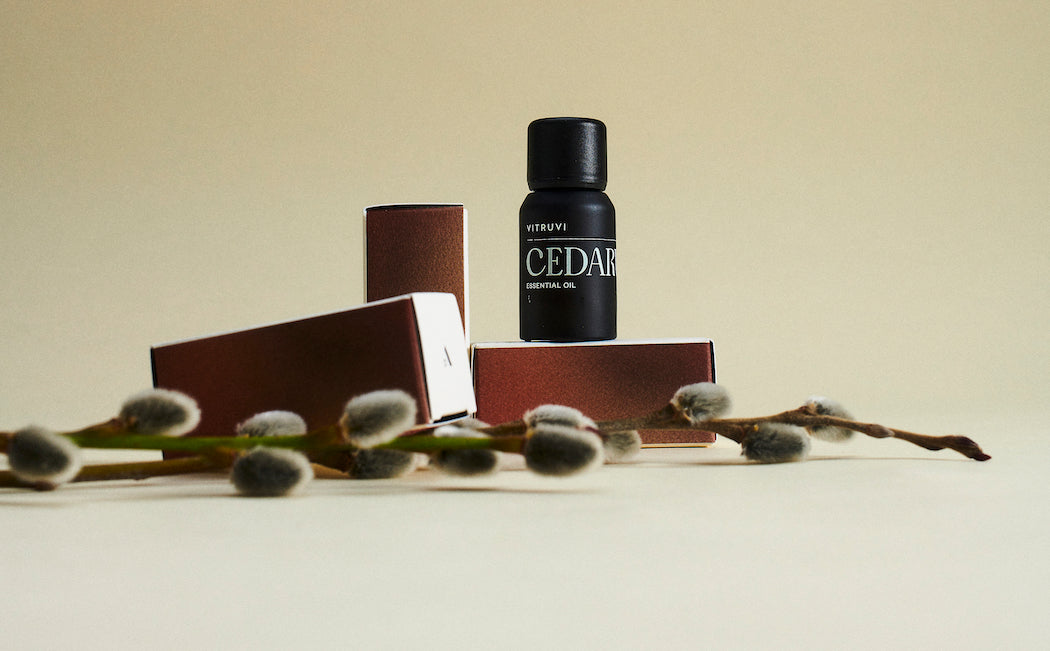 Cedarwood Essential Oil is a woodsy, cozy oil that instantly warms and comforts. It has the familiar aroma of a cedar sauna or a crackling fire.
What is Cedarwood Oil?
Cedarwood Oil is extracted by steam-distilling the wood of cedar trees. It is a natural essential oil that can be put in a diffuser or added to your homemade body and bath products.
How to use Cedarwood Oil
Cedarwood blends well with essential oils including Spruce, Bergamot, and Eucalyptus. This popular oil has a plethora of benefits to offer your existing routines.
Cedarwood Oil recipes
You can start by putting a few drops of Cedarwood in your tub when you're in the shower. The warm water will hit the oil and vaporize it, making your bathroom smell like a cedar sauna at a spa.
Here are some other Cedarwood uses.
Cedarwood Oil diffuser blends
Diffuse Cedarwood on its own or with other oils and blends. It can be used as part of your bedtime ritual, or to capture the feeling of an endless summer—the choice is yours.
Cedarwood Oil benefits
Cedarwood is antiseptic and is known to help stimulate the hair follicles, which is why it's great for beauty treatments. It is also said to help increase your rest and digest activity and reduce your fight or flight activity, which can help you get a better night's sleep.
Where to buy Cedarwood Oil
The Cedarwood Essential Oil from vitruvi is all-natural and cruelty-free. It is made without parabens, formaldehyde, mineral oil, phthalates, or sulfates.
Is Cedarwood Oil safe for cats and dogs?
Looking to diffuse oils around your pets? It's best to check in with your veterinarian first, just to be safe. Generally, most essential oils are safe for your animals, but it is always important to double-check—that way you can diffuse all day and all night without worry.