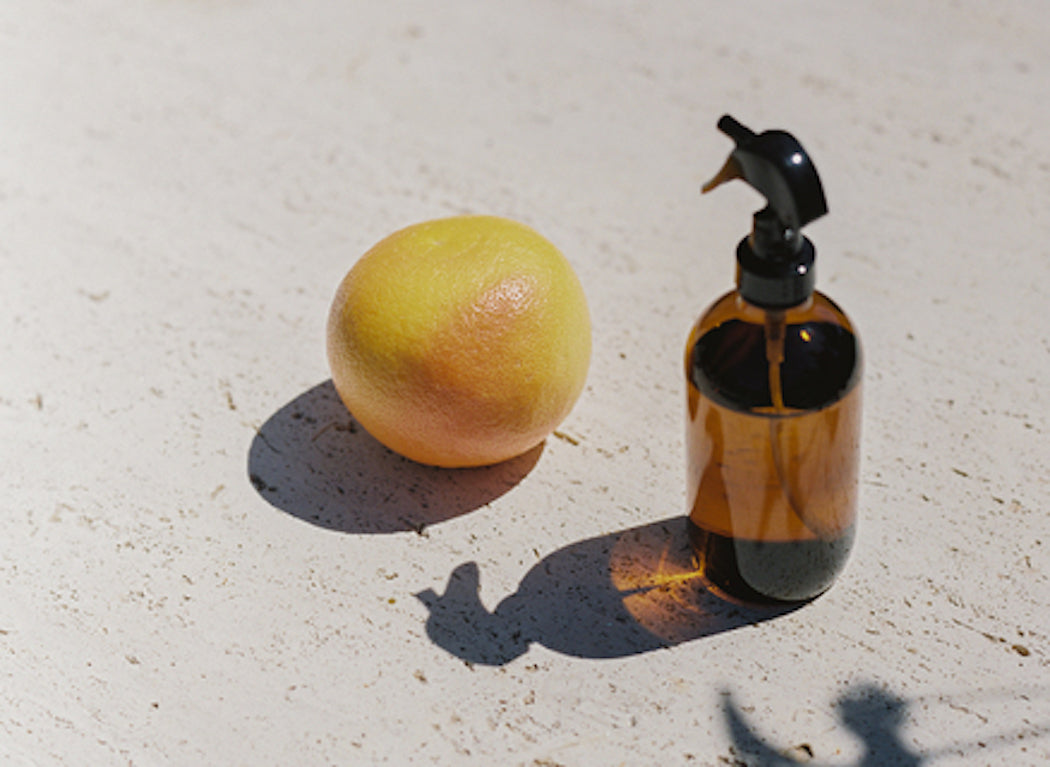 Kitchens are for making: making meals, making memories, and making messes. When it comes to cleaning those messes, a homemade, all-natural countertop spray is a great alternative to your run-of-the-mill drug store option. Even if your local shop sells natural products, many of them are bottled in plastic, which results in unnecessary waste over time. This simple do-it-yourself recipe uses items you probably already have in your pantry, paired with a few key essential oils.
A non-toxic spray is especially relevant when wiping down countertops, as you're likely to place food on them. In this recipe, the white vinegar acts as the key active ingredient—its acidity helps break down dirt and grime. Not only do Grapefruit, Lavender, and Tea Tree oils smell delightful when blended together, but each one boasts antibacterial properties; Grapefruit in particular can help cut through grease, while Tea Tree is a natural deodorizer. So the smell of last night's crab cakes won't linger too long.
Note: this is a gentle, all-natural recipe. If you want something stronger for areas at high risk of contamination, the National Sanitation Foundation recommends using a bleach mixture of one tablespoon of bleach in one gallon of water (do not mix in anything else with this solution).
DIY GRAPEFRUIT AND LAVENDER KITCHEN CLEANER
1 cup filtered water
3 tablespoons white vinegar
20 drops Grapefruit Essential Oil
10 drops Lavender Essential Oil
8 drops Tea Tree Essential Oil
Method
Add all the components to a spray bottle and shake gently to combine.

 


Application 
Shake gently before each use.

Spray onto your countertops and wipe clean with a cloth. 


Storage
As this spray contains water and no preservatives, it's important to keep it in a cool, dry place and to make a new batch every one or two months.
---
Video credits
Creative direction: Alex Falconer
Design: Jenna Vaandering
Editing: Harrison Gill