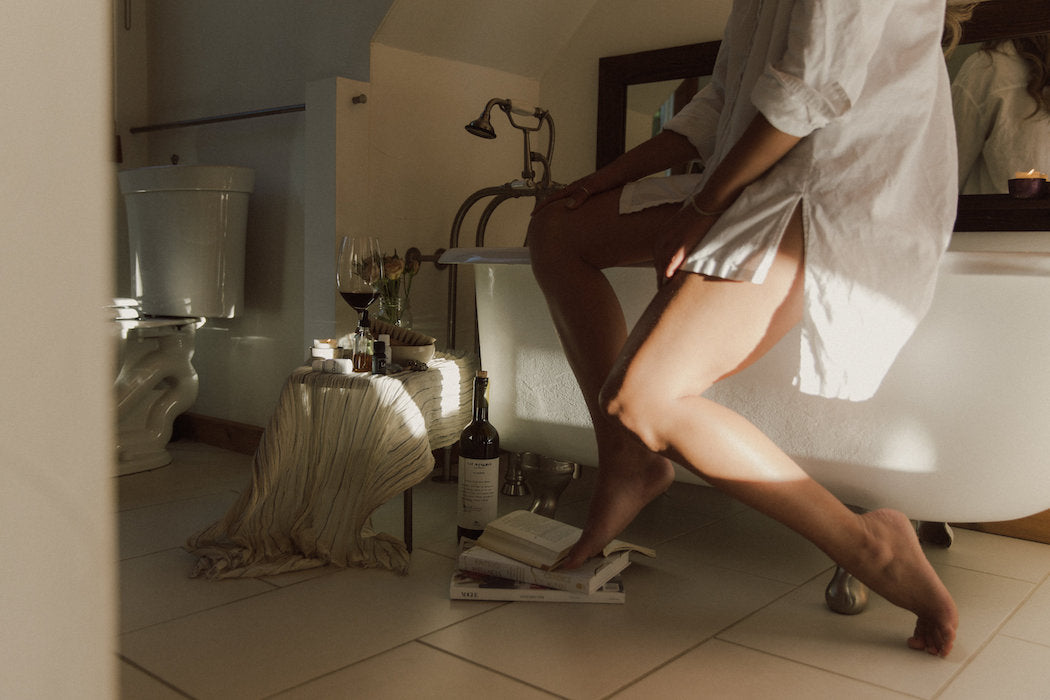 A favourite way for me to unwind at the end of the day and to decrease stress (while also promoting deep, restorative sleep) is to take a bath. When I give talks about how we created vitruvi, I often share the story of how at the beginning when I was still in school and creating the concept for the brand, I would do the website writing and blog articles from my bathtub. I'd prop my laptop on top of the toilet seat and sit in a warm bath after studying for hours in the evening. That bath and the idea of working on my passion project got me through the toughest days.
A bath oil is a simple way to integrate the benefits of essential oils into your daily routine. Evening baths have continued to become something that I look forward to at the end of a very long, hectic day. Even if I can only fit in a 10-minute bath at midnight, at least I have a small window to soak my body and to take some of the load off. I also find that I sleep much better and wake up much more rejuvenated.
For this recipe, I combined some of my favourite relaxation oils. Lavender is one of my favourite bedtime scents, and when paired with Cedarwood it helps to ground the body and calm a busy mind. And Rosemary is thought to help with memory and is believed to help increase retention of dreams when inhaled before bed.
LAVENDER, CEDARWOOD, AND ROSEMARY BATH OIL 
7 drops Lavender Essential Oil
4 drops Rosemary Essential Oil
2 drops Cedarwood Essential Oil
I hope that this bath oil recipe provides you with as much relaxation as it does for me.