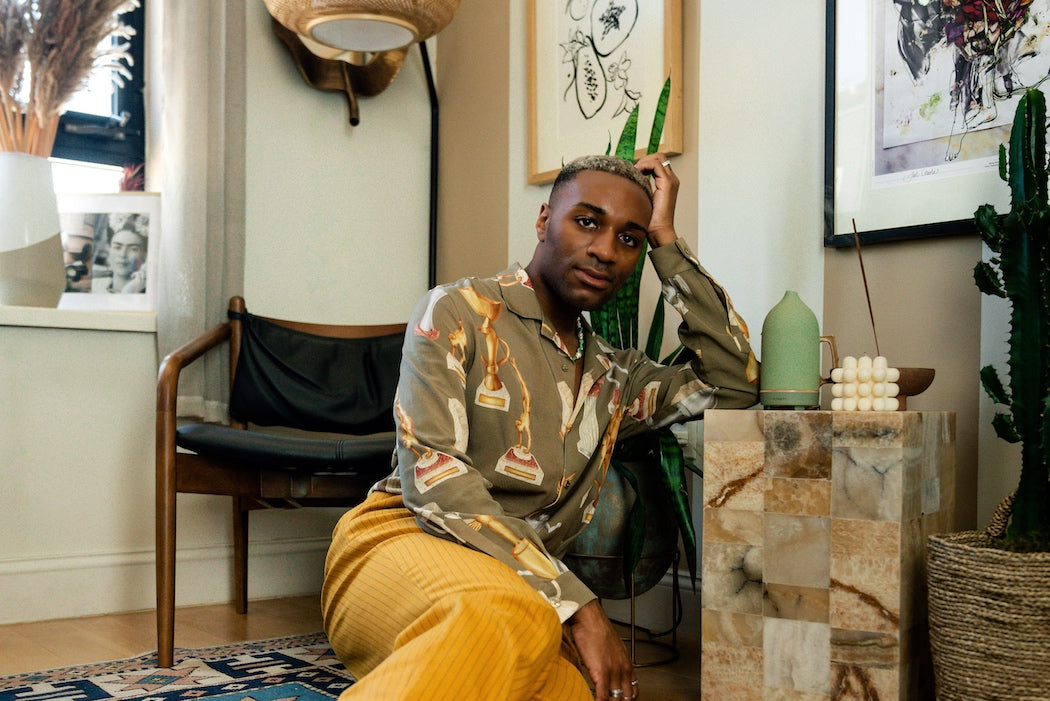 Many people move to New York City for a chance at reinvention. For Joel Moore, though, relocating there from his hometown of Raleigh, North Carolina was less about turning himself into someone new and more about embracing who he always was. Call it an act of self-love—of self-actualization.
Because while he looks back fondly on his childhood, he admits that navigating the American South while Black and gay was not always easy. "Growing up, I was never really able to be who I was meant to be; I wasn't able to be this outspoken gay Black man that I am today," Moore reflects via phone. "When I was 16 or 17 and realized, 'This is who I am,' I was afraid to tell other people—I was afraid to tell my family—because I didn't know what reaction they would have. But living in New York, people are like, 'Oh, you're gay? I don't care.' It's not a thing here. So I would definitely say New York City has made me the person that I am."
New York is a great equalizer, a true melting pot; it's where just about anything goes, and where individuality rises above conformity. So it's no surprise that when Moore moved to the city for college, he learned to wholly embrace all the quieter parts of himself, and then to express those parts through his unique eye for style. He began posting his outfits to Instagram, quickly gaining popularity for his on-point wardrobe: a mix of streetwear and loungewear, of monochrome and bold color. Soon he created a corresponding blog—called Moore His Style—to share his musings on everything from fashion to skincare to decor. And the internet is hanging on his every post.
"I feel like my style is kind of eclectic and fun, but modern and chic at the same time," he says. "I take inspiration from things that I'm loving at the moment and colors that attract me. I can't even really define my personal style or my home style; it's kind of all over the place."
If "all over the place" home decor means gallery walls, natural materials, soft textures, and artful objets, then sure, that's his vibe. But to an observer, Moore's aesthetic appears streamlined; it has purpose, cohesion, and sense of place. From the "Get naked" decal on his white shower tiles to the tan and navy motif in his living room, everything in the Brooklyn apartment that he shares with his fiance has a point of view.
Still, with the coronavirus pandemic forcing us all to spend more time in our dwellings than ever, it can be crucial to find creative ways to keep things feeling fresh. Moore swaps out his bedding and throw pillows every few months to make the space new, and likes to use scent to help him transition through different parts of his day.
"We have a vitruvi Stone Diffuser, I'm not even kidding, in every room," he says. "I have a whole routine." Mornings are met with bright citrus scents like Sweet Orange, Grapefruit, or Lemon in the office, followed by the freshness of Peppermint or Basil in the living room post-work. Finally, days turn to evenings with the help of relaxing Lavender, Eucalyptus, Dusk, or Sleep.
Speaking of sleep, New York City is colloquially known as the city that never does—that was, until the pandemic ground its constant motion to a halt in March 2020. Few images of a world on pause have likely resonated more than those of empty streets of NYC: a place that defines itself by its people. The noise, the crowds, the buzz, even the sweat; it's the city's heartbeat, and recovery will take time. Moore isn't worried, though. "New York is strong," he says, "and will always bounce back." It was there for him when he needed it most, and now, day by day, he gets to return the favor.
---
This article appears in Natural Habitat Print Issue No. 1. Order your copy here.