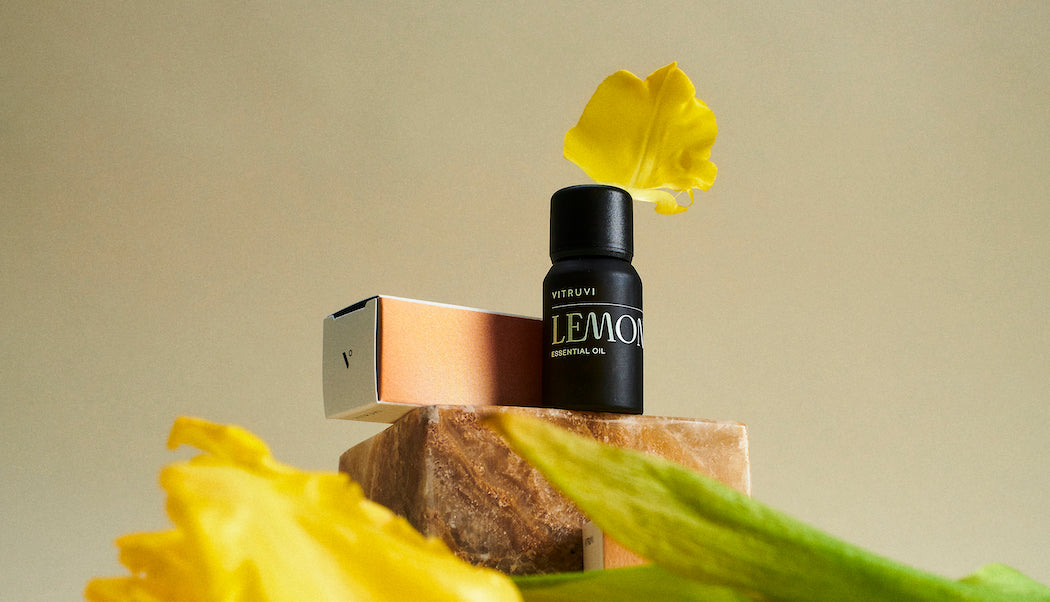 Lemon is an instant mood-booster and a kitchen staple. With a bright, citrusy aroma, this essential oil will create a happy vibe no matter how it's used.
What is Lemon Oil?
Lemon Oil is cold-pressed from the rind of lemon fruit. Its clean, fresh scent is reminiscent of fresh lemonade or a lemon ice pop on a hot day. Hard to beat, if you ask us.
How to use Lemon Oil
Thanks to its natural cleansing properties, Lemon is a great essential oil for adding to your home cleaning products.
Lemon Oil recipes
Lemon can be used in so many ways throughout your home. Making your own products allows you to have full ownership over what you put on your body and into your air.
Lemon Oil diffuser blends
Interested in putting Lemon Oil in your diffuser? You can diffuse it by itself for an ultra-clean scent, or mix it with other essential oils for something more layered.
Lemon Oil benefits
Energizing, light, and happy-go-lucky, Lemon is an easy favorite. Its fresh scent makes it perfect for cleaning, buffing, and rejuvenating. Make sure your Lemon Oil is 100 percent pure so that it has no additives or preservatives.
Where to buy Lemon Oil
The Lemon Essential Oil from vitruvi is 100 percent pure, organic, and free from synthetic fragrances. It's also made without phthalates, formaldehyde, or sulfates. This means it's all-natural and safe for daily use.
Is Lemon Oil safe for cats and dogs?
If you're thinking of introducing Lemon Oil into your pet-friendly home, we recommend
chatting with your vet
first. Every animal is different, so this will equip you with the necessary information about your individual animal. Our pets are as dynamic as us, after all.