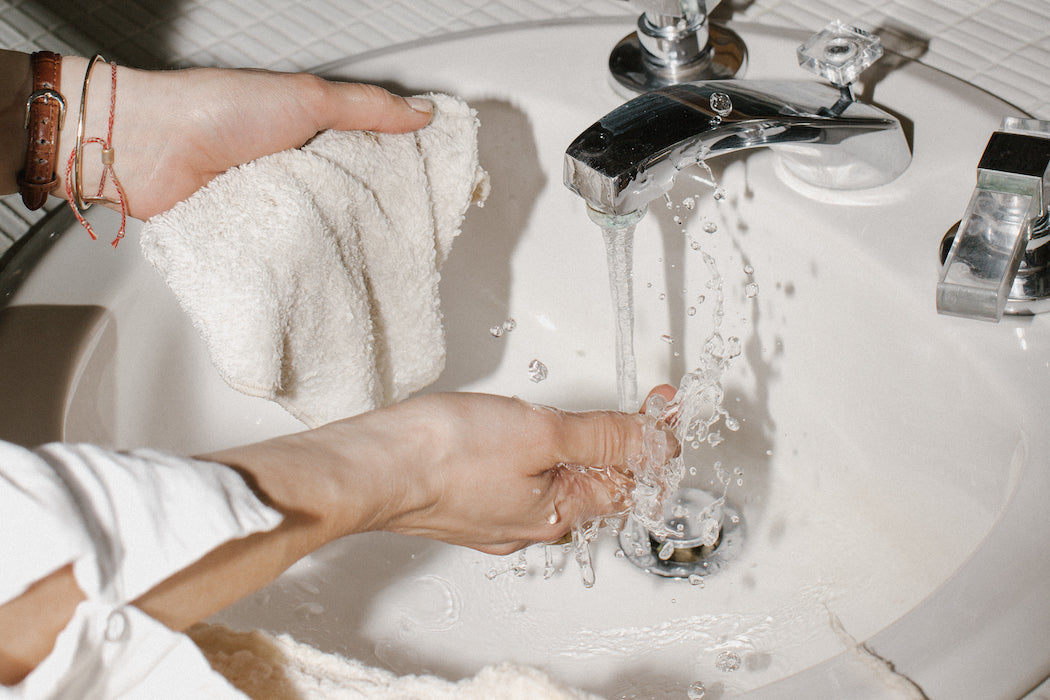 Naturally, in the summer months I'm even more obsessive about applying sunscreen than during the rest of the year. And while I try to choose light, non-comedogenic options, after a few weeks my skin can still feel congested and slightly more prone to breakouts. In those instances, I find that a clarifying face steam is more effective than just cleansing and applying a blemish spot treatment. I tend to do this treatment if I'm travelling and there's more pollution in the air (hello, LA in the summer), or if I'm feeling congestion on my face from not eating enough greens or drinking enough water.
This clarifying face steam should be used when your skin needs a really deep summertime clean. Take note: it's especially important to keep your eyes closed while applying the cloth over your face because the volatile oil from the Tea Tree can be intense and sting the eyes. Lavender Essential Oil has similar properties to Tea Tree in that it really gets into the pores and has natural antibacterial properties.
Both of these oils can help with decreasing the tendency to get blemishes caused by clogged pores. The aroma of this face steam reminds me of an intensive spa treatment; the Lavender is calming, while the Tea Tree is fresh and clean. It's my favourite way to start the day when I need a reset.
CLARIFYING FACE STEAM FOR SUMMER SKIN
3 drops Lavender Essential Oil
2 drops Tea Tree Essential Oil
1 face cloth
How to use it
Run a face cloth (I prefer a bamboo, organic cotton, or microfibre cloth to really get everything off) under hot water. Wring it out and open it across one hand.
With the other hand, add the Lavender and Tea Tree oils to each corner, then dot the corners towards the middle of the cloth, forming a star pattern. Scrunch the towel up to disperse the oils.
Place the cloth over your face while leaving space to breathe through your nose. Close your eyes and take three or four deep breaths to the count of 10. Take a big inhale through your nose, pause, and then exhale. This may seem like a long time, but if you are like most of us, these will likely be the most present and deepest breaths you take all day—so enjoy. Take this time in the morning to ground your feet into the floor, lengthen your spine, and fill yourself up with positivity and motivation for the day. With each exhale, let go of whatever negative thoughts, energy, or worries you have about what the day will bring.
After your steam, use the same cloth to wipe away any excess dirt. If you are applying makeup after, rinse your face with cool water for a final pick-me-up.