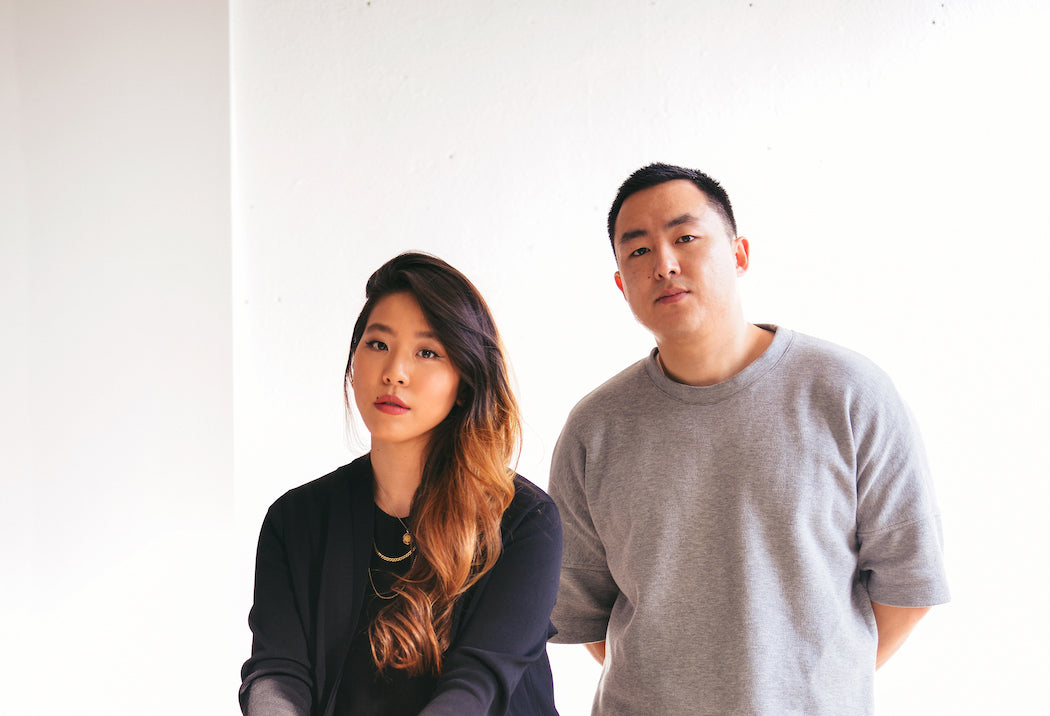 They say one person's trash is another person's treasure—or in this case, beauty secret. While traditional models see waste as an end point, the husband-wife duo behind sustainable skincare brand Circumference sees it as an opportunity to create something new. Circularity is at the core of Jina Kim and Chris Young's brand, breathing new life into what would otherwise be tossed out as waste. This full-circle approach is effectively closing the loop in a cycle they refer to as "root to leaf, and back again."
Chatting virtually from their home in Brooklyn, New York, Kim, the brand's CEO and founder, describes growing up in a traditional Korean household that valued skincare—not as the trendy K-beauty we know today, but as a form of self-care to be appreciated and passed down through generations. While neither Kim nor Young (the company's COO and head of sustainability) come from a background in beauty, they both bring experience in sustainable and ethically-made apparel to the table, armed with knowledge of production and good manufacturing practices.
"Where my interest in sustainability really burst was seeing the response from consumers," says Kim. "I realized people were looking for it; they were interested in learning more about sustainability, and wanted to know where their dollars were going." As she thought more about eco-responsibility and her passion for skincare, she realized that no one was really talking about sustainable beauty. "At this time, natural skincare was cropping up and becoming a topic of discussion, but just because something was natural didn't mean it was sustainable," she continues. "It didn't mean that you were doing better for the earth by purchasing it." It was the lightbulb moment that inspired Circumference.
Sustainability isn't just about recyclable packaging, either—Kim and Young consider that the bare minimum. At the forefront of Circumference's vision is ingredient sourcing, with the couple seeing it as an opportunity for innovation. This includes the Waste-Not Sourcing Initiative, which involves partnering with independent agricultural producers to upcycle their bio-waste into bioactive skincare botanicals.
Partnering with Bedell Cellars, an 80-acre certified sustainable vineyard in Long Island, Circumference intercepts leftover winemaking scraps from going to waste, reclaiming the prized antioxidants, polyphenols, and enzymes contained within them and putting them to work in the brand's Active Restorative Moisturizing Cream. Similarly, a partnership with modern pantry essentials brand Brightland involves salvaging their excess and unusable olive leaves and extracting the bioactive properties to make Circumference's Daily Regenerative Cleanser. In keeping with a circularity mindset, the residual waste is then reintegrated into the farming cycle as compost to refortify the soil.
Sourcing ingredients is an onerous task, and is not something that the couple takes lightly. "It is roughly a one-year process to fully vet and test the ingredients," says Young. "And there are a lot of moving parts, including sensitivity to time because we have to build everything around peak harvest."
As Circumference continues to push the boundaries of what sustainability can mean within the beauty industry, a primary focus is to continue developing and expanding the brand's bio-waste initiative, identifying more partners in agriculture-driven industries to source byproducts that can be ushered into a new lifecycle. Equally important to sourcing new ingredients is revisiting old formulas and seeing where other ingredients can be replaced; this allows them to get more mileage out of the ingredients they are extracting, ensuring no viable resources go to waste. "Our goal," asserts Young, "is to have our entire ingredient profile coming from our Waste-Not Sourcing Initiative."
While Kim and Young do see positive movement in the beauty industry's sustainability from a conscious and ethical standpoint, they feel that a lack of transparency around ingredient sourcing is still alarming in some ways. "As newcomers, we were asking all the prying questions, trying to gain some transparency," says Kim. Adds Young: "One question inevitably led to another, and it really forced us to crack things open and see what's behind the curtain. We didn't want to be that fear-mongering or shaming brand that was highlighting everything the beauty industry was doing wrong—we wanted our brand to be more educational." As such, transparency for them means telling consumers exactly where their ingredients come from. It's truly farm-to-face.