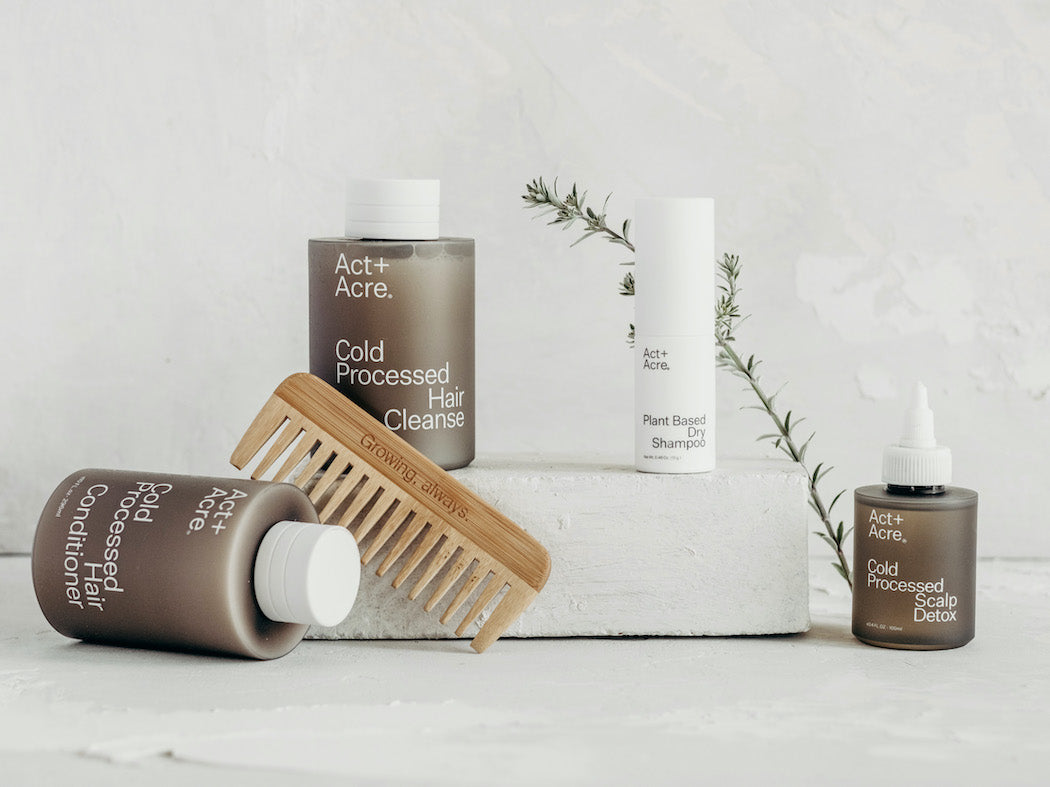 When it comes to hair care, so often the focus is on the strands themselves—but really, they are only healthy if the scalp is healthy, too.
Issues like hair loss, breakage, and dullness are typically due to an unhealthy scalp environment; taking care of your scalp stimulates hair growth, prevents dandruff, and reduces irritation.
"If you think about a plant, it grows from the root," says Helen Reavey, cofounder of New York's Act+Acre, a cold-pressed hair care brand that targets scalp wellness. "For it to flourish and look its best, you must water and feed it with nutrients on an ongoing basis."
Signs of an unhealthy scalp
Dryness, oiliness, and redness are all signs that your scalp could use a little extra care. Flaking and inflammation are other common symptoms that indicate an unhealthy scalp environment.
What contributes to an unhealthy scalp?
The most common culprit of an unhealthy scalp is buildup from dry shampoo or styling products that contain alcohol and sulfates. These products can clog the hair follicles and prevent your scalp from getting the nutrients it needs.
Beyond the products you use, other factors that can cause your scalp's environment to change include stress, hormones, pollution, and even the weather. Reavey says that sun damage can wreak havoc on the scalp, and recommends that people always wear a hat or use a scalp SPF when spending time outdoors.
And as with anything, what you eat makes a difference, as well. "Inflammation in the body can cause issues," notes Reavy. "And eating fatty food can lead to dandruff. So drink lots of water and feed your body with plenty of nutritious food."
Another contributor is washing your hair every day—especially with products that can cause irritation and flakiness. Aimee Cox, hairstylist and cofounder of Punch Studio in Vancouver, explains that over-shampooing "can deplete your scalp from all its natural pH balance of good oils." Don't go too long without washing your hair, either, though, because that's when the product, debris, and oil start to build up on the scalp.
What's a scalp detox?
A scalp detox buffs away dead skin cells and product buildup, increasing cell turnover and often providing instant relief to itchiness, dandruff, and other irritations. This can be done by simply brushing your hair, which is often a ritual that is forsaken these days.
Scalp treatments
Cox recommends this Isinis brush, which has bending nylon bristles; boar-bristle brushes are also known to be great for this, such as the iconic one from Mason Pearson.
Another method is to exfoliate with scrubs that help clear the follicles to make way for healthier, shinier hair to grow from the root. Reavey says that "hair loss can be slowed significantly by using products that stimulate blood circulation to the hair follicle." There are many scalp scrubs on the market to choose from, such as Christophe Robin's Cleansing Purifying Scrub With Sea Salt, or goop's G.Tox Himalayan Salt Scalp Scrub Shampoo. You can also make your own.
Scalp cleansers and scalp moisturization
In addition to a scrub, it can be good to eliminate any buildup with clarifying products like the Sunday Riley Clean Rinse Clarifying Scalp Serum or dpHUE's Apple Cider Vinegar Hair Rinse. Shampoos of a clarifying nature help give your scalp (and hair) a deep clean, but they can be extremely drying, too—which is why moisturization with a conditioner is also key. "The pH of shampoo turns your hair more alkaline, and the purpose of the conditioner is to restore the balance towards acid and neutralize your scalp's pH," notes Cox. She advises massaging the conditioner into your scalp, which does double duty in rebalancing its pH and stimulating blood flow to promote hair growth. Hair masks like Evo's The Great Hydrator are great for infusing moisture into the scalp after an exfoliating or purifying treatment.
Good, natural ingredients for your scalp
It's important to look for products that are hypoallergenic and synthetic-fragrance-free. Cox explains that products like dry shampoo that contain aluminum or other non-water-soluble ingredients can damage hair follicles and potentially suffocate growth. "Harsh ingredients," Reavy notes, "can strip away the healthy oils our scalps need to thrive."
How often should you treat your scalp?
Brushing your hair and using quality products is something you should do daily, but when it comes to scrubs and other treatments like Briogeo's Scalp Revival Charcoal + Tea Tree Scalp Treatment or Act+Acre's Scalp Detox, Cox recommends only using them once a week. This gives your scalp "time between exfoliating to regenerate and repair."
If you are prone to scalp issues, Reavey suggests washing "your hair more often than not. As long as you are using gentle, nourishing products, no damage will arise from this." For their part, Act+Acre products use a cold-pressed extraction method that ensures the active ingredients remain fresh and potent, but not damaging.
The key to healthy, shiny hair? Just get to the root of it.