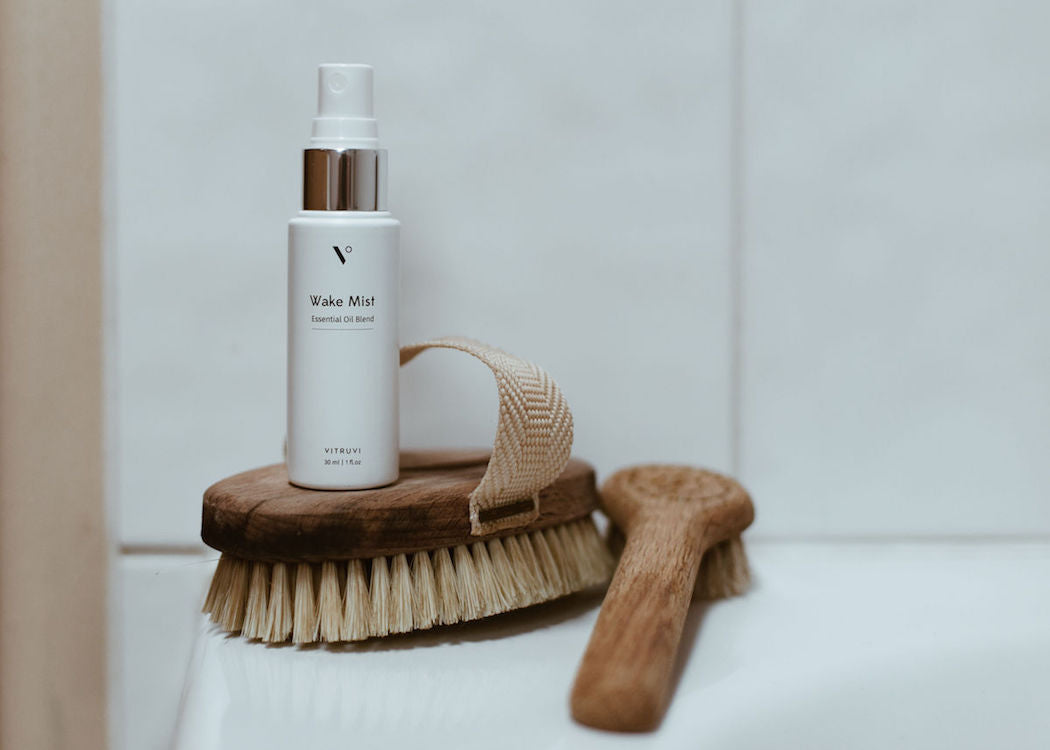 Showering is something you do every day (or maybe every other day—no judgement). Upgrading your daily shower routine can be super simple—it's a resolution that doesn't ask too much.
Here are four quick ways to turn showering from a chore into a morning ritual you look forward to waking up for.
Eucalyptus
If you have a bottle of Eucalyptus Essential Oil in your home, don't be afraid to permanently station it in your shower. We like to leave it in there for the go-to, easiest shower upgrade of them all. It involves three drops and takes three seconds, and you feel instantly more energized.
All you have to do is make sure the shower water is nice and hot, then put three drops of Eucalyptus into your palms; then rub them together and clasp your hands over your mouth and nose. Breathe deeply—its your mini spa moment for the day. It's a simple ritual you can do every morning or evening (and if we're being honest, it's a much more realistic commitment than something like flossing). 
Shower spray
Think of this like the diffuser effect, but inside your shower. We love mixing one cup of water with 20 drops of Lemon and 20 drops of Peppermint in a spray bottle. Then you just give the tub a spray before you jump in the shower and there's this bright, refreshing scent that stays with you for a little bit. You can add one tablespoon of vinegar to the mix, too, if you want your spray to double as a cleaner. Lemony-fresh.
Shampoo boost
This is a fun one. If you're dealing with dryness or split ends, add a hydrating carrier oil to your shampoo or conditioner to seal in some moisture. We love the reparative powers of Rosehip—just add a few drops into the palm of your hand and mix with your existing products.
For more of an intense hair mask effect, reach for Avocado Oil. If you're dealing with a bit of oil on your scalp, go for something lighter like Grapeseed and even a few drops of Tea Tree.
Wake Mist
Our Wake Mist is the equivalent of an Icelandic spa—it's made with black pepper, Rosemary, juniper, Eucalyptus, and Bergamot. Similar to the straight Eucalyptus-in-the-palms ritual, we love misting a bit of Wake on our faces while in the shower—hey, you're already wet, right? It's a natural pick-me-up, and when the steam from the shower combines with it, the scent really envelops you. Wake also fits perfectly into your post-shower routine. We often use it as a makeup setting spray while we're getting ready in the a.m.
The shower can be the only part of your day where you get 10 to 15 minutes completely to yourself, so why not make the most of it?