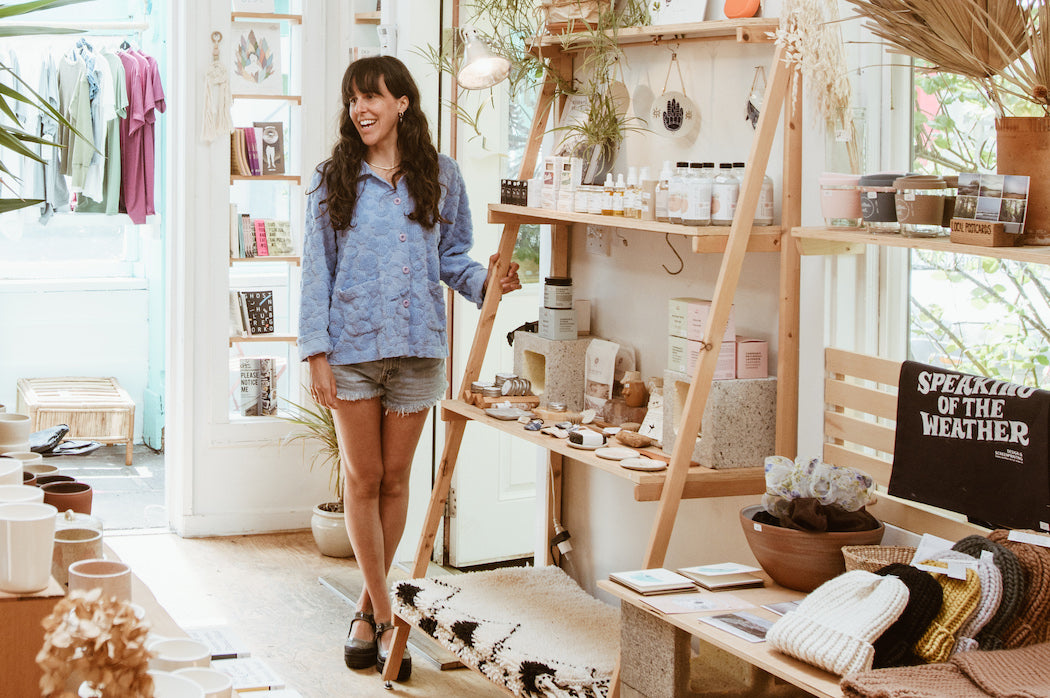 It's a sunshine-fueled morning out of the windows of Long Beach Lodge Resort's The Great Room, but Laurie Boudreault isn't worried—she's already been out in the water today. "I was the first in the car park," she says. "Six a.m."
Fresh off the back of the seven-year anniversary celebration for her Tofino lifestyle shop Merge, she takes a well deserved moment to reflect on its successes. Tucked down an alley in this quiet Vancouver Island oceanside town, Merge showcases Boudreault's exceptional eye for design. With a mix of muted tones, fun pops of color, handmade goods, and artistic wares—including vitruvi scents and diffusers—Merge promotes a slow and steady choosing of objects that tangibly draw their users into the present.
On collaboration
Merge is driven by Boudreault's own taste and vision (although she admits to being a little "funkier" in her personal style). And despite being a bit of a one-woman show, she consistently makes a point of bringing other local creatives into the fold: from working with her good friend Cristina Gareau on Merge's photography; to the various independent brands she stocks; to collaborating with a Ucluelet-based maker on Merge's pottery line. Even those who may initially not fit the Merge aesthetic are considered; if Boudreault sees potential in an artisan, she'll work with them to meet in the middle. When it comes to her internal team, she allows plenty of room for creative license and always praises new perspectives.
On intentional design
Merge's own apparel, self-care, and homeware lines are a growing chapter for the company. Boudreault's background in fashion design has come full circle, allowing her to use her know-how to tweak designs and foresee a lot of issues that newcomers might overlook. It's important to her that these pieces are timeless, design-forward, and of a quality that allows them to be cherished for years to come; sustainability and slow moments are at the forefront of her business decisions. Contrasting today's throwaway culture, Merge's ethos focuses on developing a real connection with the objects we use.
On everyday rituals
To fuel her creative fire, she surfs, walks her dog, and takes road trips to Vancouver and beyond. She makes a lot of notes, taking insight from podcasts, magazines, and books (Merge stocks those, too, from surf narratives to 
The
School of Life
). Tofino's surroundings also hold no shortage of inspiration: recently, a beach walk uncovered organic shapes that will appear on new packaging. As a true curator, Boudreault is often reevaluating how she wants life to look—and outlining the steps needed to get there.